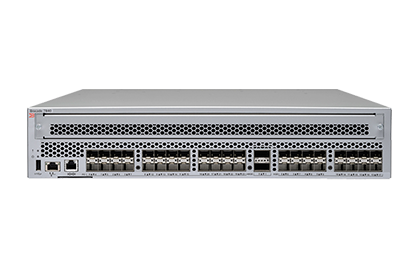 Brocade 7840
Moves more storage data through industry-leading performance and scalability

Encrypts storage data flows over distance at full line rate without a performance penalty

Provides scalable deployment options to extend multiprotocol disaster recovery and data protection storage solutions over long distances

Consolidates Fibre Channel, FICON, and IP storage traffic from heterogeneous devices for high speed, high availability, and secure transport between data centers
| | | | |
| --- | --- | --- | --- |
| | | | |
| Powerful Performance and Robust Scabability | Continous Availability across Data Centers | Move more Data through industry-leading Performance and Scalability | Simplified Management and Robust Network Analytics |
| The Brocade 7840 Extension Switch is a purpose-built extension solution that securely moves more data over distance faster while minimizing the impact of disruptions. With Gen 5 Fibre Channel, IP extension capability, and Brocade Fabric Vision technology, this platform delivers unprecedented performance, strong security, continuous availability, and simplified management to handle the unrelenting growth of data traffic between data centers in Fibre Channel, FICON, and IP storage environments. | The Brocade 7840 combines enterprise-class availability with innovative features and the industry's only WAN-side, non-disruptive firmware upgrades to achieve always-on business operations and maximize application uptime. These capabilities enable a high performance and highly reliable network infrastructure for disaster recovery and data protection. | The advanced performance and network optimization features of the Brocade 7840 enable replication and backup applications to send more data over metro and WAN links in less time, and optimize available WAN bandwidth. Supporting up to 250 ms Round-Trip Time (RTT) latency, the Brocade 7840 enables cost-effective extension solutions over distances up to 25,500 kilometers (15,845 miles). | The Brocade 7840 Extension Switch supports monitoring WAN traffic between data centers proactively to detect anomalies and to validate and troubleshoot physical infrastructure with built-in traffic generator and Brocade Flow Vision. In addition, the Brocade 7840 Extension Switch identifies, monitors and analyzes end-to-end I/O flows over distance to accelerate troubleshooting and optimize performance. |
Powerful Performance and Robust Scabability

The Brocade 7840 Extension Switch is a purpose-built extension solution that securely moves more data over distance faster while minimizing the impact of disruptions. With Gen 5 Fibre Channel, IP extension capability, and Brocade Fabric Vision technology, this platform delivers unprecedented performance, strong security, continuous availability, and simplified management to handle the unrelenting growth of data traffic between data centers in Fibre Channel, FICON, and IP storage environments.

Continous Availability across Data Centers

The Brocade 7840 combines enterprise-class availability with innovative features and the industry's only WAN-side, non-disruptive firmware upgrades to achieve always-on business operations and maximize application uptime. These capabilities enable a high performance and highly reliable network infrastructure for disaster recovery and data protection.

Move more Data through industry-leading Performance and Scalability

The advanced performance and network optimization features of the Brocade 7840 enable replication and backup applications to send more data over metro and WAN links in less time, and optimize available WAN bandwidth. Supporting up to 250 ms Round-Trip Time (RTT) latency, the Brocade 7840 enables cost-effective extension solutions over distances up to 25,500 kilometers (15,845 miles).

Simplified Management and Robust Network Analytics

The Brocade 7840 Extension Switch supports monitoring WAN traffic between data centers proactively to detect anomalies and to validate and troubleshoot physical infrastructure with built-in traffic generator and Brocade Flow Vision. In addition, the Brocade 7840 Extension Switch identifies, monitors and analyzes end-to-end I/O flows over distance to accelerate troubleshooting and optimize performance.
Tech Specs
Ethernet interfaces
1 GbE, 10 GbE, and 40 GbE

Fibre Channel performance
2.125 Gbps line speed, full duplex; 4.25 Gbps line speed, full duplex; 8.5 Gbps line speed, full duplex; 14.025 Gbps line speed, full duplex; auto-sensing of 2, 4, 8, and 16 Gbps port speeds

Fibre Channel ports
24 ports. 16Gbps. universal (E,F,M,D, and EX ports)

Maximum Fibre Channel frame size
2,112-byte payload

Scalability
Full fabric architecture with 254 switches maximum

Certified maximum
Single fabric: 56 domains, 7 hops
Multiprotocol routing fabric: 19 hops

Fabric latency
700 ns with no contention, cut-through routing at 16 Gbps

Classes of service
Class 2, Class 3, Class F (inter-switch frames)

Port types
F_Port, E_Port, EX_Port, (FCR E_Port), D_Port (Diagnostic), M_Port (Mirror), and self-discovery based on switch type (U_Port); VE_Port (FCIP and IP)

Data traffic types
Fabric switches supporting unicast, multicast (255 groups), and broadcast

Media types
Fibre Channel: Brocade hot-pluggable Small Form Factor (SFP) and SFP+, short wavelength (SWL), long wavelength (LWL), and extended long wavelength (ELWL) transceivers (available wavelength options vary for 8 Gbps and 16 Gbps SFPs)
Ethernet: Brocade hot-pluggable Small Form Factor (SFP) and SFP+, short reach wavelength (SRWL), long reach wavelength (LRWL), extended long wavelength (ELWL), and copper SFP/SFP+ transceivers (available reach options vary from 1 GbE, 10 GbE, and 40 GbE)

USB
One USB port for system log file downloads or firmware upgrades

Fabric services
Simple Name Server (SNS); Registered State Change Notification (RSCN), NTP, RADIUS, RCS (Reliable Commit Service), Dynamic Path Selection (DPS), Exchange-based routing, device-based routing, port-based routing, lossless, Brocade Advanced Zoning, Web Tools, Extension Trunking, Adaptive Rate Limiting, WAN Test Tool (Wtool), Open Systems Tape Pipelining (OSTP), Fast Write, Adaptive Networking with QoS, Extended Fabrics, Fabric Vision technology, and Advanced Extension. Optional Fabric Services include Integrated Routing (FCR).

Maximum IP MTU size
Jumbo Frames at 9,216 bytes

Ethernet ports
16 ports of 1/10 GbE for LAN and WAN connectivity
2 ports of 40 GbE for WAN connectivity

Enclosure
2U chassis designed to be mounted in a 19-in. cabinet

Brocade Trunking (BT)
Up to eight 16 Gbps ports per Brocade Trunk; up to 128 Gbps per trunk. There is no limit to how many trunk groups can be configured in the switch.

Licensing options
The following optional extension features can be enabled via license keys:
Brocade 7840 WAN Rate Upgrade License 1 and 2: Enables additional WAN-side throughput to 10 Gbps and unlimited with enablement of 40 GbE ports

Service Weblink
http://www.fujitsu.com/global/services

Support Pack Options
Available in major metropolitan areas:
9x5, Next Business Day Onsite Response Time
9x5, 4h Onsite Response Time (depending on country)
24x7, 4h Onsite Response Time (depending on country)
Recommended Service
24x7, Onsite Response Time: 4h
Support Pack Options
Available in major metropolitan areas:
9x5, Next Business Day Onsite Response Time
9x5, 4h Onsite Response Time (depending on country)
24x7, 4h Onsite Response Time (depending on country)
Recommended Service
24x7, Onsite Response Time: 4h