ExtremeSwitching VDX 6940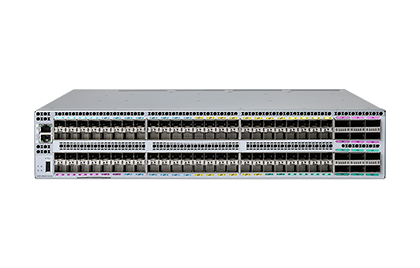 ExtremeSwitching VDX 6940
Transforms networks to deliver cloud scale, agility, and operational efficiency with data center fabrics

Supports 1, 10, and 40 GbE options for optimal flexibility and scale

Meets today's application demands with high performance and low latency

Delivers line-rate throughput for all ports and packet sizes
| | | | |
| --- | --- | --- | --- |
| | | | |
| Higher Levels of Scale, Agility and Operational Efficiency through Network Transformation | Lifecycle Automation | Flexibility regarding Data Center Design | High Performance and low Latency |
| VDX switches enable organizations to evolve their data center networks at their own pace, with full investment protection. As the foundation for several data center architectures, VDX switches support Extreme Networks IP fabrics, Extreme VCS® fabrics, as well as network virtualization, including controller-based network virtualization architectures, such as VMware NSX, and standards-based (BGP-EVPN) controller-less architectures with Extreme BGP-EVPN Network Virtualization for architectural flexibility. | The Workflow Composer platform automates the entire infrastructure lifecycle—from provisioning and validation to troubleshooting and remediation. It also integrates across IT domains for end-to-end event-driven workflow automation. | VDX 6940 switches are designed to connect data centers in multiple ways to meet individual design requirements. This flexible design provides investment protection, giving organizations a single switch that can support varying data center requirements. | With 1/10 GbE and 40 GbE options, VDX 6940 switches deliver the high-performance computing needed to keep up with the demands of a virtualized data center, allowing organizations to reduce network congestion, improve application performance, and meet the capacity required by 10 GbE servers. The 40 GbE and 100 GbE uplinks can easily aggregate high-bandwidth traffic and reduce bottlenecks that occur when aggregating multiple 10 GbE or 40 GbE connections, keeping data center networks working at peak performance. |
Higher Levels of Scale, Agility and Operational Efficiency through Network Transformation

VDX switches enable organizations to evolve their data center networks at their own pace, with full investment protection. As the foundation for several data center architectures, VDX switches support Extreme Networks IP fabrics, Extreme VCS® fabrics, as well as network virtualization, including controller-based network virtualization architectures, such as VMware NSX, and standards-based (BGP-EVPN) controller-less architectures with Extreme BGP-EVPN Network Virtualization for architectural flexibility.

Lifecycle Automation

The Workflow Composer platform automates the entire infrastructure lifecycle—from provisioning and validation to troubleshooting and remediation. It also integrates across IT domains for end-to-end event-driven workflow automation.

Flexibility regarding Data Center Design

VDX 6940 switches are designed to connect data centers in multiple ways to meet individual design requirements. This flexible design provides investment protection, giving organizations a single switch that can support varying data center requirements.

High Performance and low Latency

With 1/10 GbE and 40 GbE options, VDX 6940 switches deliver the high-performance computing needed to keep up with the demands of a virtualized data center, allowing organizations to reduce network congestion, improve application performance, and meet the capacity required by 10 GbE servers. The 40 GbE and 100 GbE uplinks can easily aggregate high-bandwidth traffic and reduce bottlenecks that occur when aggregating multiple 10 GbE or 40 GbE connections, keeping data center networks working at peak performance.
Tech Specs
Switching bandwidth
2.88 Tbps

Switch performance
2.16 Bpps

Port-to-port latency
700 ns

Form factor
VDX 6940-36Q: 1U
VDX 6940-144S: 2U

Dimensions (W x H x D)
VDX 6940-36Q: 44 x 4.4 x 43.8 cm (17.32 x 1.73 x 17.22 in.)
VDX 6940-144S: 44 x 8.7 x 48.5 cm (17.32 x 3.41 x 19.1 in.)
VDX 6940-36Q: 31.75 kg (70 lb); 8.9 kg (19.6lb) without media; 10.1 kg(22.3 lb) with media
VDX 6940-144S: 61.24 kg (135 lb); 15.46 kg (34.1lb) without media; 17.32 kg(38.2 lb) with media

40 GbE QSFP+
VDX 6940-36Q: 36
VDX 6940-144S: 12

10 GbE Ports on Demand (PoD)
VDX 6940-36Q: N/A
VDX 6940-144S: 64, 80, 96

40 GbE Ports on Demand (PoD)
VDX 6940-36Q: 24, 36
VDX 6940-144S: 6,12

Power supplies
Two internal, redundant, field-replaceable, load-sharing AC/DC power supplies

Cooling fans
VDX 6940-36Q: 5 field-replaceable fan (FRUs); each fan FRU has 2 fans
VDX 6940-144S: 4 field-replaceable fans (FRUs); each fan FRU has 1 fan

Airflow
Rear-to-front or front-to-rear airflow

Service Weblink
http://www.fujitsu.com/global/services

Support Pack Options
Available in major metropolitan areas:
9x5, Next Business Day Onsite Response Time
9x5, 4h Onsite Response Time (depending on country)
24x7, 4h Onsite Response Time (depending on country)
Recommended Service
24x7, Onsite Response Time: 4h
Support Pack Options
Available in major metropolitan areas:
9x5, Next Business Day Onsite Response Time
9x5, 4h Onsite Response Time (depending on country)
24x7, 4h Onsite Response Time (depending on country)
Recommended Service
24x7, Onsite Response Time: 4h