FUJITSU Storage ETERNUS SF KM - VMware Features
Reduce risk of information leakage by uniform management of authentication keys
ETERNUS SF KM is a software for doing encryption of the virtual environment operated by vSphere. This prevents the encrypted virtual machine from operating in another virtualized environment. ETERNUS SF KM provides vCenter Server with the authentication key used for encryption/decryption.
The authentication key is generated when vCenter Server is registered and is provided when requesting an authentication key from vCenter Server or ESXi host.
ETERNUS SF KM provides high security and ease of operation by integrally managing the authentication key. By managing the authentication key in the external server and using secure communication that uses certificate during communication with vCenter Server, the risk of important data leakage is reduced.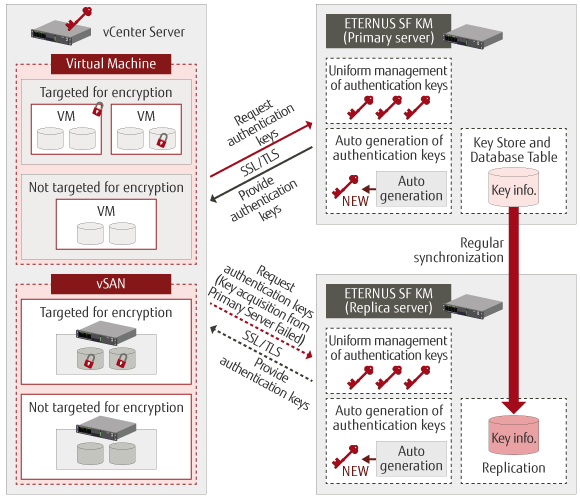 Reduce costs by authentication key lifecycle management
The product has auto generation/rotation functions of authentication keys and backup function of those key information to achieve authentication key lifecycle management and reduce operations management costs.
It also supports high availability by replication.
Global security
ETERNUS SF KM enhance data security and help facilitate compliance management of regulations and standards such as the Payment Card Industry Data Security Standard (PCI DSS), General Data Protection Regulation (GDPR), and Sarbanes-Oxleyand the Health Insurance Portability and Accountability Act (HIPAA). The standard communication specification for Key Management Interoperability Protocol (KMIP) is supported.