FUJITSU Storage ETERNUS SF KM - Features
Reduce risk of information leakage by uniform management of authentication keys
The key management group and NetApp Storage Encryption(NSE) where the self encrypting drive(SED) is registered will be provided with the required authentication key. Authentication keys generated and stored by a key management server are provided for a required device when required.
Secure uniform management can achieve authentication key management and reduce risk of important data leakage.
In addition, secure communication is carried out between the key management server and an ETERNUS AF/ETERNUS DX using mutual certificate authentication to prevent any illegal access from outside.
The certificate generation and expiration notification functions make it easy to install and use certificates.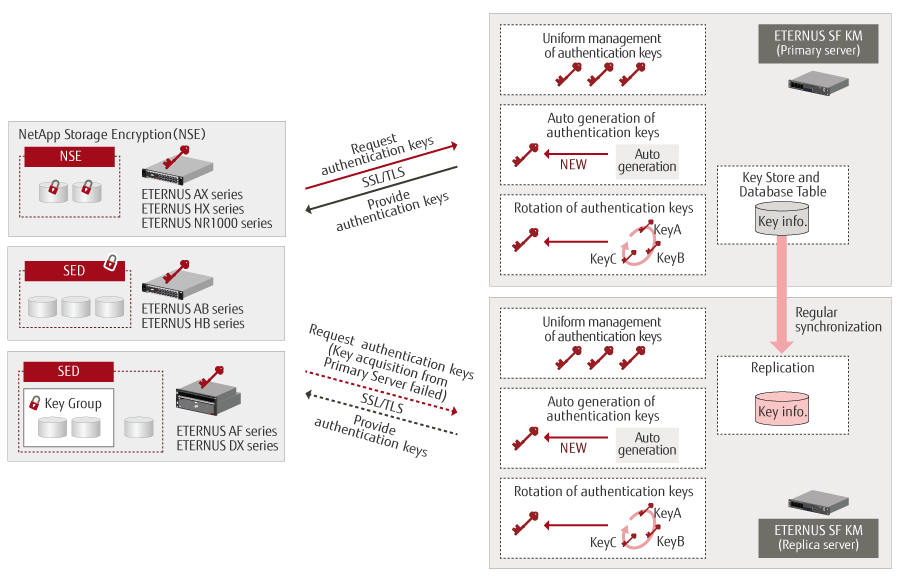 Reduce costs by authentication key lifecycle management
The product has auto generation/rotation(*1) functions of authentication keys and backup function of those key information to achieve authentication key lifecycle management and reduce operations management costs.
It also supports high availability by replication.(*2)
(*1)

Authentication keys rotation function only supports the ETERNUS AF series/ETERNUS DX series.

(*2)

ETERNUS AB series/ETERNUS HB series do not support replication availability.
Global security
ETERNUS SF KM enhance data security and help facilitate compliance management of regulations and standards such as the Payment Card Industry Data Security Standard (PCI DSS), Sarbanes-Oxleyand the Health Insurance Portability and Accountability Act (HIPAA). The standard communication specification for Key Management Interoperability Protocol (KMIP) is supported.
Program Requirements
Refer to ETERNUS SF KM product information.