Fujitsu SPARC M12-2S
Fujitsu SPARC M12-2S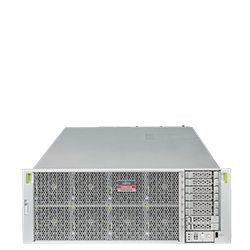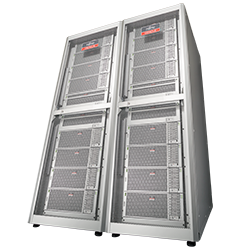 The Fujitsu SPARC M12-2S server is a flexible and scalable system based on the latest SPARC64 XII processor, delivering high performance and high availability for mission-critical enterprise workloads and cloud computing. The SPARC64 XII processor core in Fujitsu SPARC M12-2S provides up to 2.5 times the performance compared to the previous generation SPARC64 X+ core.
The Fujitsu SPARC M12-2S features:
Scalability from 1 to 8 processor sockets with modular Building Block Architecture and Fujitsu high-speed interconnect technologies. This provides dynamic flexibility to create large scale-up and/or granular scale-out configurations within the same Fujitsu SPARC M12-2S system.
Huge capacity for the largest workloads and consolidation/modernization implementations. Up to a maximum of 96 cores, 768 threads, 12 TB of DDR4 memory and 352 PCIe slots.
CPU core-level Capacity on Demand allows granular and agile response to changes in business requirements. Fujitsu SPARC M12 Core Activation allows customers to start small and grow by supporting an initial minimum of two activated cores and step-by-step expansion in units of a single core.
Innovation Fujitsu Vapor and Liquid Loop Cooling (VLLC) technology is employed to reliably cool the server through the phase change of liquid to vapor. VLLC is approximately 3 times more efficient than traditional cooling technology, leading to enhanced compute density and datacenter cost savings.
Dramatically improved Oracle Database processing and encryption performance with Fujitsu SPARC M12 Software on Chip functionality. By implementing dedicated per-core logic in each processor, Software on Chip offers vastly improved performance for tasks traditionally handled purely by software. Software on Chip functionalities include Single Instruction Multiple Data (SIMD) for in-memory processing, decimal floating-point operations, and encryption processing.
Mainframe-class RAS (Reliability, Availability, Serviceability) features abound in Fujitsu SPARC M12 servers. Features to support the most business-critical processing include: automatic recovery with instruction retry, extended error-correcting code (ECC) protection, guaranteed data path integrity, configurable memory mirroring, redundant and hot-swappable system components and support for dual power feed implementations.
Fujitsu SPARC M12 systems support the world's most advanced enterprise operating system: Oracle Solaris. Bare metal Solaris 10 and Solaris 11 are supported, as well as Solaris 8 and 9 in Oracle Solaris Legacy Containers, providing customers with exceptional investment protection and no-risk migration from previous server generations.
To drive higher levels of system utilization and the resulting cost savings, Fujitsu SPARC M12 systems support no-cost Oracle VM Server for SPARC and Oracle Solaris Zones virtualization technologies. Fujitsu SPARC M12-2S also supports physical partitioning for electrical isolation of partitions. These virtualization and partitioning features allow for massive yet flexible server consolidation for the most demanding mixed-workload environments.
Fujitsu SPARC M12-2S is the ideal server for traditional enterprise-class workloads such as large-scale online transaction processing (OLTP), business intelligence and data warehousing (BIDW), enterprise resource planning (ERP), customer relationship management (CRM), as well as new environments in cloud computing and big data processing.