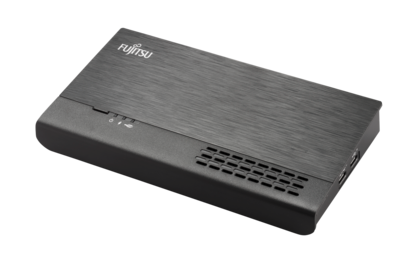 USB Port Replicator PR09
The new FUJITSU USB Port Replicator PR09 is the perfect solution for shared desk environments within a hyperconnected world. It connects your mobile system to your main peripherals with a single USB plug. This Port Replicator is equipped with the most powerful DisplayLink chipset supporting high performance video streaming with Dualhead-DisplayPort.
Highest data throughput is guaranteed due to an USB Type-C based Gen2 Hub-Controller enabling up to 10 Gbit/s data streaming. The newest version of USB Power Delivery chipset (PD3.0) provides powerful charging during your workday.
Main Features

Highlights

Dualhead high-end graphics up to 4k
Singlehead up to 5k
Gigabit-LAN integrated
USB Type-C upstream
USB Power Delivery (PD3.0)
Multiport USB 3.1 Gen1 DFP hub
Multiport USB 3.1 Gen2 DFP hub
SPDIF digital audio 2.0

Developed for shared multi-vendor system workplaces
System independent investment protection (TCO)
Future proof & backwards compatible (e.g. to USB-A systems)
Easy IT integration (PXE / MAC spoofing support)
Mac Address Pass Through (MAPT) for Fujitsu Notebooks enabling MAPT in the BIOS from S3 or lower.
Fast one-cable connection for data and power
Global country certifications
Appealing design ID workplace device
Main Features

Dualhead high-end graphics up to 4k
Singlehead up to 5k
Gigabit-LAN integrated
USB Type-C upstream
USB Power Delivery (PD3.0)
Multiport USB 3.1 Gen1 DFP hub
Multiport USB 3.1 Gen2 DFP hub
SPDIF digital audio 2.0

Highlights

Developed for shared multi-vendor system workplaces
System independent investment protection (TCO)
Future proof & backwards compatible (e.g. to USB-A systems)
Easy IT integration (PXE / MAC spoofing support)
Mac Address Pass Through (MAPT) for Fujitsu Notebooks enabling MAPT in the BIOS from S3 or lower.
Fast one-cable connection for data and power
Global country certifications
Appealing design ID workplace device
Tech Specs
Product
USB Port Replicator PR09

Color
Black

Required interface
USB Type-C

Power supply
1 AC/DC Power Adapter 120 W (package content)

DC-in
20 V

Ethernet (RJ-45)
1 port Gigabit LAN (based on chip Realtek RTL8211F)

Kensington Lock support
yes

Resolution
show full list of resolutions

System requirements
For office and productivity:
Intel Core i3 2+ GHz / Intel Core M / AMD Trinity or better
USB 3.1 Gen 2 recommanded
40MB of free storage space

Power supply input
100-240 V AC
50-60 Hz

Power supply output
20 V DC at 6 A

Package content
USB Port Replicator PR09
AC/DC Adapter 20 V, 120 W
EU-power cord, 1,8 m
USB Type-C cable, 1 m
Quick Start Guide
Service Desk & Warranty Informations
Safety Notes
Informationcard for driver download

Weight
340 g (device only w/o AC-Adapter)

Dimensions (W x D x H)
200 x 97.6 x 29 mm

Acc order code SAP
S26391-F6007-L500

Warranty type
Bring-In / Send-In Service (depending on country)

Warranty Terms & Conditions
http://www.fujitsu.com/warranty

Resources
Data Sheets and Product Information
Product Related Services