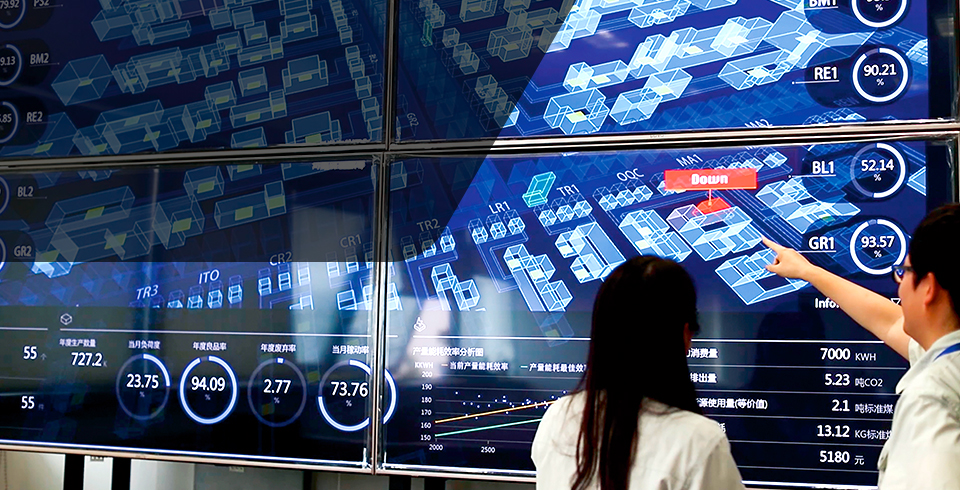 Evolution toward a true Smart Factory has begun
To create an intelligent manufacturing system it is essential to monitor production operations as well as energy consumption. This requires the timely collection, visualization and analysis of data. Fujitsu helped INESA (Group) Co.,Ltd. to initiate the Smart Factory Project and boost their competitiveness.
Thanks to the expertise of Fujitsu, we have achieved significant results in smart manufacturing by applying IoT and Big Data technologies. We will continue to work closely with Fujitsu as we explore ways to remain a clear leader in a very competitive industry.

Li Xiaojun,
Deputy General Manager, INESA Display
Materials Co., Ltd., an INESA Group company
Collecting production data and visualization were major challenges
The Instruments and Electronics (Shanghai) Associates Group (INESA) is a large-scale, stated-owned company in China that provides smart city solutions. Its subsidiary INESA Display Materials Co., Ltd. is the only color filter production company in the world with fifth-generation capability. In response to rapid changes in corporate business models and the market environment, the government of China announced its 'Made in China 2025' strategy. The aim is to combine cutting-edge information and communications technology (ICT) with manufacturing, thereby enabling China to leapfrog ahead of its rivals by transitioning from a manufacturing giant that mass-produces items to a manufacturing powerhouse that focuses on production quality. To help achieve this goal, INESA is pioneering next-generation information technology and smart manufacturing to promote development and competitive advantage.
To successfully create a smart factory, the company must continually keep up with the rapid pace of market changes regarding production, quality, efficiency, cost control and reductions in energy consumption. This requires an intelligent system to handle data collection, storage, processing and visualization to enable fast access and analysis of information in mass production operations as well as energy monitoring.
Traditionally, data was collected through various statistical reports. However, this approach was problematic due to complex procedures, time-consuming labor-intensive processes and the inability to display a variety of information in a meaningful way. Furthermore, it was difficult to grasp the overall status of factory production, equipment operation and maintenance activities.
"In our production environment, there are numerous data sources that provide information on processes, equipment and environmental factors, which can directly affect the quality of our final product," explains Wei Fengrong, Information Department Director, INESA Display Materials Co., Ltd., an INESA Group company. "Collecting this data is important to improve management. Therefore, to display it in a unified way on a single platform became a priority." (For details please see page 26, Book2)
Customer Profile

| | |
| --- | --- |
| Address | 168 Tianlin Road, Shanghai, China |
| Founded | 1958 |
| Employees | 16,000 (as of July 2016) |
| URL | http://www.inesa.com/eng/ |
More case studies