[Internal case]
Fujitsu Limited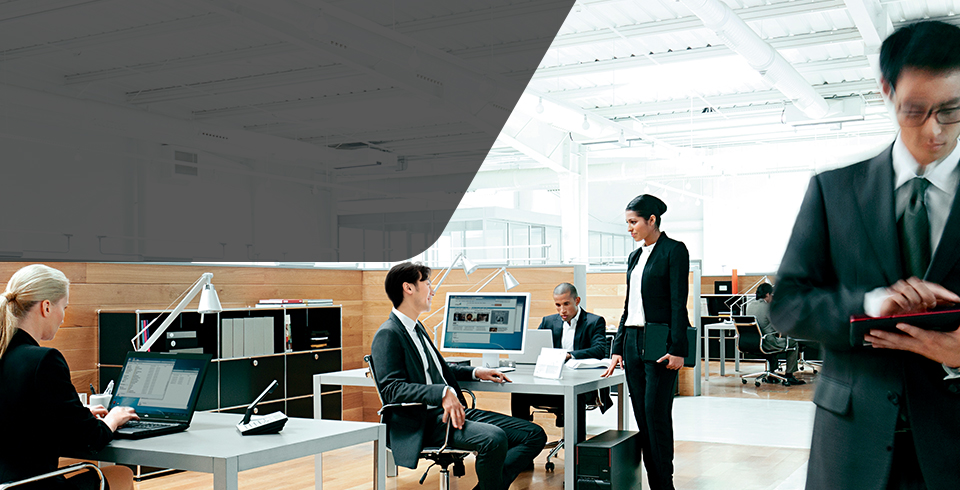 Workstyle transformation supported by
a Global Communications Platform
The Fujitsu Group employs 156,000 people around the world and in 2010 began developing a Global Communications Platform to enhance internal communication. The company started by standardizing the tools and transformed workstyles through web conferencing and an internal social network. A multi-cloud environment was then implemented that combined FUJITSU Cloud Service and partner's cloud service to ensure all elements would operate as a unified entity. From April 2017, Fujitsu will implement a Telework System based on this environment.
By combining the K5 cloud service which supports multicloud environments and partner's cloud services, such as Office 365 and Box, we have created a communications platform that enables workstyle transformation.

Takahiko Kouketsu
SVP, Head of IT Strategies Unit,
Fujitsu Limited
A Global Communications Platform with some regional variations
As a global business employing 156,000 people across the world, Fujitsu Limited (Fujitsu) began developing a new Global Communications Platform in 2010 to promote workstyle transformation and innovation.
As a first step, Fujitsu started the process of unifying its communications platforms in 2010. Head of IT Strategies Unit, Senior Vice President Takahiko Kouketsu comments, "Our aim was to enable all 156,000 employees around the world to use the same tools for email, schedule sharing, web conferencing and other tasks."
In 2013, Fujitsu took the second step by focusing on transforming workstyles through the adoption of an internal social network for knowledge sharing and a softphone system for voice communications. Then from 2015, while increasing the quality of information sharing through higher quality video and other content, the company deployed a virtual desktop system to support a wide range of workstyles and also bolster security.
Use of the Global Communications Platform is already generating solid results. For example, 95% of the Fujitsu workforce actively participates in web conferencing, with 1.7 million meetings expected during the fiscal year to March 2017. According to Takahiko Kouketsu, this represents "an annual saving of several hundred million yen for business travel expenses in Japan alone." As of January 2017, there are also 4,500 communities on Fujitsu's internal social network, with 20 patent applications resulting from these community activities.
However, the operational situation in 2015 was such that the communications platform was being provided via various Fujitsu data centers around the world using on-premise software. "Different circumstances in each region resulted in variations in the rollout speed and the functionality available to users," comments Takahiko Kouketsu. (For details please see page 44, Book2)
Customer Profile

| | |
| --- | --- |
| Address | Shiodome City Center, 1-5-2, Higashi-shimbashi, Minato-ku, Tokyo, Japn |
| Founded | 1935 |
| Employees | 156,000 (worldwide as of March 2016) |
| URL | http://www.fujitsu.com/global/ |
More case studies