Ever experienced language challenges in ServiceNow?
Symfoni Translate will help you solve these challenges with four translation applications for ServiceNow. It provides a range of modules to support interlinguistic stakeholder interaction and usage of the system. Symfoni Translate utilises the cutting-edge machine learning capabilities to provide a state of the art user experience.

End user translations
This enables a better user experience, service experience and more precise communication between stakeholders.

Back end translations
This functionality removes the language barriers and increases efficiency, pace of service delivery and improves service quality.
Platform translation assistant
The translation assistant helps to reduce the manual effort needed in translating the system.
Translation for 3rd party
The translation for 3rd party module exposes the translation capabilities to vendors or collaboration partners to break down interlinguistic barriers.
Security translation log
Symfoni Translate breaks with the existing non-logging paradigm of browser based translations and offers a full security log of all information exchanged via Symfoni Translate. The translation log can also be used for future training of machine learning capabilities and insight to user behaviour.

Administration and reporting
The administration module provides easy access to a user-friendly set up. The buildt-in reporting functionality enables the usage insight, which provides administrators the ability to monitor usage and user behavior along with intelligence about user interaction, which can be utilized for further improvement of the user interface.

Symfoni Translate Business case
Download our business value assessment calculator to see the financial benefits Symfoni Translate can give your company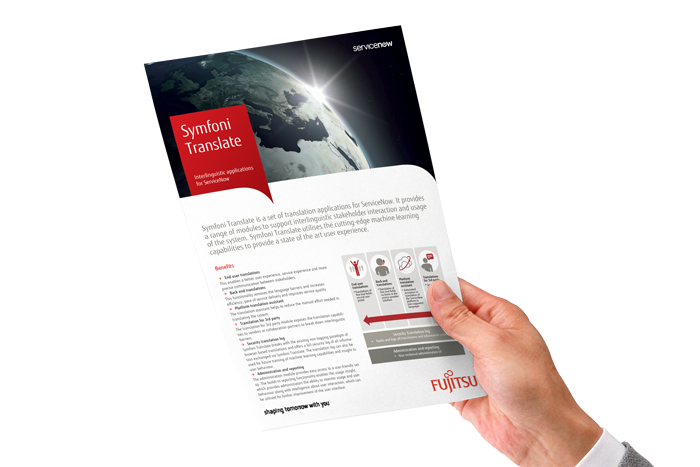 Find out how Symfoni Translate can support your organisation by downloading the datasheet.
REQUEST A DEMO
Fill out this form and we will provide you with a free demo of the Symfoni Translate solution.