Spotlight on IT Operations Management (ITOM)
IT Operations management includes the processes, services and administration of an organisations IT landscape. Monitoring of infrastructure or the cloud, maintaining a CMDB, mapping application layers and intuitive automation are all topics of ITOM. In the rapidly changing world with new industry trends the way we manage, and control IT is more important than ever. Effective IT operations ensure availability, efficiency and scalability of an organizations IT services to meet both internal and external requirements.
As such, true insight derives from transparency, reduced complexity and consolidation of legacy solutions into more fit-for-purpose models. To gain a central view of the connecting bits and pieces of IT, data flows and how they tap into the bigger business picture is key to meet the future for any modern company.
Spotlight on ITOM
In this document we have interviewed three experts within the ITOM area to find out more on how you can gain a true perspective on your business. And they are all giving you some important considerations on your way to achieve optimum operations efficiency and effectiveness, so that you can be agile enough to cope with the disruptive storms of the digital era.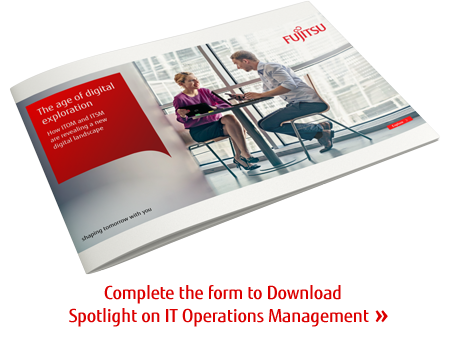 Fujitsu's approach to IT Operation Management from ServiceNow
Fujitsu has many years of experience within this field and can help move IT operations from a reactive state to a more intelligent and automated model. Based on the ServiceNow platform and our experience in datacenters and operations, we are happy to offer six packages that can scale as your needs change.
These key solutions are:
Discovery – to build a complete CMDB
Event Management – consolidate event sources & apply automatic remediation
Operational Intelligence – anomaly detection and advanced metrics
Orchestration – automate more and gain cost efficiency
Service Mapping – real-time application- & service maps
Cloud Management – reduce the cloud sprawl and drive down costs

Contact us about ITOM
If you want to learn more about how we can help you gain a clear, central view of how your business processes
and systems are organised and how they interact on the IT layer; please contact us.