Research Report: The Hybrid IT Platform Imperative
Building a solid systems foundation for digital transformation
The IT systems landscape is changing. As digital transformation moves ahead, IT infrastructures are becoming more diverse, both in type and location, and more interconnected - more hybrid, in other words. Check out this research report from FreeForm Dynamics, where over 800 senior IT professionals across the world give insight into their approach to Hybrid IT.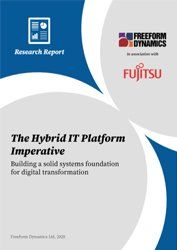 Complete the form and download our paper