Always on the winning side
Fujitsu is one of the world's most channel-centric global vendors of technology products, solutions and services, and the SELECT Innovation Award is just one of the many ways we encourage channel partners of all sizes, specializations and locations to share in our success.
These awards represent the pinnacle of the globalization of Fujitsu's SELECT Partner Program – a unique institution that makes it easier for channel partners to drive their business in a more profitable and innovative way.
SELECT Innovation Award 2020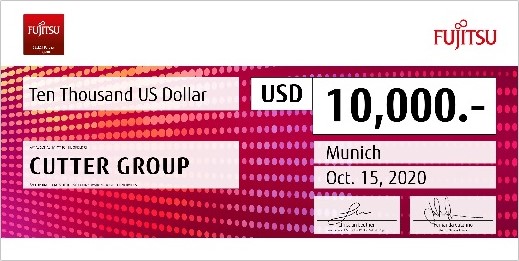 Fujitsu SELECT Circle Partner Cutter Group was named 2020 SELECT Innovation Award Winner, recognizing a transformational IT project at a British school for blind and vision-impaired young people, that has enabled the virtual lessons that students now rely on.
Finalists for the Innovation award were Austrian digital microscopy automation specialists Westmedia, and digital signage experts Napakeo from France.
Westmedia leveraged Fujitsu hardware to deliver artificial intelligence modules that meet rigorous healthcare regulations. These are now being deployed worldwide in laboratories to support remote testing for medical issues from Covid-19 to bone marrow disorders.
Meanwhile, Napakeo created a new COVID-friendly digital product for its Tourism Office customer – combining a digital information point and alcohol gel dispenser.
Europe SELECT Awards 2020
Best UK&I Partner – VIADEX Ltd
This partner has continued to bring new customers to Fujitsu and continues to show almost 50% year-on-year growth despite hugely challenging market circumstances.
Best CE Partner – Computacenter
This heavyweight partner, operating at the SELECT Infinity level, has shown extraordinary revenue and growth.
Best Channel led Countries Partner – Merlin Computers
This partner holds multiple roles across the partner ecosystem, from distributor, system integrator, service provider to long standing trusted Fujitsu partner.
Best Western Europe Partner – SJ-Solutions
This partner has not only achieved good results but has co-created with Fujitsu to build an innovative solution with an ecosystem approach to delivery.
Best Nordics Partner – Printcom
This partner from Finland has a long and successful history. Printcom has ambitious growth objectives and aims to collaborate with Fujitsu to implement its data-driven transformation strategy.
Best Eastern Europe Partner – "GST" (MSK Group)
This partner has delivered an innovative Smart City project based on Fujitsu data center products.
Best Digital Infrastructure Partner - Cipal Schaubroeck, Belgium
The winner of the best digital infrastructure partner category has shown extraordinary results in the data center business.
Best Service Provider - Sancluster, Germany
Digitalization is changing the way we sell, and partners are also changing. This new award category honors a service provider that has delivered great results in this field.
Europe's Rising Star - Harel Technologies, Israel
The Rising Star award recognizes a partner that has demonstrated a high level of sales and certification in addition to loyalty and commitment within the first years of partnership.