Creating Value for Customers with
"For Growth" and "For Stability"
Fujitsu's Key Focus Areas—Message from the Head
of Global Solutions Business
We will capture new markets and growth
opportunities by creating social value
in the seven Key Focus Areas in order to
contribute to a better world.
Megumi Shimazu
Corporate Executive Officer
SEVP, Head of Global Solutions Business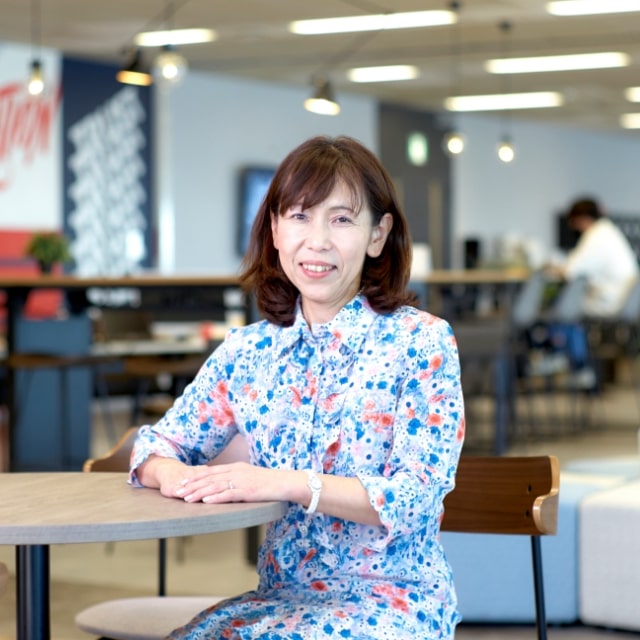 Significance of Social Issues as a Starting Point for Growth
The world in 2030 is expected to be a very different place from now. The United Nations estimates that the world's population will increase from 7.7 billion in 2019 to about 8.5 billion in 2030.*1
The latest Intergovernmental Panel on Climate Change (IPCC) report predicts that global average temperatures will rise faster than previously expected.*2 On the other hand, there is no doubt that the evolution of digital technology is going to make possible the impossible. The year 2030 is also the time frame for the attainment of the 17 goals and 169 targets set out in the "Sustainable Development Agenda" of the United Nations Sustainable Development Goals (SDGs).
What kind of value will the Fujitsu Group provide to customers, to society, and to each individual during this process of change from now to 2030? The Fujitsu Group's growth strategy remains inseparable from imagining a better future for the world and thinking about the role we should play in realizing it. The needs and expectations of customers and society seeking change for the better will also offer new markets and growth opportunities. Based on this idea, we are now aiming for growth, focusing on social issues as a point of departure, and have specified seven Key Focus Areas that will drive business in the "For Growth" domain under the new business brand "Fujitsu Uvance."
*1

Source: UN, World Population Prospects: The 2019 Revision

*2

Source: IPCC, Climate Change 2021: The Physical Science Basis
Seven Key Focus Areas:
Horizontal Areas and Vertical Areas
The seven Key Focus Areas are divided into two categories: Horizontal Areas, which are the foundation to support the offering of diverse services to our customers, and Vertical Areas, which are cross-industry business areas that relate to solving different issues confronting society.
The Horizontal Areas include three fields: "Digital Shifts," which support data-driven decision making, operations, and workstyle innovation; "Business Applications," which provide cloud integration and applications; and "Hybrid IT," which provides cloud computing and security services for customers' core systems. Within the three fields that compose the Horizontal Areas, we will make full use of the development and technological capabilities we have built up over the years to convert digital technology into value.
The Vertical Areas consist of the following four fields: "Sustainable Manufacturing," which realizes circular, traceable manufacturing focused on the environment and people; "Consumer Experience," which enables payment, retail, and logistics to deliver diverse experiences to consumers; "Healthy Living," which supports the wellbeing of all people; and "Trusted Society," which contributes to the creation of a safe, secure, and resilient society.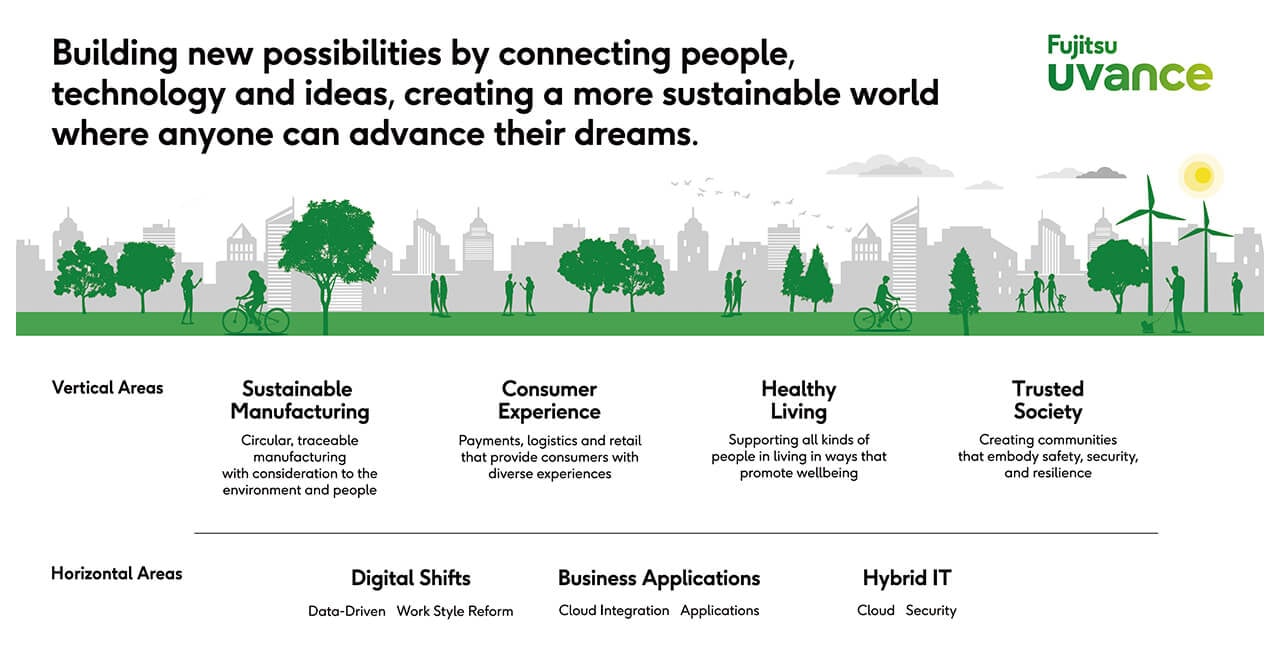 The Value We Provide and the Technology That Supports It
In the following section, we want to introduce the value we provide to stakeholders and the technology that makes it a reality, taking Trusted Society as an example. Natural disasters pose an increasingly serious threat in many parts of the world, and pandemics present another urgent, ongoing challenge to humanity. The Group will contribute to mitigating and minimizing the impact of such threats through predictions made possible by digital technology. The solutions used for risk prediction include technologies to process real-time data sent from sensors installed in various facilities and equipment with ultra-high speed and large-capacity computing infrastructure, as well as technologies to visualize the dynamics of society as a whole as a "digital twin." In this way, we aim to grow by combining computing with our various other proprietary technologies and "building new possibilities by connecting people, technology, and ideas."
Accelerating Transformation Based on Key Focus Areas
One reason for adopting terms like "Sustainable" and "Trusted" in the names of two of our Vertical Areas was to present the value we offer to our customers. Another reason was to clarify the value we offer and to carefully select services and solutions that match that value. In order for the Group to remain competitive and grow together with our customers in an ever-changing market, it would be meaningless if we were to just refresh the outer package and keep all the same services we have been offering.
To demonstrate Uvance's presence as a driving force behind the expansion of the "For Growth" sector as soon as possible, we are currently working rapidly to develop specific services, solutions, and service delivery systems organized and systematized for each Key Focus Area. We are also considering an organizational restructuring of the Group in order to achieve a better alignment between the Key Focus Areas and the organization and its human resources. To realize Our Purpose "to make the world more sustainable by building trust in society through innovation," we seek to provide real value to our customers and society at large by addressing social issues and seizing opportunities for growth.