AI Workshop
DTC Future Co-creation Workshop on Innovation by Human Centric AI
AI Workshop
2017.6.27 Tue
In recent years, we often hear the term "AI," such as news about the AI boom, including AI beating professional players in go and chess. In February 2016, MEXT, METI, and MIC announced plans to invest some 100 billion yen over ten years in a joint AI R&D project.
AI is the common abbreviation for "Artificial Intelligence," which is a term with science fiction connotations that refers to highly advanced technology. However, Fujitsu believes in taking a slightly unconventional approach to AI to bring more effective innovation to customers.
We interviewed Fumiyuki Hashimoto, who develops the overall strategy for Fujitsu's AI business, about AI and what the DTC AI workshop offers customers.
The AI envisioned by Fujitsu supports humans
The term AI has a history of more than 60 years; it was coined at the Dartmouth Conference in 1956. During what is known as the second AI boom in the 1980s, Fujitsu announced FACOMα, Japan's first computer equipped with AI, and KAS Intelligent Information System, an AI system. Fujitsu filed over 200 AI-related patent applications, making it the leader among Japanese IT vendors.
Fujitsu has always developed state-of-the-art AI. However, the AI envisioned by Fujitsu differs slightly from the commonly held notion of AI. Hashimoto explained as follows:
"Many people think of science fiction movies, in which humans develop 'brain computing' or replace parts of the human body with machines. However, the AI envisioned by Fujitsu is something that supports human decision making by enabling machines to think on behalf of humans."
Although people may think of AI as hostile to humans and depriving them of employment, as seen in science fiction movies, Hashimoto pointed out that such concerns are unwarranted:
"Thinking of AI as an Intelligence Amplifier (IA) rather than as Artificial Intelligence (AI) will show that it is something that amplifies human intelligence and supports our work and lives."
The AI envisioned by Fujitsu is a human centric technology that assists and supports humans.
Fujitsu's AI technology Zinrai
Fujitsu's AI technology is organized as Human Centric AI Zinrai, which was developed based on knowledge and technologies related to AI that Fujitsu has acquired over more than 30 years. Zinrai provides prompt support for human decision making and actions to dynamically achieve corporate and social innovation. Hashimoto explained Fujitsu's approach as follows:
"Customers often ask us where Zinrai is or which hardware or software contain it. However, Fujitsu's AI is composed of functions for 'sensing and recognition,' 'knowledge processing,' and 'decision making and support' alongside learning functions and cutting-edge technologies that reinforce these functions to help them grow. It is not a specific algorithm associated with a stereotypical image of AI."
Zinrai is characterized by the following four technologies, which it uses to sense/recognize objects, process knowledge, and support decision making.
Affective media-processing technology
This technology processes human emotions, awareness, and considerations like a human by using the five senses. Combined with gaze-tracking technology, it can understand how humans feel.
Knowledge-processing technology
This technology generates knowledge that humans can understand and also that machines can process. It is used in various types of data analysis to support medical diagnosis and call center response services.
Mathematical technology
This technology solves social and business issues mathematically by using the Kei supercomputer and other systems. For example, by analyzing massive amounts of data, it generates data that can help reduce traffic congestion.
Learning technology
This technology supports AI's continuous growth by acquiring useful knowledge and patterns through daily learning. It is also used in monitoring camera images and in cyber attack countermeasures.
Fujitsu has received more than 400 comments from customers about verification experiments we have conducted together. Based on our in-house practices as well, we have identified high-priority areas for AI use as well as potential use cases. We believe Zinrai can play important roles in the following 12 areas.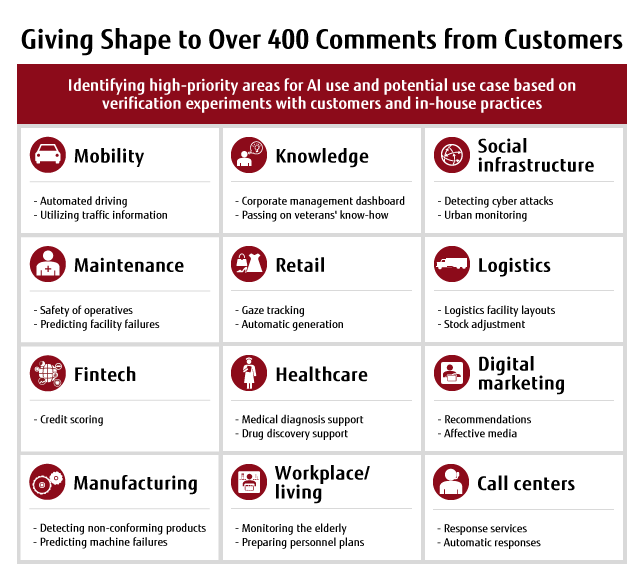 Verification experiment at San Carlos Clinical Hospital's Institute of Sanitary Research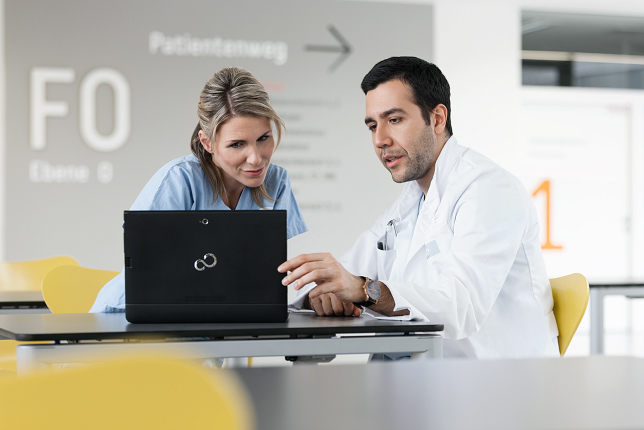 In the area of medical care, there are high expectations for using AI to develop new drugs and new medical treatments; various programs and verification experiments are underway. Fujitsu carried out a verification experiment to introduce AI to support doctors in performing medical diagnosis at the Institute of Sanitary Research of the San Carlos Clinical Hospital in Spain.
In treating mental illnesses, doctors must make prompt decisions. However, factors that contribute to mental illnesses are complex and very difficult to identify. This is why AI was used to perform diagnosis in this area.
In addition to anonymized medical care data on over 36,000 patients, Fujitsu also analyzed open data on more than 1 million cases, including medical care-related academic papers. As a result, we could identify patients' health risks in as little as a few seconds and succeeded in estimating the risk of suicide and alcohol/drug dependence with an accuracy of more than 85%, thereby cutting doctors' diagnosis time in half.
Hashimoto commented on this result: "AI made it possible to identify the factors contributing to these illnesses very quickly, which expert doctors had previously been spending hours diagnosing. This is a very good example of how AI can support humans."
Use of AI at call centers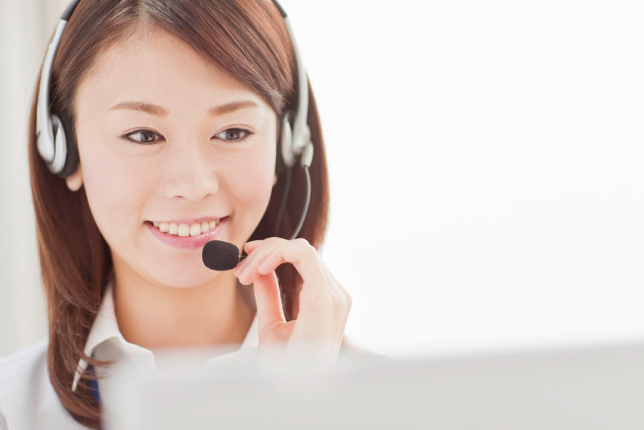 AI technology is also expected to be used effectively at call centers, which receive phone inquiries from many customers.
In this example, AI voice analysis is used to estimate the level of customer satisfaction from phone conversations. Voice analysis technology analyzes the lengths of utterances and intervals as well as utterance overlaps to instantaneously and highly accurately evaluate massive amounts of data that cannot be processed manually. It estimates voice cheerfulness from tone of voice and change patterns, thereby directly quantifying the level of customer satisfaction by mapping satisfaction and dissatisfaction.
Analysis results are shown to operators as customer satisfaction data to inform them of the level of satisfaction with their response services.
Also, if AI becomes capable of analyzing question content, it can automatically present responses associated with a particular question on a screen. As a result, operators will be able to review the responses customers expect while receiving inquiries to avoid making customers wait a long time.
Hashimoto emphasized the significance of introducing AI at call centers as follows: "Introducing AI reduces customer waiting times and improves customer satisfaction. In addition, it also enables even inexperienced operators to provide the same level of response services as veteran operators. As a result, AI reduces training time and costs."
DTC's AI workshop focused on generating ideas
DTC provides the aforementioned AI utilization workshop to think from scratch. This six-hour full session has customers participate in groups of 20 to 30 members. Hashimoto described the customers targeted for the workshop:
"This workshop does not target customers who intend to use AI for specific purposes, but rather those who want to tap their imaginations to consider using AI creatively. We make proposals to customers who have often heard about AI recently or have been told by their companies to consider using AI but do not know how to get started."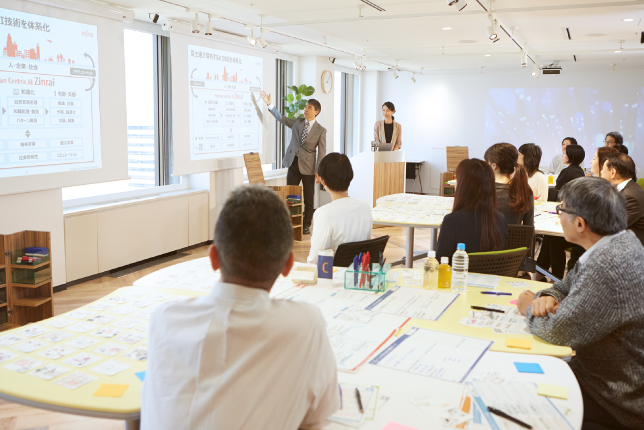 The workshop starts with a warm-up session for participants who are not used to group work. First, by using photo cards, participants reflect on their current states, think about their futures, and imagine what they want to achieve.
We then clear up stereotypical images and misunderstandings about AI to explain the AI envisioned by Fujitsu and introduce Zinrai.
After understanding the concept of the AI envisioned by Fujitsu, an AI which assists and supports humans, participants use inspiration cards developed for this workshop to generate ideas about how to utilize AI and to review the themes they wish to explore.

Hashimoto described the aim of the workshop as follows: "Thinking of AI as technology may give you an image of something very demanding and even scary, making it difficult to generate fresh ideas. Thus, it is important to set AI aside for the moment and focus on what you wish to achieve."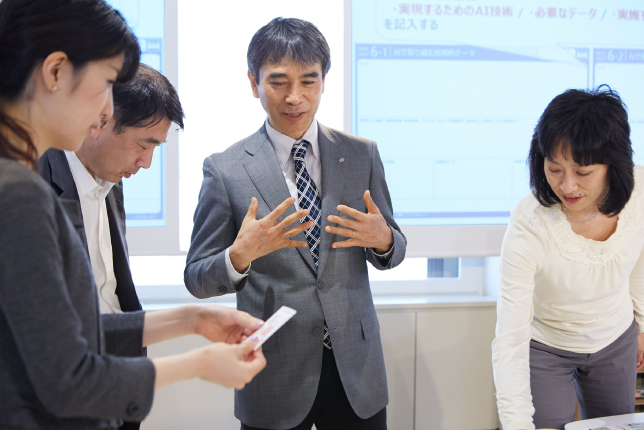 Also, participants' ideas can sometimes be achieved without using AI. Still, Hashimoto shared the following about the workshop's aim:
"Even if it becomes clear that customers' goals can be achieved without using IT, we believe that participation in the workshop is meaningful so long as we can help customers properly understand their goals and to achieve the best possible results."
Fujitsu generates innovation with AI through co-creation with customers. Let's work together in the DTC workshop to imagine a future in which AI supports our work and lives.
Top of Page