A little about Us
Innovation is embedded in our DNA. We are committed to a Human Centric approach of development and drive change to enable our clients to be fit for the future. As the leading Japanese information and communication technology (ICT) company, founded in 1935, Fujitsu offers a full range of ICT products, solutions and services around the world. We use our experience and the power of technology to shape the future of society with our customers. A long line of landmark achievements and product milestones has made Fujitsu what we are today – a leading company in the ICT environment.
Read our corporate profile to find out more.
People join Fujitsu because they share our passion about Human Centric Innovation and Digital Co-creation. In order to thrive in a new digital society, it is crucial to co-create and innovate with our customers and partners across industries. At Fujitsu, we want to harness the talent of all our employees to be able to make a difference and create an exciting future for all.
We Value:
Our employees, who respect diversity and support individual growth
Our customers, as we seek to be their valued and trusted partner
Our business partners, with whom we build mutually beneficial relationships
Technology, as we seek to create new value through innovation
Quality, as we enhance the reputation of our customers and the reliability of social infrastructure
​
We Strive:
That in all our actions, we protect the environment and contribute to society
To meet the expectations of our customers, employees and shareholders
To seek continuously increase our corporate value
To think and act from a global perspective
​
Read our philosophy to find out more about what we strive for.
Diversity and Inclusion
Be Completely You. We strive to be a responsible business that reflects the diversity of our world, and build an inclusive culture within Fujitsu where everyone can be completely themselves. We celebrate difference and ensure that people can succeed regardless of their personal identity (especially their gender) sexual orientation, gender identity, race, ethnicity, health, disability, age and more.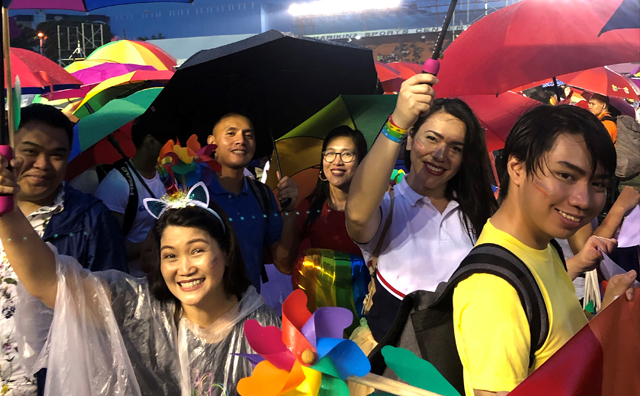 Photo: Fujitsu Employees celebrating Pride in Manila
Our Diversity and Inclusion Strategy
By setting a clear D&I strategy, based on our corporate value; "We value our employees, who respect diversity and support individual growth" we have developed an overview what acts as a guideline, helping further advance our effort towards D&I within our culture. We believe that D&I goes even further then the above-mentioned factors nowadays and we commit to include this in our culture.
Corporate Social Responsibility Policy
At Fujitsu we are committed to being a truly global ICT corporation that stays responsive to the needs and expectations of all its stakeholders. In this light, we have established a Corporate Social Responsibility policy. CSR in the Fujitsu Group is practiced by implementing the FUJITSU Way. In all its business activities, by implementing the FUJITSU Way in light of the expectations and needs of multiple stakeholders, the Fujitsu Group contributes to the sustainable development of society and the planet. In practicing CSR, we demonstrate a commitment to responsible business operations as a global ICT company by specifying priority issues and working to address them.
Global Responsible Business
At Fujitsu we value our employees, and welcome you to develop your careers with us. We commit to your development through offering you training possibilities, development programs and discussing your career roadmap with us. From graduate to seasoned professional; for every step on your career path, we have job opportunities that match where you are and where you would like to go.
Please find below the current opportunities we offer.