Takara Yojyo Shizai Co., Ltd.
Development of soap using titanium apatite, a photocatalytic material with antibacterial and deodorizing effects
[Representative patent: Patent No. 3928596]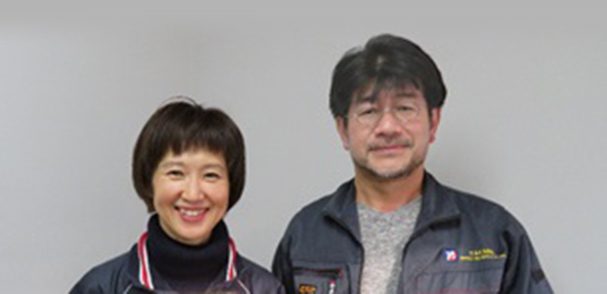 Takara Yojyo Shizai Co., Ltd. mainly manufactures and sells building protection materials in Kawasaki City, Kanagawa Prefecture.
I asked Masaki Yoshimura and Chieko Yoshimura, the representative directors.
What made you decide to use intellectual property in business?
We are a company that handles "curing material" to protect buildings under construction and renovation from dirt and scratches. The former president is a great idea man who developed various materials. I have applied for many patents. As a successor to the company, we were also thinking of developing something new and environmentally friendly, and we decided to participate in Kawasaki City's intellectual property matching program, which utilizes the intellectual property of large companies for small and medium-sized companies.
What kind of products did you develop using intellectual property?
Focusing on the adsorption capacity of photocatalysts "titanium apatite", we decided to make a soap that has excellent antibacterial and deodorizing effects.
It took about two years of trial and error to commercialize the product. At first, the deodorizing effect of titanium apatite was so strong that it absorbed even the fragrance, and when too much fragrance was added, it did not harden this time, so I repeated trial manufacture many times. In the end, we were able to develop satisfactory products with excellent antibacterial and deodorant effects.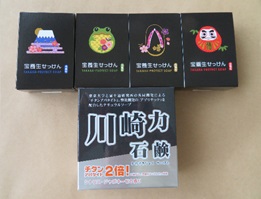 [developed soap]
What were the benefits of tackling new product development?
The product is advertised in the newspaper and on TV, and customers tell us that they have seen it. In our primary job, people came to see us as part of a "company taking on new challenges," which greatly improved our image. It's very interesting to try new things. I also find it very enjoyable to interact with people from different industries that I have never had the opportunity to make contact with before.
What are your plans for the future?
We are in the construction industry, so we have no market access to sell soap. We will sell new products going forward, but developing sales channels is a big issue for us SMEs. Despite these circumstances, the strong support from Kawasaki City government workers for our products' commercialization has enabled us to sell our products in the city and elsewhere. Up next is the chance to do our best work.
A message from the Intellectual Property Coordinator

Toru Nishiya, Intellectual Property Coordinator, Kawasaki Institute of Industrial Promotion
The City of Kawasaki in Kanagawa Prefecture is carrying out a program that we call the "Kawasaki model" to introduce licensable patents and other IP owned by large companies and research institutes to small and medium-sized enterprises as well as to support the commercialization of the same. The "Kawasaki model" is characterized by the way we "accompany" small and medium-sized enterprises as they solve problems arising during the stages from product development to commercialization.
[Posted on March 15, 2017]