An Open Ecosystem towards a Hydrogen Society : Hydrogen Station Data Management Service [ Toyota Motor Corporation Case Study ]


The introduction of fuel cell vehicles and hydrogen stations is an exciting development with the potential to make our environment cleaner and greener. To help make this technology widely available, Fujitsu has started a hydrogen station data management service. Toyota introduced this service to provide the information of the location and availability of hydrogen stations across Japan. It is a platform to enable an open ecosystem to form, which other car manufacturers and energy companies can join.

Introducing new fuel cell vehicles for a greener society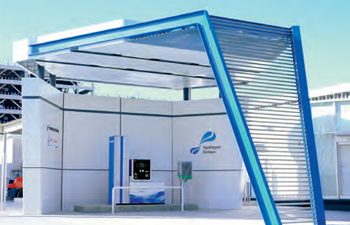 Our daily lives, business and society rely on the mass consumption of energy and natural resources, but as we know this can also be detrimental for the planet. Many measures are being taken to protect the environment and fuel cell vehicles (FCV) have now become the focus of attention. Using hydrogen as fuel, FCVs open up the possibility of zero carbon dioxide emissions in the future. However, in order for FCVs to be widely adopted, the hydrogen supply infrastructure - hydrogen fueling stations - has yet to be fully established.
Even though Japan is ahead of other countries in developing this infrastructure, hydrogen stations are still relatively uncommon compared to gas stations. Furthermore, it is difficult for drivers to know where to find them, as information is not widely available. To supplement the limited availability of fixed stations, mobile fuelling stations have been deployed, but these are even harder for drivers to locate. To make FCVs convenient enough to use, therefore requires drivers to have a simple and easy way to find out fuel stops. The solution to these issues requires a new collaborative effort across the automotive and energy industries.
Transcending industry boundaries and conventional wisdom
There are many issues to be overcome in order for FCVs to be widely adopted. First and foremost, drivers of FCVs should feel comfortable while driving by knowing that they can fuel hydrogen when needed. To overcome issues and help FCVs gain acceptance, Fujitsu has recently launched a hydrogen station data management service based on 'FUJITSU Intelligent Society Solution SPATIOWL'. SPATIOWL is a Fujitsu cloud service for location information management, providing insights from big amount of location information. It is equipped with multiple functional components including telematics(*1), probe traffic information systems, speech synthesis and personal protections. SPATIOWL can be used as an open platform as a service (Paas). This platform allows enterprises to rapidly develop their unique location information services. An open platform makes it easier for both the location service providers and users of the information to participate in the ecosystem. Hydrogen station data management services are expected to play a key role in extending the ecosystem to other car manufacturers and leading to greater adoption of FCVs.
In December 2014, Toyota released the Mirai, the world's first mass production FCV. The Toyota Mirai runs on the chemical reaction between hydrogen and oxygen in the air to generate electricity. In addition to the release of the Mirai, Toyota announced that they made about 5,680 of their own FCV-related patents, including patents under inspection, freely available to the public.
An open, cloud-based platform facilitates the participation in the ecosystem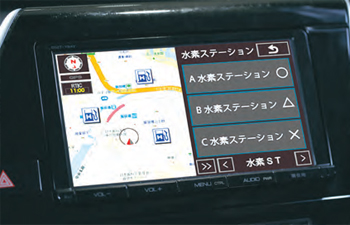 Toyota has started a new service designed for the Mirai on Toyota's telematics service platform called T-Connect. The new service provides drivers of Mirai with useful data from SPATIOWL's hydrogen station data management service. Drivers can check the station information on one of two different apps. The first one is "Hydrogen Station List," installed on the navigation system on the Mirai. The Hydrogen Station List automatically extracts the three closest hydrogen stations to the vehicle and lists them on screen. The other is the Pocket Mirai app for smartphones. In addition to information regarding the remaining hydrogen in Mirai and possible mileage, Pocket Mirai provides information related to hydrogen stations in Japan in real time, including opening hours and location. This information from Hydrogen Station List and Pocket Mirai provides drivers with safety, security, comfort and convenience.
The Hydrogen Station Data Management Service also has a function for the hydrogen operators. They can register their hydrogen stations by tapping the map on a Web browser. SPATIOWL automatically calculates the longitude and the latitude on the map, and registers a station, which instantly appears on the Hydrogen Station List and Pocket Mirai. This feature allows hydrogen station operators to easily register and update hydrogen station information without setting up a new system.
Says Takako Yamada of Toyota's Telematics Business Department, e-Toyota Division, "With help from hydrogen suppliers and a new service from Fujitsu designed to our needs, we were able to launch the hydrogen station data management services at the same timing as the introduction of Mirai. We feel the service will increase convenience for Mirai drivers and we will continuously enhance the service by incorporating the feedback from our customers and other stakeholders."
Fujitsu is working on implementing new functionality such as a Web API for SPATIOWL so that hydrogen station operators can register their hydrogen stations automatically from the systems of hydrogen station operators. By making it much easier for companies to join the FCV ecosystem, Fujitsu contributes to making hydrogen a viable option.
The automotive, energy and ICT industries are working together, forming a new ecosystem. This ecosystem transcends the conventional boundaries of industry to help improve the environment.
Note
(*1) Telematics:
The integrated use of telecommunications and informatics, for application in vehicles and with control of vehicles on the move.
Services, Products and Solutions
The Customer : Toyota Motor Corporation

| | |
| --- | --- |
| Address | Toyota City, Aichi Prefecture, Japan |
| Founded | 1937 |
| Employees | 338,875 (consolidated) |
| URL | http://www.toyota-global.com/ |
---

Top of Page