Vie tuottavuutesi toiselle tasolle
viimeisimpien Fujitsu Ultra-Mobile Premium -tuotteiden avulla,
jotka tarjoavat ansaitsemasi vapauden.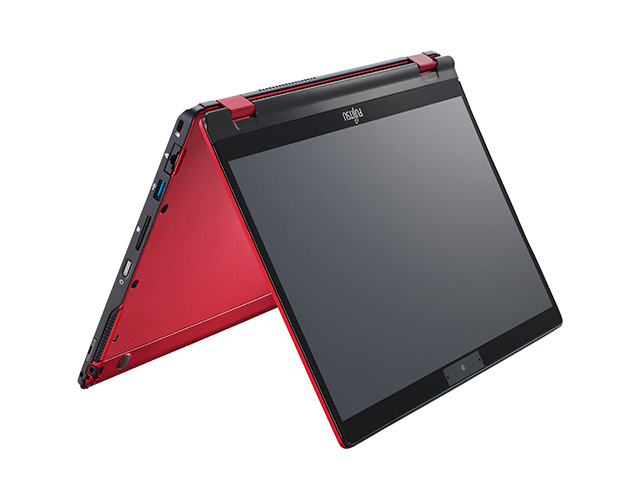 Fujitsun Ultra-Mobile Premium -tuoteperhe on suunniteltu liiketoiminnan asiantuntijoille, jotka tarvitsevat laitteen, joka kulkee vaivattomasti heidän mukanaan tien päällä. Kestävä magnesium-kuori pitää sisällään suorituskykyisen 8:nnen sukupolven Intel Core -prosessorin, samanaikaisesti kun häikäisyltä suojaava anti-glare näyttö varmistaa ergonomisen työskentelytavan – missä ikinä liikutkin. Integroitu PalmSecure® tai sormenjälkisensori takaavat maksimaalisen tietoturvan laitteellesi. Työpisteelle saavuttaessa laitteen saa yhdistettyä nopeasti ja helposti esimerkiksi telakointiaseman avulla. Mitä ikinä toivotkaan laitteeltasi, jokainen Notebook-kannettava ja -tabletti tarjoaa seuraavat asiat:
Helppo liikuteltavuus
Ylivoimainen turvallisuus
Kevyt ja ohut muotoilu
Erinomainen yhdistettävyys
Kokopäiväinen akun kesto
Maksimaalinen tietoturva PalmSecuren® avulla
While a Kensington lock secures your FUJITSU Tablet LIFEBOOK, the sensitive enterprise data inside is safe from unauthorized access thanks to industry- leading PalmSecure® authentication technology, a SmartCard reader, TPM 2.0 and a full HD InfraRed camera with Windows Hello support.
FUJITSU Tablet LIFEBOOK U939X Product Features
Maailman kevyin kannettava kynällä varustettuna
Weighing in at just over 1 kg and only 16.9 mm thin, the new FUJITSU Tablet LIFEBOOK U939X is a 360° foldable, 2-in-1 tablet for ultimate flexibility. The durable magnesium housing in stylish black or red packs the latest 8th gen Intel® Core™ i7 processor for high power along with best-in-class connectivity. While embedded PalmSecure® technology and a full HD InfraRed camera for face recognition keep your data safe and secure.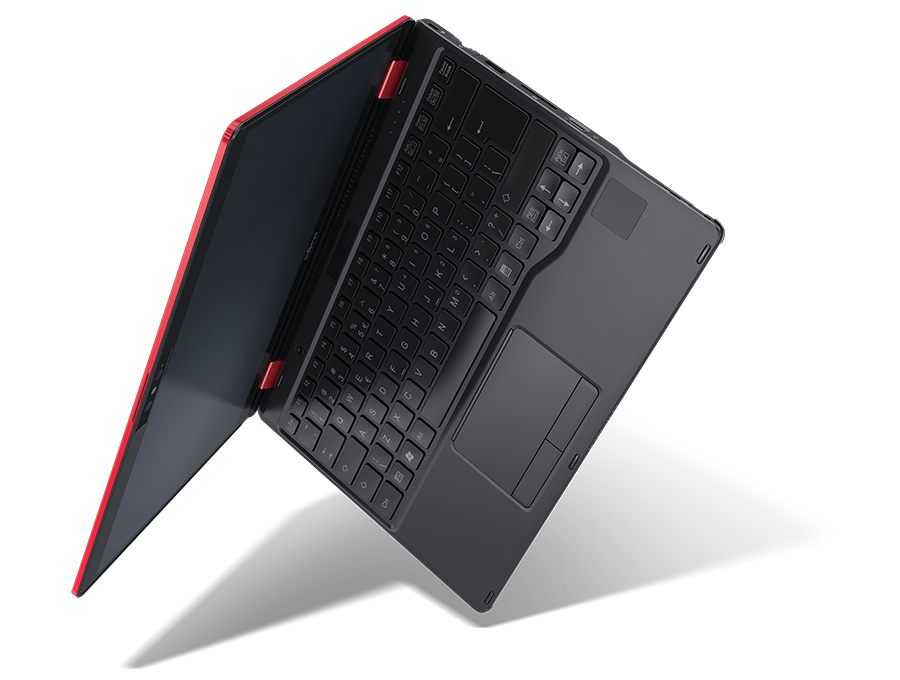 Varustettuna Wacom AES TechnologyTM -kynällä
Doubling as a Notebook or Tablet, the FUJITSU Tablet LIFEBOOK U939X provides no fewer than four functional working modes. The backlit keyboard is supplemented by a multi-gesture touchpad with integrated mouse button functionality, while the anti-glare FHD display allows both touch and pen input. The Wacom AES pen supports 4,096 pressure levels and is automatically recharged when replaced in its integrated pen garage.
Yhdistettävyys sisäänrakennettuna
All the interfaces on the FUJITSU Tablet LIFEBOOK U939X are full size, removing the need to pack adapters on your business trips. Alongside HDMI, this hyper-connected convertible features a LAN connector and USB Type-C with Intel® Thunderbolt™ 3 as well as embedded WLAN, Bluetooth and optional 4G/LTE (Cat 6).
360° taittuvuus
Vetovoimainen ja ohut kuori – saatavilla punaisena tai mustana – on näppärästi taitettavissa 360 astetta, mikä mahdollistaa tinkimättömän katselukokemuksen 13.3 tuumaisella FHD (1920 x 1080) -näytöllä sekä parhaan käyttömahdollisuuden myös takakameran käytössä.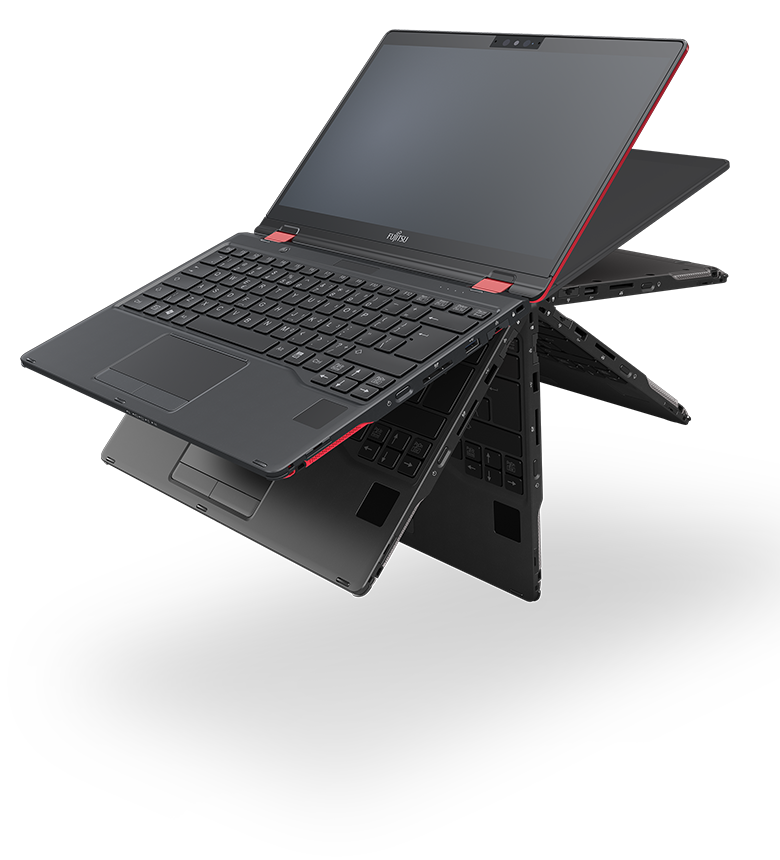 Lifebook U939X tekniset tiedot
33.8 cm (13.3-inch), anti-glare touchscreen,1,920 x 1,080 pixel, 1000:1,330 cd/m²

Up to Intel® Core™ i7-8665U processor

256 - 1024 GB internal SSD

8 or 16 GB onboard LPDDR3 (2,133 MHz)

Intel® UHD Graphics 620, up to 4,096 x 2,160 @ 60Hz

Backlit keyboard, multi-gesture touchpad with integrated mouse button functionality

Intel Dual Band Wireless-AC9560NV with integrated Bluetooth 5.0, LTE Sierra Wireless EM7455 (Cat. 6)

Built-in infrared webcam, full HD (1,920 x 1,080) (2.073 megapixel)
Optional 5MP Rear Camera

Realtek ALC255 on board, 2x digital array microphones, 2x built-in speakers (stereo)

Lithium polymer battery 4-cell, 50 Wh, 15 h runtime, quick charge: 80% in 1 h

5 - 35 °C (41 - 95 °F), 20 - 80% relative humidity

309 x 214.8 x 16.9 mm (12.18 x 8.41 x 0.62 inch), starting at approx. 1 kg
FUJITSU Tablet LIFEBOOK U939X liittyy Ultra-Mobile Premium -tuoteperheeseen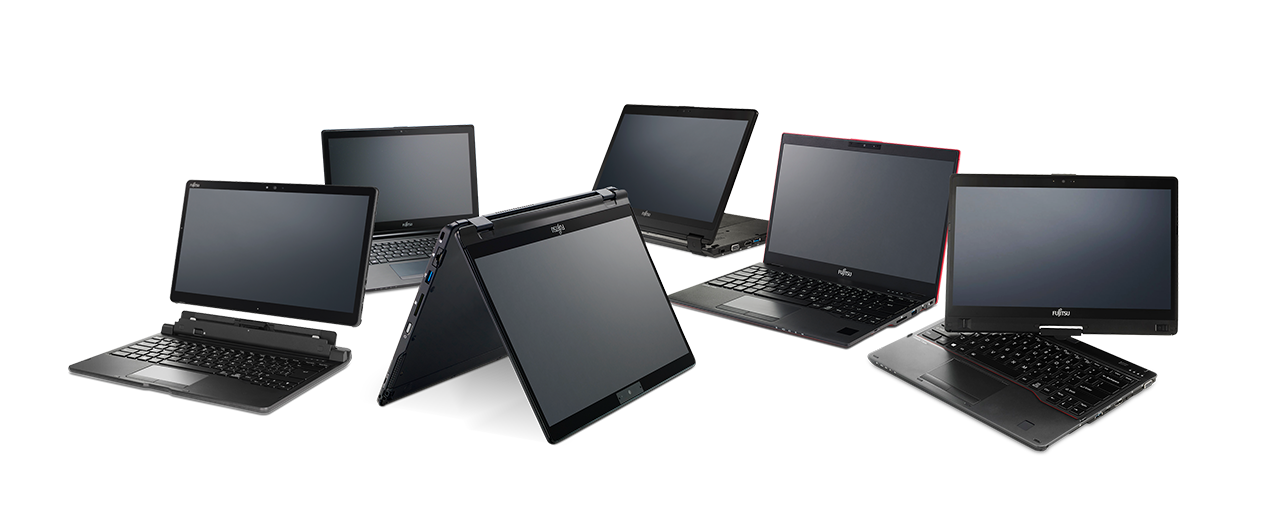 Oli laite sitten taiteltavissa, muunneltavissa tai irrotettavissa, Fujitsun tuotevalikoimasta löytyy tietokonetarpeisiisi matkakumppani sekä toimistolle ja sen ulkopuolelle.




LIFEBOOK U939X
LIFEBOOK U939
LIFEBOOK U729
LIFEBOOK U749
Claim
World's Lightest Convertible With A Pen
Ultra-Mobile Meets Ultra Secure 
Ultra-Mobile Meets Ultra Secure
Ultra-Mobile Meets Ultra Secure
Product Type
2-in-1 Convertible
Notebook
Notebook
Notebook
Hinge
360° Foldable Hinge
---
---
---
Display
13.3" FHD Anti-Glare
13.3" FHD Anti-Glare
12.5" FHD Anti-Glare
14 " FHD Anti-Glare
Pen Support &
 Pen Garage
Yes
No
No
No
Processor
Intel® Core™ i7-8665U
Intel® Core™ i5-8365U
Intel® Core™ i5-8265U
Intel® Core™ i7-8665U
Intel® Core™ i7-8565U
Intel® Core™ i5-8365U
Intel® Core™ i5-8265U
Intel® Core™ i3-8145U

Intel® Core™ i7-8665U
Intel® Core™ i7-8565U
Intel® Core™ i5-8365U
Intel® Core™ i5-8265U
Intel® Core™ i3-8145U
Intel® Core™ i7-8665U
Intel® Core™ i5-8365U
Intel® Core™ i5-8265U
Intel® Core™ i3-8145U
RAM
Up to 16 GB
Up to 16 GB
Up to 16 GB
Up to 16 GB
SSD
Up to 1024 GB
Up to 1024 GB
Up to 1024 GB
Up to 1024 GB
Camera
2 MP Front Camera (IR)
5 MP Rear Camera


2 MP Front Camera (IR)
Optional 1 MP Built-in webcam
Optional 1 MP Built-in webcam
Security Options
PalmSecure®
Fingerprint
IR Cam
SmartCard Reader
PalmSecure®
Fingerprint
IR Cam
SmartCard Reader
PalmSecure®
Fingerprint
SmartCard Reader
PalmSecure®
Fingerprint
SmartCard Reader
Battery Runtime
Up to 15 hours
Up to 14 hours
Up to 12 hours
Up to 12 hours
Misc.
Intel® Thunderbolt™ 3
Backlit Keyboard
Intel® Thunderbolt™ 3
Backlit Keyboard
Intel® Thunderbolt™ 3
Backlit Keyboard
Intel® Thunderbolt™ 3
Backlit Keyboard
Dimensions
309 x 214.8 x 16.9 mm
309.3 x 213.5 x 15.5 mm
302 x 209 x 19.0mm
332.6 x 234 x 19.0mm
Weight
From 1015 g
From 920 g
From 1150 g
From 1490 g






LIFEBOOK U759
LIFEBOOK U729x
LIFEBOOK T939
STYLISTIC Q739
Claim
Ultra-Mobile Meets Ultra Secure
Multi-Mode Productivity 
Top Performer with a Twist
Tablet Mobility Meets Notebook Productivity
Product Type
Notebook
2-in-1 Convertible
2-in-1 Convertible
Detachable
Hinge
---
360° Foldable Hinge
360° Swivel Hinge
---
Display
15.6" FHD Anti-Glare
12.5" FHD Anti-Glare
13.3" FHD Anti-Glare
13.3" FHD Anti-Glare
Pen Support &
 Pen Garage
No
Yes
Yes
Yes
Processor
Intel® Core™ i7-8665U
Intel® Core™ i7-8565U
Intel® Core™ i5-8365U
Intel® Core™ i5-8265U
Intel® Core™ i3-8145U

Intel® Core™ i7-8665U
Intel® Core™ i5-8365U
Intel® Core™ i5-8265U
Intel® Core™ i3-8145U
Intel® Core™ i7-8665U
Intel® Core™ i5-8365U
Intel® Core™ i5-8265U
Intel® Core™ i3-8145U
Intel® Core™ i7-8665U
Intel® Core™ i5-8365U
Intel® Core™ i5-8265U
RAM
Up to 16 GB
Up to 16 GB
Up to 16 GB
Up to 16 GB
SSD
Up to 1024 GB
Up to 1024 GB
Up to 1024 GB
Up to 1024 GB
Camera
Optional 1 MP Built-in webcam

Optional 2 MP Front Camera
Optional 5 MP Out Camera
2 MP Front Camera
Optional 5 MP Rear Camera
2 MP Front Camera
5 MP Rear Camera
Security Options
PalmSecure®
Fingerprint
IR Cam
SmartCard Reader
PalmSecure®
Fingerprint
SmartCard Reader
PalmSecure®
SmartCard Reader
Fingerprint
SmartCard Reader
Battery Runtime
Up to 12 hours
Up to 10.1 hours
Up to 11.5 hours
Up to 10.5 hours
Misc.
Backlit Keyboard
Backlit Keyboard
Backlit Keyboard
Backlit Keyboard
Dimensions
378 x 256 x 19.2mm
299 x 209 x 18.79 mm
318 x 224 x 19.8mm
315 x 200.9 x 9.7mm
Weight
From 1720 g
From 1.2 kg
From 1.3 kg
From 780 g