- Mobile World Congress 2016 : Fujitsu Spain
Mobile World Congress Media Program
At Mobile World Congress this year, Fujitsu will be demonstrating how it is taking the Internet of Things (IoT) to the next level as an enabler and accelerator of digital transformation.
Under the theme of Human Centric Innovation in Action, Fujitsu's booth A40 in hall 5 will demonstrate how the leading IT solutions vendor is delivering value for business and society in a hyperconnected world. Fujitsu's aim is to help its customers to accelerate their business transformation through digitalization: Fujitsu sees IoT as both a component and enabler.
To learn more about how Fujitsu co-innovates with its customers and IoT ecosystem partners to deliver disruptive business solutions, we invite you to a briefing and hands-on demonstrations at the Fujitsu booth A40 in hall 5.
Media program highlights:
Visit the Fujitsu booth at MWC to speak to our senior executives and to experience how Fujitsu helps organizations to digitalize with confidence. Join us for live demonstrations in the following key areas:
Smart Utilities & Smart Field Services: Highlighting the 'Hyperconnected Van' and 'Augmented Reality' for more effective field engineers
Automotive & Smart Transport: Improving driver safety and fleet management
Smart Manufacturing: Featuring supply chain visibility, factory efficiency, and improved worker safety
Smart Cities: Showcases on IoT-enabling topics around Mobility, Big Data and Human Centric Innovation such as the Barcelona Transport case study 
Smart Agriculture: Experience the real-life case study of the Connected Cow in the dairy industry
Smart Financial Services:
IoT Enterprise Wearables: Devices and sensors including location badges and tags, a? vital sensing band, and a remote monitoring station
Demonstrations from Fujitsu Laboratories of Europe:

In addition to the areas outlined above Fujitsu spokespeople are available to discuss the following topics:
Corporate Strategy and Vision
Digital Transformation
IoT Solutions, Mobility, Human Centric Workplace and Client Computing Devices
To arrange a briefing, please get in touch: Public.realtions@ts.fujitsu.com.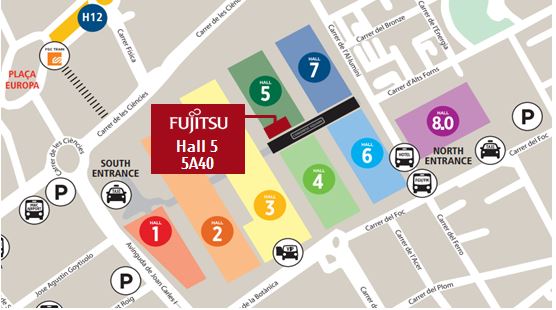 Fujitsu Vision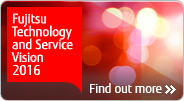 Fujitsu Technology and Service Vision

Subir