Mobile World Congress - Mobile World Congress 2016 : Fujitsu Spain

The Expert Talks
The expert talks at Fujitsu stand in Mobile world congress are one-to-few-discussions about specific ICT topics which are of particular interest to the audience. They focus on technical and specialist know-how transfer and are ideal for those who want to exchange information and discuss specific issues in detail. Expert talks need to be arranged in advance of Mobile World congress and cannot be booked on site. Please choose the topic which is of relevance to you and book it online via our meeting request tool.
Tablets to Increase Productivity! Do You Know How?
Companies are often using tablets in scenarios which they are not developed for. A fully rugged tablet is not the only answer for tablets in industrial settings. Vertical environments require devices with a specific set of features and a broad range of accessories to cope with customer or industry specific routines. Fujitsus offering lets you choose the ideal combination of devices and accessories that fits for your requirements.
The Future Workplace – Will Yours Be Human-centric?
As end users have driven IT innovation more than corporate IT in some areas over recent years, we want to check the status and discuss threats and opportunities. By showing the future workplace including a variety of front end devices – combining workers' flexibility, employee's happiness and IT security – we want to help bringing the CIO back in the driver seat of IT.
Designing your Human Centric / Front End Architecture for Future Workplaces
Designing your front end architecture can be a challenge. How do you fulfill individual requirements where flexibility and performance are key aspects? Phrases like ergonomics, usability, security, portfolio, customizing, standardizing, cost, applications, services, … appear in this context. All these perspectives - even with contrary impact - have to be considered. Depending on your strategy we help you find the best solution for your enterprise.
Real Authentication with Biometrics
PalmSecure is a biometric sensor technology, which uses the unique palm vein pattern to perform high level security authentication of individual persons. Smart cards, usernames or ID numbers can be stolen; biometric characteristics are unique and fixed to a person. This contactless, hygienic system offers maximum security as well as maximum precision. PalmSecure technology has been deployed worldwide in a wide range of vertical markets, including security, financial/banking, healthcare, commercial enterprises and educational facilities.
Delivering Business Value with the Internet of Things
We have entered the Internet of Things era, in which there is the potential for unparalleled amounts of information about people, things, and the environment to be digitized and transmitted over networks. By analysing and automatically responding to this information we can deliver innovation to the way businesses and society operates. In this session Fujitsu will explain how it has been working with customers to deliver this promised innovation by helping them establish IoT business models which drive business growth and societal value..
The Transformation of Banking: Towards the Digital Age
We are experiencing how Banks are reshaping themselves to adapt to the new digital era. Supported by an Omni-channel model, they seek to offer their customers a more accessible banking at any time, from anywhere and across devices. Banking based on knowledge, where they can offer the right balance between physical and digital channels. To do so, banks need to have solved all digital processes, offering their customers a digital experience. What does digital transformation mean and what does it involve nowadays? During this Expert Talk you will be able to know Fujitsu approach, offering and capabilities
Fujitsu Vision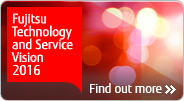 Fujitsu Technology and Service Vision

Subir