PalmSecure ID Match - biometric multi-factor authentication
Fujitsu PalmSecure offers a secure authentication method using biometric technology based on palm vein pattern recognition, that can be easily combined with other authentication methods such as ID cards and mobile phones. With PalmSecure ID Match, you can add a new dimension to your security solution. It offers a flexible platform for single or multi-factor authentication using smartcard, pin and palm vein.
How does PalmSecure ID Match work?
Our ID Match authentication solution is safe and simple to use. It utilizes a compact multifunction device comprising of a 4.3-inch touchscreen, an embedded processor board, a multi-card reader, contactless smartcard technology and our high-security PalmSecure technology.
It offers identity management and verification based on palm vein patterns, which means cards that are lost, stolen or copied won't have any impact because they can only be used by the authorised user.
PalmSecure ID Match Hardware
The PalmSecure ID Match terminal includes highly effective ARM technology, advanced security features and all the interfaces needed for security applications.
It's wear-resistant thanks to the premium materials from which it's manufactured.
The terminal can be used as a stand-alone or wall-mounted device, and can even be integrated into a POS system.
PalmSecure ID Match Software
Linux based software.
A Software Developer Kit (SDK) enables partners and customers to implement the application as part of their complete security solution.
Demo applications are also provided as Fujitsu supports partners and customers with consulting and training programs when it comes to developing.
PalmSecure ID Match Platform
Comprises of a precisely harmonized hardware and software stack that delivers a highly secure environment for running the application.
Fujitsu biometric authentication solutions tailored to your requirements
The business logic for PalmSecure ID Match is defined by the specific application. Depending on the concept, the logic of the solution architecture can run on the ID Match terminal, or either partially or completely on the host system.
View our scenarios, such as how PalmSecure ID Match can be used for transportation, entertainment ticketing and payments:
Benefits of PalmSecure ID Match
maximum security
multi-card reader offers universal usage
highly adaptable with the flexibility to fit into many scenarios
quick verification process
protection of cards against theft and fraud
the optional SDK allows flexible solution integration and lowers end application development efforts
Further information
PalmSecure ID Match whitepaper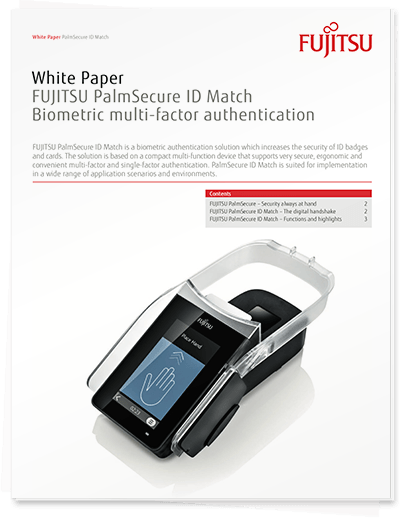 Download white paper PDF »
PalmSecure ID Match Datasheet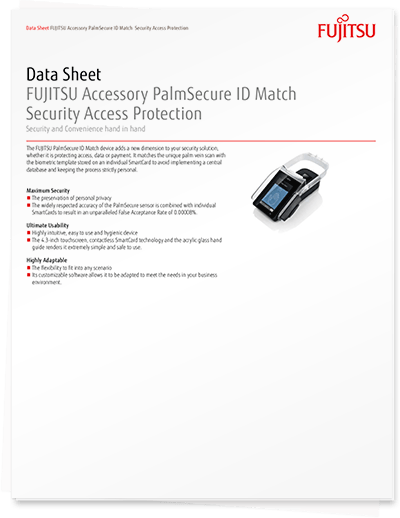 Download datasheet PDF »
Contact us

To find out more about Fujitsu's Enterprise & Cyber Security services and how they protect your business, please complete this form.