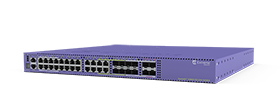 Scalable advanced aggregation switch
The ExtremeSwitching X460-G2 series are scalable advanced aggregation switches offering high performance, non-blocking hardware technology that simplify network deployments through the use of standard hardware and software throughout the network.
The ExtremeSwitching X460-G2 switches are effective campus edge switches that support Energy Efficient Ethernet (EEE – IEEE 802.3az) with IEEE 802.3at PoE-plus and can also serve as aggregation switches for traditional enterprise networks.
The ExtremeSwitching X460-G2 can also be used as a top-of-rack switch for many data center environments with features such as high-density Gigabit Ethernet for concentrated data center environments.
Features and Benefits
| Features | Benefits |
| --- | --- |
| Comprehensive Security Management | Role-based policy and host integrity enforcement, and identity management. Universal Port Dynamic Security Profiles to provide fine granular security policies in the network. |
| Flexible Port Configuration | X460-G2 24 port copper models with 10Gb uplinks can have up to 8 fiber GbE ports and 20 GbE copper ports. The X460-G2 24 port copper models with 1Gb uplinks can provide up to 12 SFP ports with 20 Gigabit Ethernet ports or eight SFP ports with 24 copper GbE ports. |
| High-Performance Stacking | Up to eight X460-G2 switches can be stacked using three different methods of stacking: SummitStack, SummitStack-V, and SummitStack-V160. |
| Intelligent Switching and MPLS/ H-VPLS Support | Supports sophisticated and intelligent Layer 2 switching, as well as Layer 3 IPv4/IPv6 routing including policy-based switching/routing, Provider Bridges, bidirectional ingress and egress Access Control Lists, and bandwidth control by 8 Kbps granularity both for ingress and egress. |
| Role-based Policy Framework | Allows individualized access to specific network services and applications. |
Technical Overview
Availability of 48-port or 28-port GbE models
4 ports of SFP+ 10GbE or 4 ports of SFP 1GbE on front faceplate
16 port multi-rate (100Mb/1/2.5Gb) PoE+ switch with 32 10/100/1000 PoE+ ports
All configurations Non-blocking full duplex
Two new 48 port switches with 10GbE uplinks that support 24 ports with half/full-duplex operation
Copper, Fiber, and PoE-Plus models
Optional two-port 10 GbE fiber and copper options to provide additional 10Gbps streams of uplink bandwidth
Optional two-port 40 GbE to provide 80 Gbps uplinks or SummitStack- V160 stacking
40 Gbps stacking via front panel 10Gb Ethernet ports or optional SummitStack
1 RU w/ 1 expansion slot for additional interface ports and 1 expansion slot for timing options