Backup for IBM® z Systems – by the creators of the "world's fastest and most reliable data protection platform"
For a mainframe host the ETERNUS CS8000 appears as a (virtual) tape library with up to 1,280 virtual tape drives and 3 million virtual cartridges, automatically creating copies (policy-based), storing them either on disk, deduplication disk and/or tape.

ETERNUS CS8000 is based on a highly modular architecture providing FICON® and FC connectivity. Independent building blocks provide a genuine industry-leading scale-out platform in both: capacity (from 19 TB up to 96 Petabyte net usable on disk) and performance (from 8 TB/h up to 150 TB/h for backup and recovery speed).

Data availability and 24/7 operation is ensured by intelligent data management, synchronous or asynchronous data replication to remote locations and by a comprehensive set of automated functionalities like automatic failover, tape refresh and self-healing.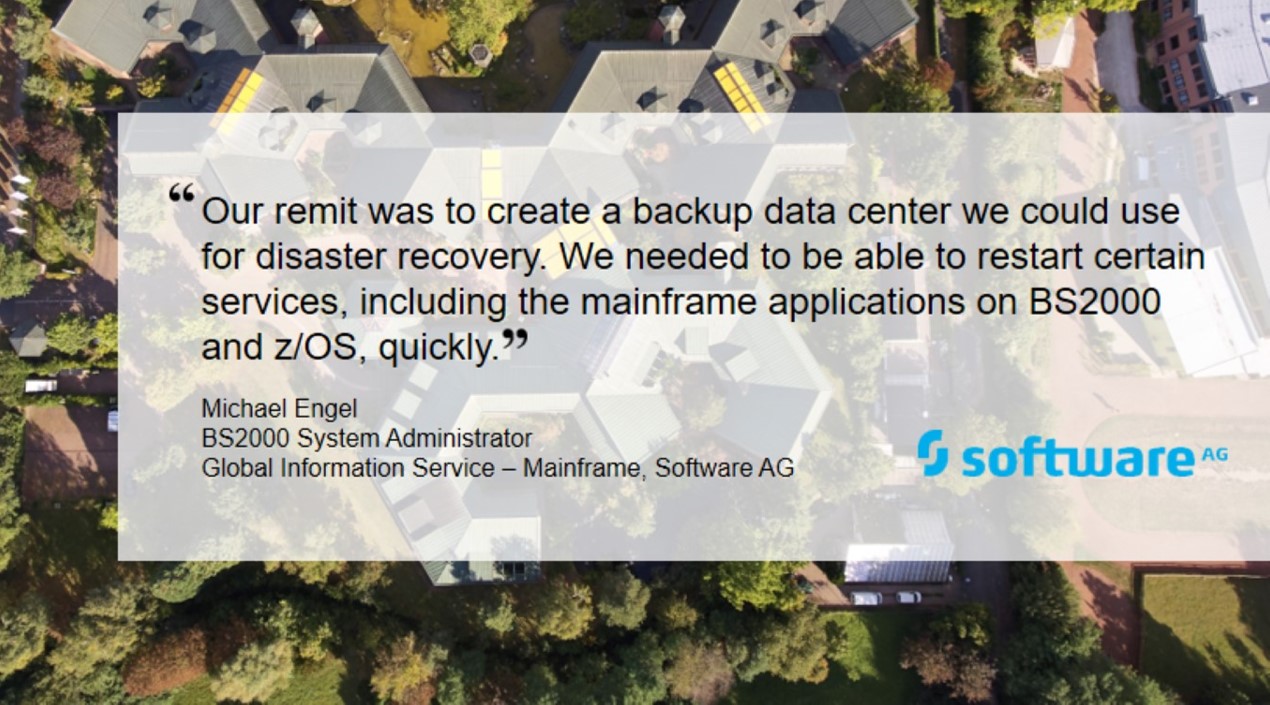 Reducing complexity in your tape infrastructure

Attaching physical tape infrastructure as an option is transparent to the mainframe host. A wide range of enterprise tape drives and tape libraries (e.g. from IBM®, Oracle®/StorageTek®, Quantum®, Spectralogics® and Fujitsu) are supported, but also LTO® tape drives as well.

Even if libraries and drives are different, they can be connected to ETERNUS CS8000 in parallel. This makes it very easy to introduce the latest generation of tape libraries or tape drives – the appliance takes care for policy-based automated data migration, from the old technology to the new one. This guarantees a fully freed of choice for vendors and technologies, investment protection and ongoing savings from coming technology changes.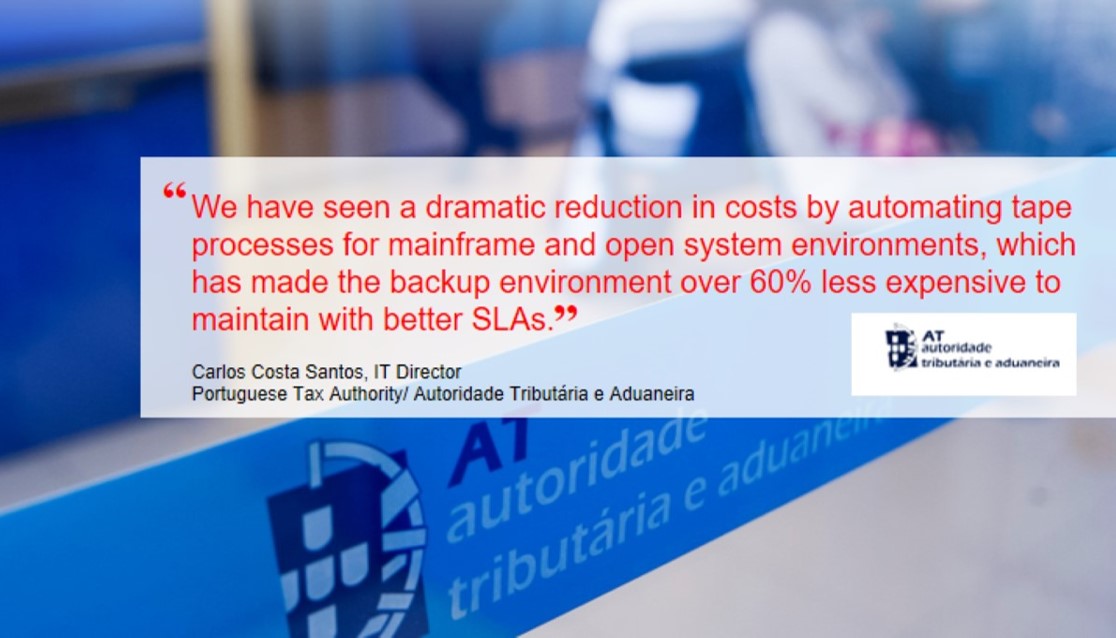 Ultimate availability

To ensure the availability of business-critical data from the mainframe environment, the ETERNUS CS8000 provides the highest level of data protection possible, nearly zero-downtime. The core element of the most disaster resilient architecture is one ETERNUS CS8000 system which is deployed over two geographically separated sites, the so called "split-site" configuration with "synchronous cache mirror". The internal infrastructure is thereby extended to a second site (our cluster will stretch to up to 100 km). While the host still sees one logical setup, the result is a system with no single point of failure, which continues to run even after a complete site failure.
Business Benefits
Fujitsu's ETERNUS CS8000 is unique on the market and more than just an alternative to your current backup infrastructure for IBM Mainframes.
True Tape Virtualization
Gives full freedom of choice with regards to the Tape Technology and Vendor: High-Performance and Capacity drives from IBM and Oracle/ StorageTek, or low cost LTO technology, and also in a mix.
Through its high level of automation (e.g. for tape media re-organization, -refresh and -migration) ETERNUS CS8000 allows you to also benefit from savings potential on future tape technologies.
Combined use of Deduplication and Tape
Fujitsu's patented variable blocksize data deduplication algorithm allows you to reduce the required capacity to its minimum. ETERNUS CS8000 is the only Virtual Tape appliance that allows you to benefit from a synchronous mirroring. Even more unique: ETERNUS CS8000 allows you to automatically create multiple and also remote copies of your data on tape. This helps not only to reduce cost but adds more data safety by using a media mix including tape.
24x7 Non-Stop operations for mission critical data
ETERNUS CS8000 is designed for continued operations, even in the event of complete site outages. The No Single Point of Failure concept combined with synchronous mirroring option and automatic failover for dual site environments helps you to meet even the highest SLAs and Non-Stop operations and always access to your most important mission critical data.
Multi-Platform Support
ETERNUS CS8000 is the worldwide only VTL which allows connectivity to all relevant platforms, e.g. IBM z/OS®, IBM i5/OS®, Linux®/UNIX®, BS2000/OSD and Microsoft® x/86 – even shared. The system might be logically and flexibly separated between different platforms, applications, customers etc. This enables you to benefit from the highest level of consolidation.
Highest level of Scalability and investment protection
ETERNUS CS8000 can scale-as-you-grow flexibly in both performance and capacity - up to market leading heights. Deferred investments, step-wise consolidation, leveraging saving potentials by migration to latest technologies over time helps you to achieve a fast ROI and to protect your initial investments.
Technical Highlights
Connectivity for IBM z/OS®
Connectivity to IBM z/OS®
FICON®
Tape Library Control
ORACLE ELS/NCS or
ELINKZ (ETERNUS CS Link for IBM z/OS)

Tape emulation
IBM 3490E (36-track) or
IBM 3590-1 (128-track)

Configuration of Virtual tape Drives
HCD (Hardware Configuration Definition)

Max. virtual tape drives
1280

Max. Virtual Tape Cartridges
3 million

Max. parallel LPAR
99, full SYSPLEX® support

Frontend Ports
max. 40 physical FICON Channels

VTL Subsystem
Max Throughput
up to 150 TB/hr

VTL modes (multi policy)
Disk only
Disk and (to) tape
Dedup only
Dedup and tape

Max. internal Disk Storage Capacity (net usable raw)
up to 96 PB (NL-SAS)

Physical tape support
Max. number of physical Tape Libraries
max. 10

Supported Tape Technology
IBM
ORACLE/StorageTek
LTO (Linear Tape Open)

For further information please see
Data Sheet ETERNUS CS8000 V7.1
Whitepaper Technical concepts of ETERNUS CS8000
Documents
ETERNUS CS8000 and IBM z/OS®
Data Sheet
General information about ETERNUS CS8000
Case Studies
---
©2018 FUJITSU LIMITED. Fujitsu, the Fujitsu logo, other Fujitsu trademarks /registered trademarks (ETERNUS, BS2000/OSD,) are trademarks or registered trademarks of Fujitsu Limited or its affiliates in Japan or/and in other countries. IBM, AIX, FICON, Parallel Sysplex, i5/OS, z/OS, zSeries are trademarks or registered trademarks of the International Business Machines Corporation in the United States, other countries, or both. BULL is a registered trademark of BULL S.A.S. in the US and in other countries. Oracle, Solaris and StorageTek are trademarks or registered trademarks of Oracle America, Inc. and/or its affiliates in the United States and other countries. HP-UX is a registered trademark of HP Hewlett Packard Group LLC in Europe and in other countries. Linux is a registered trademark of Linus Torvalds in the United States, other countries, or both. Microsoft and Windows are trademarks of Microsoft Corporation in the United States, other countries, or both. Linear Tape-Open and LTO are registered trademarks of HP, IBM Corp. and Quantum in the U.S. and other countries. Quantum is a registered trademark of Quantum Cooperation, California, in the US and/or in other countries. Other company, product, and service names may be trademarks or service marks of others.