Understanding GDPR
The General Data Protection Regulation (GDPR) is already having a deep impact on the way all organizations manage data privacy. GDPR has global reach. It protects the data of all EU subjects regardless of where you collect, store or process it. It requires that you strengthen data privacy controls, ensure the technology you use to manage personal data is fit for purpose, and that you can supply detailed, documented, responses to requests for data. And that's just the start. 
Our mission is to enable you to understand the regulation and turn it to your advantage.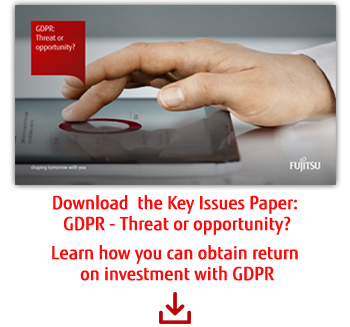 A milestone for data
GDPR is the key that can unlock excellent data management and governance. Our human-centric approach, underpinned by our technologies and partnerships with leading providers of solutions, means that you can work with us to co-create your own, unique GDPR strategy and roadmap. The aim is to go beyond the demands of the regulation itself, to contribute to your overall digital transformation.
Talking heads videos
Key questions answered in 60 seconds
Find out what our experts are saying about the GDPR Advantage: We see it as an opportunity because we are focused on just not compliance but building an excellent data management and governance to provide you business and strategic advantage long into the future.
​
Sarah Armstrong-Smith on
how to know if you're ready for GDPR
​
James Kuhlke on
the upside of GDPR
​
Andrew Snowden on
the threats and opportunities of GDPR
.
Co-create compliance
Every organization is different. There is no one-size fits all solution to achieving GDPR compliance, but there are basic things that are common to all organizations, large and small. We help you understand and identify the simple building-blocks that can help you achieve compliance. We work closely with our Technologic Partners to help you put those building blocks in place, and to enable you to take advantage of the new world of data protection.  

Find out how we are working in partnership with LogRhythm to solve the continuing GDPR challenge for customers:
×
The Power of the Partnership:
We are proud to work in partnership with LogRhythm to provide security intelligence solutions. The combination of Fujitsu's depth of consulting and managed service expertise combined with the innovative technology from LogRhythm ensures the best possible outcomes for our customers.
Fujitsu Enterprise and Cyber Security and LogRhythm have worked closely together over the last 7 years, firstly as a technology provider and then, more recently, as a partner in helping Fujitsu to enable and deliver its SIEM services to customers. Fujitsu chose LogRhythm as they provide best of breed technology for SIEM services and have consistently been a leader of the Gartner Magic Quadrant for a number of years. Our customers recognize this and understand the value of a security pure play technology provider and the intrinsic value that this brings to them for security.
LogRhythm GDPR Compliance Module
LogRhythm delivers a comprehensive, integrated solution to help meet and exceed compliance mandates. In fact, there is no other solution available that offers the built-in capabilities to:
Collect and parse data from across the complete environment
Analyse captured data and correlate events via pre-built AI Engine rules and alerts mapped to GDPR articles
Easily customise rules and alerts to fit an organization's unique IT environment and policies
Gain 24x7 real-time visibility via robust dashboards and visualizations
Enable analysts to respond to a breach or other incident and maintain appropriate incident records via case management and automated playbooks
Generate reports to easily document evidence of compliance
The benefits
Ongoing assurance of GDPR compliance
72 hours to notify people of a breach – a one off scan isn't sufficient to meet this
Not only compliance but also ongoing assurance to customers and business
Solutions
Managing the Threat Lifecycle with LogRhythm: Next Gen SIEM and Log Management, Network Monitoring and Forensics, Endpoint Monitoring and Forensics, Security Analytics, Security Automation and Orchestration
Fujitsu an expert in LogRhythm:
Earlier adopters of LogRhythm as part of an MSSP
Expert team of 60+ supporting clients
Global reach
Installed base across retail, hospitality, finance, construction, utilities, Public Sector, aviation, utility/services
How can we help you?

You can talk to us directly about all the issues, strategies and solutions outlined on this site by contacting us today.