Create Value through Integration
Fujitsu uses expertise to drive innovation for customers through co-creation and the optimal integration of technologies and services
Information systems in the hyperconnected era
How can we develop information systems that help increase corporate value and create competitive advantages in the hyperconnected era? Improving operational efficiency and reducing costs are good, but not enough. Fujitsu thinks that the answer is to develop a system which can quickly adapt to changes in the business environment as well as new technologies. It is also crucial to build such a system in collaboration with customers. The way working together with customers is called 'co-creation'.
Preparing for innovation
Many years of frequent system updates and modifications have caused huge complexity in most of the existing enterprise systems. This situation prevents their timely response to changing business requirements. It also demands an enterprise to incur very high costs for just keeping the lights on. To address this common challenge of enterprise IT, Fujitsu proposes a solution aimed at modernizing our customer's existing systems and migrating them to systems with a flexible architecture, we call this 'Next Architecture'. And it is an interim step. This architecture is characterized by 'loose coupling'. It means that individual systems are loosely connected, while maintaining their independence. This interim architecture allows enterprises to flexibly reconfigure business processes and rules.
Co-creating innovation
In a hyperconnected world an enterprise must consider developing a new type of information system. This is a system for engaging with people and connecting various things to create value. In order to develop this type of IT system, it is critical to understand what value it should provide and create system requirements accordingly. Fujitsu integrates a system tailored for each customer, leveraging our extensive experience in developing various systems across industries. Based on this objective, we hold hackathons with our customers to create ideas and develop system models together. Through the team exercises, Fujitsu engineers can also learn communication skills and how to facilitate sessions, essential to leading a co-creation project. During customer engagements Fujitsu also uses agile system development method. For example, we applied this method to an application development for a life insurance company, which resulted in a 20% reduction in man-hours and one and a half month shorter development time than the conventional method.
With diverse skills and experience, Fujitsu's system engineers will not only support your existing systems but contribute to creating future value together.
---
Fujitsu's Integration Concept
Fujitsu delivers next level solutions for customers in a competitive environment. Leveraging the latest industry trends, advanced system development and business know-how, Fujitsu provides end-to-end integration services from planning to system operation.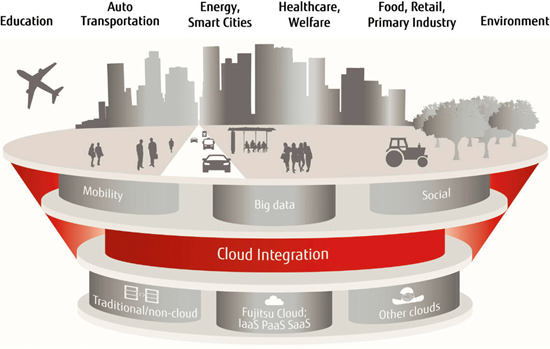 Large Image (166 KB)


Business Services
Fujitsu's portfolio encompasses capabilities from IT optimization and sustainability consulting services, which confront real business issues including cost, efficiency and the environment.
Business Consulting
Fujitsu's Business Consulting enables clients to achieve greater operational efficiencies, performance and maximize ROI of current existing and planned IT implementations and business strategies.
IT Consulting
Fujitsu's IT Effectiveness services ensure customers' current and future investments in IT are maximized and support business objectives. Fujitsu uses a consulting led approach, aided by robust assessment tools. Services include: IT Strategy and Effectiveness, Application Value Assessment, Legacy Modernization, Flexible Work Environment, Data Center Assessment, and IT Service Management.
Fujitsu provides a full range of application services to support the development, integration, testing, deployment and ongoing management of both custom developed and packaged applications. The services focus on delivering business and productivity improvements for organizations. Solutions frequently involve the integration of external and existing internal systems to deliver benefits across business processes. The services cover both project based activity and ongoing management; they leverage cloud services for effective delivery where appropriate; and address the challenges of migrating and modernizing application assets as well as new applications.
Application Development and Integration Services help customers respond to change by defining and delivering application transformation projects. Fujitsu's experience in dealing with complex multi-vendor environments and emerging trends/technologies, ensures that projects are managed professionally and on budget. Offerings include: Package Implementation Services, Custom Application Development, Systems Integration, Application Modernization and Migration, and Test and Validation Services.
Fujitsu provides services for the end-to-end management of applications that are underpinned by strong and collaborative governance that ensures delivery of quality service and continuing customer value from the application portfolio and support the steps of Digital Transformation. The services cover: Transition – The low risk transfer of service responsibility from the current provider to Fujitsu, Manage - Stabilization of the application portfolio, service optimization and minor enhancement, Application Value Assessment - Proactive identification and planning of application and service improvements to enable business value, Application Transformation - Delivery of major application transformation projects, re-architecture and systems integration using our other application services.
Enterprise Applications
Fujitsu's Enterprise Applications services cover the design, development, configuration, implementation, rollout and ongoing management of solutions based on packaged ERP applications. Fujitsu provides scalable services for market leading software products such as SAP and Oracle, covering core business functions including finance, HR and supply chain management.
Enterprises around the world have made significant investments in SAP technologies to assist with this challenge but need support in getting the most out of their vast capabilities. As a trusted SAP Global Partner for over 40 years, Fujitsu offers a complete range of tailored, future-proof SAP services that help customers simplify, innovate and grow. We are driving innovation across all areas of financial and operational performance–from cloud services via managed SAP operations to solutions and services for on-premises deployments.

FUJITSU Cloud Integration Platform

- Reducing the cost and complexity of managing hybrid IT -
The FUJITSU Cloud Integration Platform addresses the key challenges of managing a hybrid IT landscape of cloud and non-cloud systems. It is a unified platform for aggregating, integrating and managing cloud and non-cloud services. The FUJITSU Cloud Integration Platform builds on proven heritage in system and service integration and comprises functionality to cover: management, resource provisioning and reporting, process and data integration, system and process monitoring, service management, data management as well as identity and access management.

Legacy Modernization will link back to modernizing Systems of Record and enabling integration with Systems of Engagement.
A comprehensive set of Legacy Modernization services that enable customers to more easily migrate or modernize legacy applications to reap the benefits of cloud services, minimizing the risks and costs - and giving them greater flexibility for the future.
Legacy Modernization comprises:

Application Value Assessment: identifying which applications would benefit from legacy modernization and cloud deployment.
Application Modernization: utilizing the cloud without moving the entire application to the cloud - for instance, moving the front end or database.
Application Migration: migrating entire applications to the cloud.
Fujitsu's Managed Infrastructure Services provide a cost effective, reliable and flexible ICT infrastructure to customers. This infrastructure may be owned by the customer or Fujitsu on their behalf. Our services comprise Data Center Services, End User Services, Service Desk, Technical & Maintenance Services, Infrastructure as a Service, and Network and Communication.
Fujitsu's Data Center Services provide our customers with the complete range of services to ensure their IT systems are fully operational for their users as well as to improve their IT flexibility, efficiency, performance and to reduce their costs. Our operational Datacenter Services comprise Datacenter Outsourcing where we take on the responsibility for managing and transforming your services. Remote Infrastructure Management (RIM) for servers, storage and other DC and cloud hosted infrastructure. Managed Hosting for Cloud and non-cloud systems: backup and recovery services as well as DC network services.
In addition Fujitsu has technical consultancy and project services that enable us to undertake assessment, advisory, migration and transformation projects for our customers - either as part of a wider outsource or as part of the customer's journey towards cloud infrastructure.
As part of the transformation of customer infrastructure we increasingly include FUJITSU Cloud IaaS – whether Public, Private or Private Hosted.
Fujitsu's End User Services are for organizations who want to securely access applications and data on any device in any location. EUS underpins business agility and delivers business value while reducing the costs to business, and improving the user experience. EUS is a superset of a number of offerings and services that enables Fujitsu to offer a blend of traditional and cloud based services to meet each customer's individual needs. EUS encompasses: Desktop Managed Service, Virtual Client Services, Managed Mobile, Enterprise Communication Services, - all supported by Service Desk, Technical & Maintenance Services and Service Delivery Management.
Fujitsu can offer multi-lingual service desk support in more than 30 languages out of our five global service desks in Costa Rica, Malaysia, Poland, Portugal, and the Philippines, enhanced by local service desk capabilities in over 30 countries. Fujitsu's service desk agents are committed to delivering exemplary service quality that enhances user experiences. They are empowered to go beyond fixing problems and to identify root causes. Our focus is on the value we can create for our clients and the quality of the customer experience we deliver. By applying Sense and Respond - our approach to implementing lean principles in a service environment, we seek to fix users' problems quickly and easily, and to see how these problems can be eliminated permanently-eradicating waste from the IT service. Through TRIOLE for Services, all our global service desks work to the same processes and standards, compliant with the ISO 20000 international standard, operating to best practice principles and delivering exemplary service quality.
Business processes and continuity depend on a reliable IT infrastructure. Fujitsu has a proven track record in delivering Technical and Maintenance Services for Fujitsu and multi-vendor products as well as the complete IT infrastructure on a global scale. These can be enhanced by our customized Managed Maintenance services which cover break/fix services for Fujitsu products as well as multi-vendor client devices, departmental servers, departmental storage systems, enterprise servers, enterprise storage, printers and network devices (including IP phones), retail cashiers or ATMs.
The Fujitsu expert teams have the capability and capacity to deliver all services locally - anywhere around the world. Our standardized offering can be adapted and expanded to meet individual needs. Rollout and Project Management services cover large-scale, fully managed, global rollout activities and the related project management to ensure that the integration into an existing IT environment runs smoothly with minimum interruptions of the daily business. Lifecycle Management services cover the full IMAC/D spectrum after the new products are integrated into the IT infrastructure. Fujitsu serves as the one-stop resource for the customer's whole IT environment.

Software
Fujitsu is the only Japanese vendor with a systematic software product lineup. Fujitsu integrates optimal systems according to customer needs and objectives, based on a core lineup of proprietary technologies and products combined with supplementary partner software products and open-source software.
Middleware
FUJITSU Software Interstage Business Operations Platform

This solution integrates multiple business systems using a web service, supports companies in developing new business processes. The solution has a wide range of features, including connectors that link existing SAP systems and other business packages as web services without requiring application revisions or connection add-ons, processes, data connectivity, and user interfaces. With this single solution, companies can build services that support new business processes.

FUJITSU FlexFrame Orchestrator

Fujitsu's innovative FlexFrame Orchestrator solution enables operating SAP applications, databases and the SAP HANA platform easier, faster and more effectively. It simplifies the management of complex SAP environments, optimizes planning, operation and change management and reduces costs by up to 90% while increasing agility by up to 50%. Comprising most advanced orchestration and administration capabilities, FlexFrame Orchestrator is an optimized operational concept for the entire SAP landscapes.
Under the name of FUJITSU Integrated System PRIMEFLEX, Fujitsu provides a broad lineup of Integrated Systems. PRIMEFLEX encompasses factory-installed solutions which are ready-to-run and reference architectures which can be easily adjusted to customer-specific requirements. Both options are supplemented by truly attractive service offerings. (For a full description, please see the 'Integrated Computing' section.)
SAP
FUJITSU Integrated System PRIMEFLEX for SAP Landscapes

FUJITSU Integrated System PRIMEFLEX for SAP Landscapes allows a rapid high-quality implementation of infrastructure for SAP applications and databases including new developments like S/4HANA. It is designed, delivered and supported as one product. The integrated FlexFrame Orchestrator software offers consistent and standardized administration of infrastructure, databases, and applications. This makes operation more reliable and dramatically boosts responsiveness throughout the business enterprise.

FUJITSU Integrated System PRIMEFLEX for SAP HANA

PRIMEFLEX for SAP HANA is backed by 40 years of experience in delivering fast, secure, high availability implementations with optimized TCO, successfully reducing complexity. Fujitsu's SAP HANA expertise, infrastructures and services enable customers to fully exploit the potential of the SAP HANA platform (For more information, please see the 'New Value from Information' section.)

FUJITSU Integrated System PRIMEFLEX for SAP Adaptive Server Enterprise

This end-to-end solution incorporating integrated services and support has proven to be reliable and affordable for extreme transaction processing. At the same time it is able to keep pace with the constantly increasing amount of data and transactions. It significantly reduces complexity, time to production, risk, and TCO for enterprises.

Industry Solutions
Fujitsu's long and comprehensive global experience means we have been able to develop expertise across a number of industries. Working together with customers we drive value by utilizing industry specific know-how.
Retail *Featured below
Automotive
Healthcare
Life Sciences
Financial Services
Manufacturing
Telecommunications
Energy and Utilities
Public Sector
Defense and National Security
Education
Logistics
Distribution
Food and Beverage
Betting and Gaming
Media
FUJITSU Retail Solutions
Fujitsu is delivering comprehensive value for over 500 retailers in 52 countries and powering over 82,000 stores worldwide. With more than 30 years' experience in retail and a broad portfolio of retail solutions backed by enterprise ICT products and services, we are focusing on three core capabilities that ultimately deliver retailers a differentiated customer experience under the ethos of 'Connected Retail'.
Innovative retail solutions

To support and future-proof the customer experience in today's multichannel world; this includes Fujitsu Market Place -our omni-channel PoS application- and new solutions from our innovation labs around the world.

Connected enterprise

Linking applications, information and communication within the store, between the front and back office, and between multiple vendors to deliver a seamless and integrated customer journey, including enterprise solutions, and outcome-based enterprise services.

Global delivery

The assets and capabilities to deliver consistent cross-border solutions.
Business and Technology Solutions
Intelligent Society Solutions
Utilization of ICT has gained popularity in social infrastructure fields such as Food, Agriculture, Health & Medical care, Transportation, Education and Energy. Aimed at addressing various social challenges in these fields, Fujitsu is continuously creating new value through innovative ICT such as cloud and mobility solutions.
FUJITSU Intelligent Society Solution Akisai
Technical Computing Solution
Building on our long-standing history of innovation, 30 years of experience in the development of supercomputers and the exceptional depth and breadth of our offering, we provide the enabling technologies and services for a wide range of aerospace, meteorology, astronomy, healthcare and industrial projects. We have also teamed up with numerous prominent research agencies to design bespoke solutions for the most varied and challenging technical computing applications.
FUJITSU Technical Computing Solution TC Cloud
Sustainability Solutions
Balancing economic, social, and environmental sustainability presents both opportunities and challenges for modern-day businesses. Organizations that understand the need to use their ICT innovatively while focusing on its optimization, resource and energy efficiency will gain from both a business advantage as well as social responsibility. Fujitsu helps your organization optimize the efficiency of its ICT equipment and data centers, saving you money and reducing greenhouse gas. Our Enterprise Sustainability services align your sustainability objectives with your business goals for sustainable growth.
FUJITSU ICT Sustainability Framework
FUJITSU ICT Sustainability Benchmark
Infrastructure Solutions
Infrastructure Solutions typically consist of various IT components and combine them to serve specific usage scenarios. Decades of experience and collaboration with leading software vendors have enabled us to offer platform-specific as well as platform-independent operating and management solutions and frameworks that provide best-in-class quality.
(For a full description of 'Virtual Client Computing', please see the 'Mobility and Empowerment' section.)
Note: Availability featured here may differ by region.
---

Nach oben