Lowering and Simplifying Costs through Cloud Service [ Soitec S.A. ]
"The aim is to move 70% of Soitec's computing power to the cloud over the next three years, and to cut the proportion of variable costs by half."
Laurent Maumet, CIO
Human Centric Innovation

Educating staff and changing working styles to embrace cloud

Sharing and using information between the research and development/manufacturing bases in Europe, US and Asia on cloud

Reducing the proportion of fixed IT costs to control and reduce the IT costs by adopting cloud
Migrating to the cloud to reduce cost
Headquartered near Grenoble in Southern France, Soitec is a world-class enterprise that leads the world in the manufacturing of innovative semiconductor materials in the energy and electronics industries. The company's main products include core technologies such as SOI wafers (Silicon-on-Insulator) and CPV (concentrating photovoltaics) systems. Though it is young - established in 1992 - the company operates manufacturing and research and development bases in the US, China, Singapore and France and has been supplying their products and systems to the electronics and energy sectors all over the world.
Reflecting the Soitec business philosophy of continuous pursuit of invention, its IT division has been promoting innovation. This division has initiated server integration and thin-client implementation through virtualization since 2006. While recognizing that cloud would one day shape the way business and IT operate, Soitec considered the company's IT sufficient for supporting its business at that time. However, two incidents occurred that changed their thinking.
In 2007 the company attempted to introduce an IT system to a silicon wafer manufacturing base which was being constructed in Singapore. It took nine months to settle contracts with a large number of venders and negotiations proved complex. Their expansion plans were further hampered by poor network connectivity to the region.
Then, the following year, the Financial Crisis impacted the company's business in a major way. Losing nearly a third of their annual revenue, Soitec needed to make cost savings and looked to IT to contribute a 30% cost saving.
Soitec's IT cost structure was a 60/40 split between fixed and variable costs. The company considered first reducing the variable costs; however, it became apparent that the variable costs could only be cut by half at best (which would be 20% of the entire costs). So the company looked at their fixed costs and what they could move to the cloud.
The migration path was not a smooth one. Even though Soitec had developed a cloud migration plan they had trouble choosing a cloud service provider. They came to the conclusion that none of the many cloud service providers that existed in Europe and the US could immediately meet their needs.
Given this situation, Soitec shifted to a policy of starting small and then gradually migrating to cloud. Soitec had selected Fujitsu as a global outsourcer, to provide a managed service for their ICT. Fujitsu was a natural choice to be their cloud migration partner, to carry out their plans in collaboration.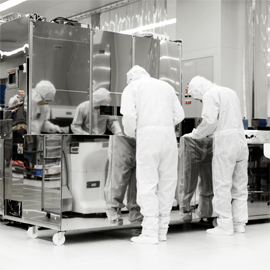 Delivering a global cloud service and meeting local needs
The most important factor was whether or not the vendor was capable of providing cloud service globally. Soitec, with facilities in Europe, the Americas, Africa, Asia and Japan, valued Fujitsu's global strength, operating datacenters in more than 100 locations. Being able to receive technical support in Soitec's major business regions (France, the US, Singapore and China) was crucial.
Corporate culture was also important. Soitec already had a number of customers and partnerships in Japan, appraised Fujitsu's working style and felt that they could work together to carry out the project. Fujitsu's genuine desire to understand Soitec's business needs also contributed to good "chemistry" between the companies.
The cloud switchover got under way in December 2012. With the cloud service as a core, Fujitsu's services were incorporated for helpdesk and terminal support. Conversion of the fixed costs to variable costs was achieved, resulting in an environment that can flexibly adapt with business change.
Changing working styles
Soitec are currently mid-way in their cloud journey. Their employees have seen first-hand how working environments can be transformed by cloud. Soitec focuses on staff education, helping employees to get the best out of cloud capabilities, and to help make a smooth transition away from their more familiar computing technologies.
Looking ahead, Soitec plans to migrate 70% of their computing resources to the cloud within three years. They want to keep on reforming how their business uses ICT with the goal of reducing the proportion of variable costs by half.
Services, Products and Solutions
FUJITSU Cloud IaaS Trusted Public S5
---

Nach oben