Realizing Uninterrupted Access to Healthcare Information via Multiple Devices [ Emory Healthcare ]
"In addition to the infrastructure automation and seamless integration, I have seen an increase in both cost savings and my own efficiency."
Bill Akins, Senior System Specialist
Human Centric Innovation

Enabling healthcare staff to view necessary information anytime and anywhere

Enabling safe access to patients' medical histories and healthcare information on critical patient care applications

Realizing 24/7 operations of a highly available healthcare system
Constructing VDI(*1) on the blade servers ensuring efficiency, availability and information protection
Emory Healthcare, a major healthcare group located in Atlanta, Georgia in the U.S., provides excellent healthcare services to members of the community through the Emory Healthcare Network that links healthcare institutions including hospitals, clinics and local healthcare providers. The core of this network consists of six hospitals, including Emory University Hospital. The number of employees in the entire group counts approximately 10,000. A total of 1,800 doctors in the group include around 70 specialists and 220 general practitioners who engage in primary care.
For its healthcare employees, establishing uninterrupted access to the healthcare information system is extremely important. In order to provide timely and accurate healthcare to individual patients while moving from room to room, bed to bed and patient to patient, they need to access the healthcare information system with four must-have (or mandatory) requirements: "access from anywhere", "from a wide range of devices", "at anytime" and of course, "securely".
The scale of the healthcare information system implemented in the Emory Healthcare Network is extremely large, consisting of more than 20 healthcare centers, over 10,000 users and personal computers and over 600 mobile workstations. 24/7 continuous operation is also a prerequisite, requiring IT infrastructure to be not only high-performing but also highly available.
To respond to these rigorous requirements, Fujitsu proposed a Citrix XenDesktop for desktop delivery with Egenera PAN Manager for hosting and managing the back-end environment and FUJITSU Server PRIMERGY BX900 in the data center, the blade server designed to accommodate changing business requirements quickly and easily. The remote desktop each user accesses runs on this server and screen/keyboard/mouse data is exchanged through the network to satisfy the business access requirements.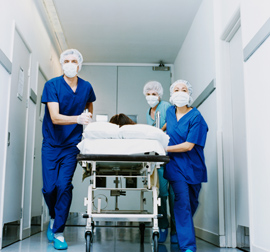 The remote desktop system in Emory Healthcare was designed to manage up to 25,000 managed desktops and 4,000-5,000 concurrent users. A safe and reliable remote desktop infrastructure capable of 24/7 continuous operation and compatible with the healthcare information protection standards was introduced.
As a result of its VDI initiative, Emory Healthcare has realized significant cost savings and avoided unnecessary capital and operational expenses.
Additionally, Emory has seen a dramatic improvement in the accessibility of desktop services as well as an 80 percent reduction in data center complexity.
Available from anywhere and from a wide range of devices
Thanks to the introduction of the remote desktop infrastructure, healthcare employees in the Emory Healthcare Network have seen huge improvements in their access to the healthcare information system.
Emory Healthcare's need for access "from anywhere" is also met by connecting mobile devices to wired and wireless LAN systems installed at hospitals and clinics. Its compatibility with Windows, iOS and Android enables access from a variety of mobile devices, including personal devices owned by the healthcare employees.
Auto recovery from failures in just a matter of minutes
What makes "anytime" possible are numerous redundant features equipped in the blade server. Since the power supply unit, exhaust fan and management blade (management server) are individually hot-swappable(*2), even when one of the units fails, it can be replaced without turning off the system. Even during system maintenance for upgrading the OS or middleware, the system does not need to be shut down. The system features significant additional characteristics, including resources that can be flexibly added as the number of users grows, auto recovery from hardware/software failures in just matter of minutes, a service level management function and secured business continuity through auto processing in the event of a natural disaster.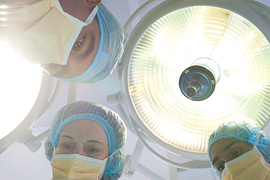 Egenera PAN Manager's single pane management window that scans over managed devices and virtual machines with a single screen requires only one person to perform the operational management even for such a large scale VDI. It does not require the increase of the staff even if the scale is expanded. As a result, the desktop related management costs were reduced by half according to Emory Healthcare's estimate.
Providing an environment that can be securely accessed 24/7 from anywhere and any device ― Emory Healthcare will continue to improve healthcare quality. Fujitsu provides Emory Healthcare with the "anytime" and "securely" accessible system and environment.
Note
*1 VDI
virtual desktop infrastructure
*2 hot-swappable
function of replacing computer system components without shutting down the system
Services, Products and Solutions
FUJITSU Server PRIMERGY BX900
Virtual Client Computing
---

Nach oben