A New Paradigm
To produce value in a hyperconnected world, enterprises must put people at the center of digital technologies
What is the key to creating a successful business and a sustainable society?
To produce value in a hyperconnected world, enterprises must put people at the center of new digital technologies.
A digitalized business creates value from connections rather than assets. We believe this simple fact is driving a new business and economic paradigm, oriented around people.
Before the industrial age, society relied on creativity. Products were specialized and made to order.
In the industrial era, competitive advantage came from owing the factors of production – technology, plant and machinery, labor and financial capital.
In a hyperconnected world, we have the opportunity to combine the benefits of craftsmanship and industrialization. With digital technology, we can harness people's creativity to make specialized products, but in ways that deliver values at scale and at low cost.
Read more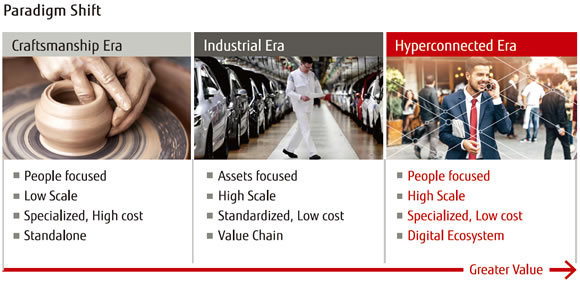 ---

Nach oben