Transport: Where Are We Going? And How Are We Going to Get There?
Within transportation, digital disruption doesn't come from building railways, new roads or aircraft, but from providers transforming the way they engage and interact with their customers, digitalising their internal processes to improve efficiency, and creating a customer travel experience fit for today's digital age.
Implementing change in order to deliver a consistent, uniform and personalised transport experience is a challenge, but it's one that all transportation providers must face – and soon.
To aid customers on their digital journey, Fujitsu sought the opinion of experts in the field of digitalisation within transportation to discover the priorities that must be addressed for operators to arrive at the right digital destination.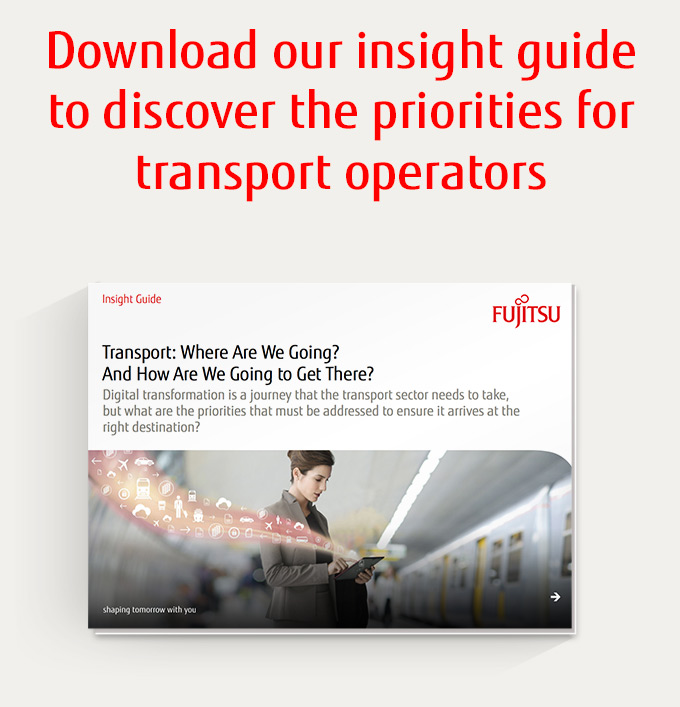 The Future is Mobility-as-a-Service
According to Russell, for transport operators to deliver an end-to-end journey they will need to implement end-to-end technology. He believes that intelligent mobility is the key to the future for the transport sector, where the absorption of digital technologies into one seamless system will underpin the sector as a whole. With Mobility-as-a-Service, the journey can be unified, and through the use of open data technology transport providers will be able to integrate information from a wide range of sources into a single easy to use source for customers.
Ticket to Ride, Drive, Fly… Anyway You Want
As a seasoned traveller, Gary has had plenty of time to think about the customer travel experience. In his view, passengers want a reliable, responsive and high-quality service. One where they can travel from one destination to another in an effortless and seamless way without thinking about tickets and barriers, while at the same time being confident that they're being charged the best price in a secure manner. In his view, electronic ticketing is at the heart of the effort to deliver on these requirements – no tickets, just digital links using phones and wearables.
Every journey should start on your sofa
Claus works with several rail operators within Germany, and it's his belief that with the implementation of right digital technology, operators can address the issue of delivering a truly seamless connected customer experience - from reviewing travel options and purchasing tickets, right through to arriving at their destination and beyond. Transport operators need to consider that value resides in the whole journey, and not just in the booking itself. By considering adding options such as hotel bookings, restaurant recommendations and entertainment possibilities, operators can deliver the level of service customers have come to expect.
You Are the Ticket. You Are the Journey.
Elisabeth and Javier believe that transport operators must digitally transform and implement technology, such as Near Field Communications, to make passengers the ticket. They need to understand how technology such as IoT with face-recognition, NFC and Wi-Fi can be integrated, and platforms built to support applications that deliver ease of travel and account based pricing. With sensors in any device, operators can then regulate their systems and anticipate faults to help reduce delays, improve service and deliver the best possible customer experience.
Conclusion – Arriving Well
Within transportation, digital disruption doesn't come from building railways, new roads or aircraft, but from providers transforming the way they engage and interact.
Digital transformation is an urgent priority for transport operators.
Transport operators need to think more like retailers. They need to work out what makes a great travel experience and learn how to deliver that experience using existing infrastructure augmented by digital technology.
Passenger data needs to be collected and the information used to make travel more efficient and cost-effective.
Passengers want a seamless travelling experience that enables them to make the most of their digital tools.
Back-office needs to be connected to the front-office to make buying ticket quick and easy.