AIT Solutions
What's New
May 14, 2014
Fujitsu announced that Airbus S.A.S, has selected Fujitsu Limited, as its RFID solution provider for Airbus RFID Integrated Labels project.
See HERE for more information on Fujitsu RFID Integrated Labels and Solutions.
What is AIT?
AIT (Automated Identification Technology) is a suite of technologies and tools for automatic data capture, aggregation and transfer. It comprises a variety of technologies such as RFID (Radio Frequency Identification) devices. It offers additional functionality beyond that of barcode technology. Examples include the writing of new digital data on components, not requiring line-of-sight for reading, and the capability to carry significantly more data, even photographs, directly on the component.
It enables you to reduce the amount of time that your mechanics currently use during their maintenance operations. Mechanics can reduce manual data entry, and also refer the maintenance histories from AIT tags, instead of doing lots of paper works. It does not even require a network connection. AIT will enable you to improve operational visibility and realize significant cost savings and efficiencies through repair, maintenance and inspection processes.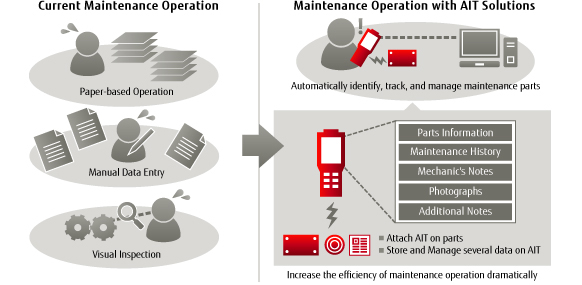 Benefit / Maintenance Made Easy
Maintenance-intensive industries such as aviation, ship and railroad, are increasingly challenged to balance its safety with its cost of maintenance operations. In the aviation industry, for example, airlines need to adhere to flight schedules while ensuring safe operations, therefore an efficiency of the maintenance operation is a key enabler in the drive to control costs and ensure compliance with rigorous safety standards.
Their parts are often exchanged across global organizations or multiple players (ex. MRO, Parts supplier, assembly shop and operator) for their maintenance and repair purpose. Since there are lots of paper-based work and/or no mutual data base, incomplete or missing maintenance paper trails are sometimes found during their operations. Those incomplete maintenance histories not only make maintenance more difficult but also present CEOs with a safety issue.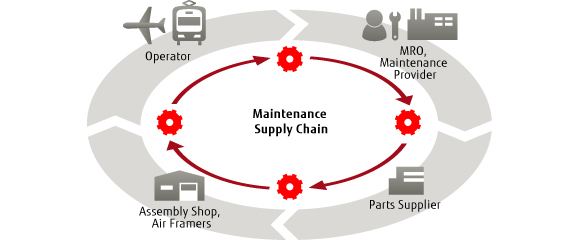 Fujitsu AIT Solutions resolves these challenges of companies. By logging the histories on AIT tags attached to aviation, shipping or rail parts, for instance, and automatically transferring this data to maintenance systems, these solutions ensure gap-free part histories. It reduces administrative and logistics costs across a wide variety of industries by increasing data accuracy (eliminating errors), speeding up the collection and transmission of data, and making the entire data entry/collection process more efficient. Our AIT solutions also help mechanics to accomplish the task smoothly, instantly providing information like manufacture date, maintenance history, and inventory status on the site. During maintenance operations, Mechanics can refer the maintenance histories from AIT tags, instead of doing lots of paper works, and also reduce manual data entry errors without having to create new processes. It does not even require a network connection. We enhance the safety and quality of maintenance operations while increasing efficiencies and reducing costs.
Concept
As there are so many technologies and providers in the AIT market space, it is sometimes cumbersome for you, unless you are an expert at the area, to introduce AIT technologies. Using independent technologies and solutions (i.e. RFID tag only, middleware only, etc.) results in fragmented technology deployment, increases costs and inhibits the introduction.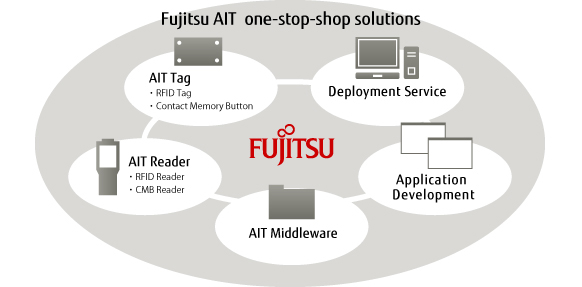 We offer you the most advanced AIT technologies as a "one-stop-shop" solution, integrating products with software, including various types of RFID tags, readers and applications, as well as system integration and deployment services, utilizing our partnership with world leading AIT suppliers. You will get easy set up and stable operation, while managing your assets in cost-effective, timely and efficient manner.
We will meet your individual AIT needs, integrating commercial off-the-shelf products, third-party products included, in your IT landscape and developing proprietary solutions for your business if necessary.
We will select the products best suited to your operational and interoperability needs. Even if you operate a global organization, we will ensure that your AIT solution is compatible with all local frequency regulations.
> Brochure of Fujitsu AIT Solution DOWNLOAD (243 KB)
> Video of Fujitsu AIT Solution CLICK HERE(4:26MIN)
Structure
Fujitsu AIT solutions consist of AIT tags, readers, middleware and applications, as well as system integration and deployment services. You can also utilize our Cloud Services worldwide. Benefits will be drastically increased if the data in AIT tag links with the data in your existing database and used for business intelligence. For example, if the maintenance history information stored in AIT tags is linked with flight information of aircrafts, and analyzed by knowledge engines, you can get the recommended optimal timing of replacement considered with historical trends.
We will create new maintenance services by integrating data in AIT and data in database, and analyzing them.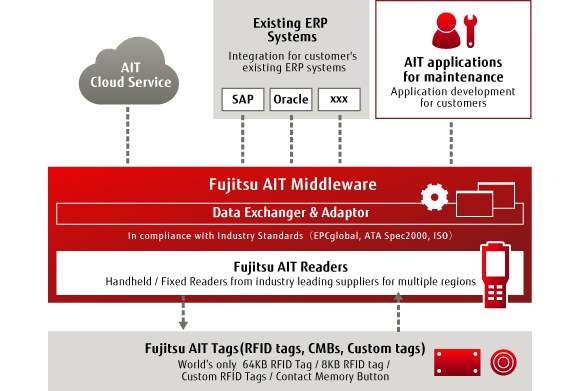 Fujitsu AIT Middleware
Our AIT Middleware realizes interoperability among various types of AIT tags and a range of different readers/writers in compliance with global industry standards. Its server linkage function enables you to utilize the data effectively, connecting AIT tag data to your existing systems or cloud systems easily.
AIT Tags
We offer a full lineup of cutomized AIT tags including World's highest-capacity 64KB RFID tag.
AIT Readers
We have partnered with leading global companies such as Motorola and Intermec to ensure that their AIT devices support RFID frequency bands used in all countries.
AIT Applications and Support
We develop customized applications to meet your specific business needs and also provide total support for all aspects of the solution from installation to operations and maintenance.
Nach oben