Postponement of the Fujitsu Annual Digital Administration Conference 2020
Dear visitor of the Fujitsu Annual Digital Administration Conference,
I very much regret to inform you that due to the current developments around COVID-19 ("Corona Virus") and based on the recommendations of the health authorities Fujitsu has decided to postpone the Annual Conference Digital Public Administration scheduled for March 10 and 11, 2020.
The health and safety of our customers, partners and employees are our top priority. Therefore, after careful consideration, we have come to the conclusion that the conference cannot take place at the planned time.
We would like to thank all speakers, partners and employees who were involved in the preparation of the event and hope for the understanding of all participants.
We will of course arrange for the refund of the participation fees already paid. Cancellation of all overnight stays booked at the Hotel Ameron Abion Spreebogen Berlin as well as any resulting costs will be settled by Fujitsu. Please note that cancellations for individual arrival and departure must be made by yourself. By the way, rail travellers benefit from the extended goodwill rules of Deutsche Bahn in this context.
As soon as the new date for the event is fixed, we will inform you. In the meantime, my colleagues and I will be happy to answer your questions.
Please excuse the short term nature of this decision and apologize for the inconvenience caused. Thank you very much for your interest so far.
With kind regards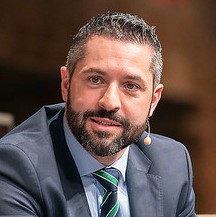 Dipl. Oek.
Juan Perea Rodríguez
Head of Public Sector Central Europe
Mitglied der Geschäftsleitung
Supported by: