Digital Innovation and Efficient World
2019 Fujitsu R&D Center (FRDC) Chinese Technology Forum has successfully concluded in Wuzhen, Zhejiang Province of China.
Fujitsu Research and Development Center Co., Ltd.
Wuzhen, Zhejiang Province, August 22, 2019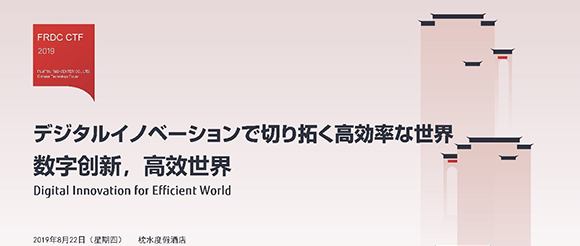 Fujitsu R&D Center Co., Ltd. (FRDC) was successfully concluded its annual Chinese Technology Forum (FRDC-CTF 2019) on August 22, 2019 at Zhenshui Resort Hotel in Wuzhen, Jiaxing-Tongxiang City of Zhejiang Province. 
Digital and innovative technologies can achieve an efficient allocation of resources in a complex world of data and algorithms, thus enable enterprises to gain new competitive advantages. Fujitsu is committed to achieve an efficient value realization in multiple areas through digital innovation, and along working together with partners and customers. This year's Chinese Technology Forum (FRDC-CTF 2019) has invited a numbers of excellent experts and scholars from governments, universities and companies to join us to have an in-depth discussion on how digital co-creation can carry out value innovation in manufacturing, finance, transportation, cultures, communications and many other industries around the theme of "Digital Innovation and Efficient World". A lot of well-known experts and professors have delivered brilliant speeches to the world.
Hara Hirotaka

Representative Vice President of Fujitsu Laboratories Ltd.

Chairman of FRDC

Cao Heping

Professor of School of Economics, Beijing University

Chairman of Shenzhen Bay District Digital Economy and Science Technology Institute
This forum is composed of morning Keynote and an in-depth discussion in two technical parallel session in the afternoon, interspersing with the demonstrations of technical achievements of Fujitsu Laboratories and FRDC. During the Keynote, we have specially invited two distinguished Chinese guests to join us. With the theme of "Digital Economy: China, Japan and the World", Professor CAO, He-ping, Deputy-Dean of Institute of Digital China, Beijing University and Chairman of Shenzhen Bay District Digital Economy and Science Technology Institute, described the current situation and development prospects of digital economy in China today, through the analysis of six generations of technology and platforms for recent 40 years of development and changes, lively and figuratively depicts the digital economy of China, Japan and the world in the next three to seven years. Mr. ZHANG, Renjie, CEO of Volkswagen WenWen (Beijing) Information Technology Co., Ltd., takes "A New Generation of Intelligent Networking Solutions Based on AI" as the topic, and tells the story of AI can be accelerating the development of vehicle networking and intelligent cockpit technology, as well as creating a better user experience, intelligent delivering notifications, emotional service, scene segmentation and data analysis. From the various dimensions to reconstruct our cognition of intelligent network, at the meanwhile, the development of AI and V2X technologies will accelerate the industrial development trend of vehicle-road collaborating coordination. 
In the afternoon, the parallel session focused on Intelligent Manufacturing and Advanced Deep Learning, has specifically been discussed. At the forum, Professor Zhao Xu of Shanghai Jiao Tong University, Associate Professor Sun Bin of College of Electrical and Information Engineering of Hunan University and Vice-Dean Ye Wei of Suzhou Tong Ji Block-Chain Research Institute has respectively given excellent speeches on "Video Human Behavior Detection: Problems and Methods", "Intelligent Processing and Analysis of Remoting-Sensing Image", and "Applications of Blockchain for the Public Using". 
Fujitsu group speakers included HARA, Hirotaka, Executive Vice-President of Fujitsu Laboratories Ltd, Chairman of FRDC; KUNISAWA, Arimichi, Executive Officer of Fujitsu Limited, Head of Asia Region; KONDO, Masao, CEO of FRDC, respectively introduced the business state for Fujitsu Group, also R&D achievements and applications in the new field of China in detail. During this forum, Fujitsu Laboratories and FRDC have demonstrated a number of research results, including a parallel learning system with 1000 times faster learning of neural network, and innovative sequential data analysis of Topological Data Analysis (TDA) and so on.
Speeches & topics discussion

in the parallel sessions

Technology Achievements Demo

of Fujitsu Laboratories & FRDC
Since 1999, FRDC has held academic network conferences for experts and scholars who are mainly from Chinese universities every year. In 2009, in order to further promote the R&D achievements to contribute to the Chinese market, the conference was upgraded to CTF (Chinese Technology Forum), and inviting not limited to the well-known domestic university professors from China, but also further extended to many experts who are from government departments, research institutions, technology companies and Fujitsu global institutes. At the same time, the contents of conference focused on the most advanced technical topics and the sharing of the latest global R&D and trends in the world, providing participants a best communication and information shared platform to jointly explore the existing application issues and future development prospects. CTF-2019 is the Eleventh session since 2009 had been held by FRDC, with nearly 200 participants to join us as the guests, and the conference was well received by many of experts and scholars from all the professional fields
About Fujitsu
Fujitsu is the leading Japanese information and communication technology (ICT) company, offering a full range of technology products, solutions, and services. Approximately 132,000 Fujitsu people support customers in more than 100 countries. We use our experience and the power of ICT to shape the future of society with our customers. Fujitsu Limited (TSE: 6702) reported consolidated revenues of 4.0 trillion yen (US $36 billion) for the fiscal year ended March 31, 2019. For more information, please seehttp://www.fujitsu.com.
About Fujitsu R&D Center
Fujitsu R&D Center Co., Ltd. is the first wholly-owned corporate research and development institution with independent legal status established in China by Fujitsu group in Japan with an investment of US$4.4 million. The research area of FRDC covers all the business fields of Fujitsu, namely information processing, communications, semiconductors and software services.
Founded in February 1998, the company's business scope covers the research, development and technical services of system hardware and software of information and communication technology, electronic equipment, network technology, communication technology, information service technology, material technology, ecological protection and environmental governance technology, etc. For more information, please see: http://www.fujitsu.com/cn/frdc/
---
All company or product names mentioned herein ae trademarks or registered trademarks of their respective owners. Information provided in this press release is accurate at time of publication and is subject to change without advance notice.
Press Release ID:2018-09-22
Date: August 22, 2019
City: Wuzhen, Zhejiang Province
Company: Fujitsu Research & Development Center Co., Ltd.