- Fujitsu Forum 2015 : Fujitsu Suisse

Arriving by car
The ICM is located directly on the freeway A94. Exit the freeway at either Feldkirchen-West (Exit No. 6) or München-Riem (Exit No. 5).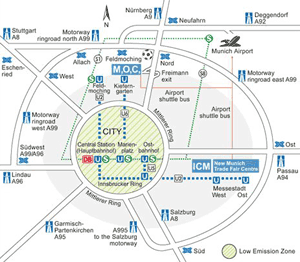 Road Map
On the event center grounds, a dynamic traffic control system regulates the flow of traffic. It directs you to the free parking spaces closest to the event center.
Road signs in the outskirt of town and throughout the entire city indicate the way to Messe München and the ICM.
Navigation systems
Depending on the type of navigation system, you'll find the ICM in the category "event centers" or "exhibition grounds", or under the keyword "trade fair". Some navigation systems allow you to select between the center's East, West, and North entrances. Please select West.
Parking
Parking is most convenient (150 meters walking distance) in

Parkhaus West
Paul-Henri-Spaak-Str. 6
81829 München
Fujitsu Vision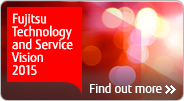 Customer Case Studies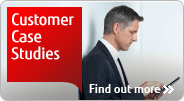 Top of Page