- Fujitsu Forum 2015 : Fujitsu Suisse

Financing Human Centric Innovation - A Key Component of your IT Investment Decision
Human Centric Innovation is the approach to realizing business and social value by creating solutions and services that bring together the dimensions of people, information and infrastructure. To enable Human Centric Innovation, Fujitsu Financial Services combines financial and commercial expertise to ensure that the finance strategy for your IT environment – including hardware, software and services - is underpinned by flexible payment terms that align to your business and financial objectives. With this approach we help small, medium and large companies, Government and Public Sector organisations to optimize financial and lifecycle aspects of their IT environment for Human Centric Innovation.

Our financial services reach beyond simply funding the acquisition of the latest technology, together we will work closely with you to align the costs associated to your IT investment. We engineer bespoke payment solutions based on our flexible and modular portfolio of financing solutions which include pay-as-you-use and pay-as-you-grow. We provide consultation so that you can align your IT spending to your revenue flow or budgets, thus enabling forecasting and budgeting for longer periods. Our services cover the complete lifecycle starting with financial planning, technology replacement, acquisition, financial management and retiring of assets of your IT environment - allowing you to concentrate on your core business.
Advantages of financing at a glance
Protection against IT obsolescence. 
Free up capital & credit lines for use in other business-critical areas. 
Spread costs over the life of the project while considerably reducing TCO. 
Shift fixed costs (CAPEX) into variable costs (OPEX). 
Financing enables faster approval process & improved budget planning than capital expenditures. 
Disciplined equipment replacement increases productivity, flexibility, and competitive edge. 
Environmentally sound equipment disposal improves your green footprint. 
Finance payments are treated as an operating expense and are fully tax-deductible. 
Off balance-sheet accounting improves liquidity and key financial metrics. 
Financing from a single source, independent of your bank.
Please feel free to contact us if you would like to find out more about Financial Services – we are at FORUM and look forward to meeting you.
Neil Whitelock
Head of Fujitsu Financial Services
+44 (7867) 834 092
Frederic Schnepp
Regional Finance Manger Western Europe
+33 (6) 2699 2843
Andreas Borck
Regional Finance Manager Germany
+49 (176) 1044 9678
Or
Web: www.fujitsu.com/fts/finance/


Email: financialservices@ts.fujitsu.com
Fujitsu Vision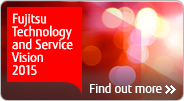 Customer Case Studies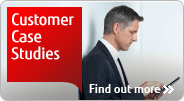 Top of Page