We are facing an age of dramatic change in business and society, thus affecting the IT world as well.
Human Centric Innovation is Fujitsu's approach to realizing business and social value by creating solutions and services that bring together the dimensions of people, information and infrastructure.
But how channel partners can be part of Human Centric Innovation and help Fujitsu realize the vision for Human Centric Intelligent Society ? What concepts and strategies should channel partners consider in order to react to the constant developments in the IT landscape and even benefit from them? How this translates into business opportunities for channel partners? And how does Fujitsu support its channel partners to achieve their goals?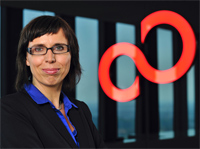 Join Veerle Limbos, Vice President Global Channel Business, and her exclusive guests to learn more about Human Centric Innovation and Channel strategy.