Mobilizing the Enterprise
The workplace has evolved. And there's no turning back. Digital technology platforms are transforming the way that we work. The blurring of the consumer and enterprise worlds is enabling us to become more efficient, productive and collaborative. But while the digital age offers huge opportunities, it also brings new workplace challenges. IT and business leaders must find new ways to meet the needs of their people in the workplace, so they're able to respond to agile competitors and meet the demands of customers. All this must be done while reducing costs and meeting compliance requirements in increasingly complex IT environments. A new model for delivering workplace services is needed – one that enables organizations to unleash the potential of everyone in the enterprise.
Come and discover how we can transform your workplace to an intelligent workplace environment, where you can provide contextual and seamless services securely and that are tailored to your users' needs. We will bring this concept to life by demonstrating how we can support a user from the day they join a company to the day they leave. Bringing together and showcasing all of our core digital workplace service capabilities - from devices to full IT services - and providing a hands on guided experience of the new ways of working.
Discover our next generation workplace services. Workplace Anywhere is a unified suite of technologies and solutions that give you and your people the tools to do incredible work. It enables you to adopt simple, secure, agile digital services that work in harmony with your business critical applications. The result? A more innovative, more connected and more productive environment to work in. And one that provides a unified experience across any device.
Discover the Service Desk of the future, empowering people to engage support on their terms. And delivering a personalized contextual and innovative support experience. It's a user centric support service powered by AI, virtual assistants and cognitive learning. We deliver a 24/7/365 personalized support service, through a single point of contact, to empower users to self-serve and quickly get back to being productive.
Discover how we can provide, predictive, preventive, and proactive IT support. Today, a business can only function when its IT is working. So it's vital to avoid downtime. Intelligent Engineering takes a preventive approach. Using state-of-the-art analytics and IoT technology, we monitor your IT in real time. It means we can anticipate and avert critical issues. And if any problems do arise, we can fix them quicker. The benefits to your business? With fewer incidents and less downtime, you drive down costs. And enable your people to be as productive as possible.
Hardware and Mobile Devices
People no longer just go to work, the work comes to people. The world is your workplace! Today's businesses must consider mobile workforces, growing security concerns and how they can improve working conditions. With Fujitsu, you can choose from one of the broadest client computing device portfolios which helps you to optimize efficiency and build a more agile, collaborative and productive workforce.
In the Demo Center at Fujitsu Forum 2017, you will find our latest hardware including:
LIFEBOOK laptops
ESPRIMO desktop PCs
CELSIUS desktop workstations
STYLISTIC tablets and 2-in-1 devices
State of the art displays and peripherals.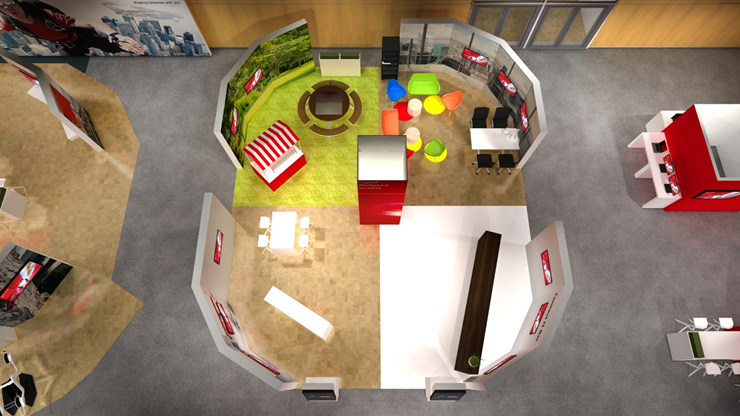 Render of the Digital Workplace Services area.