In today's dynamic, connected and hyper-competitive markets, disruption is a fact of life. To thrive, you must be agile enough to keep up – and to anticipate the next opportunity. Digital technology is driving this evolution. So, to succeed, you must master digital transformation. On such a complex yet vital journey, it makes sense to work with an expert. Someone who can partner with you at every stage, co-creating a strategy to help you realize your digital vision.
In the Enabling Digital Zone you will see how by partnering with Fujitsu, and our ecosystem, you can be confident of access to the best advice, tools and technologies to ensure that you develop the underlying skills that enable successful digital transformation – from ideation through proof-of-concept, to delivery, adoption and ongoing management. Through co-creation, we will help you to look beyond individual projects to grow a positive culture that reaches right across your organization - empowering your people to shape your organization's future competitive advantage, through innovation, collaboration and exploration.
How do we do this? By helping you to master the four disciplines of digital transformation: Business Innovation, Customer Experience, Enterprise Productivity and Wellbeing & Compliance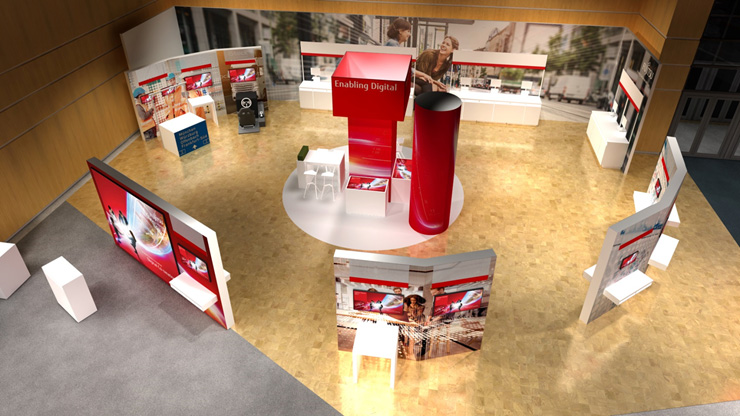 Render of the Enabling Digital area.
Mastering Business Innovation
Disruptive, fast-paced markets dictate that the pressure is on to constantly enable change through rapid and effective business innovation. In this chaotic environment an organization's ability to adapt is key to growing revenues, market share and shareholder value and securing continued competitive advantage.
At Fujitsu Forum our experts will guide you through understanding the pressures on your organization and how your business needs to respond. Take part in our Digital Transformation VR Challenge to start mastering your Digital Transformation plans.
Mastering Customer Experience
Customer-centric strategies are essential in today's digital environment. Customers have more choice than ever before, and competition has never been so fierce. It pays to put customers first – by creating consistent experiences that exceed expectations, every time. This can only be achieved by embracing both your physical and digital worlds. By connecting communities and providing every single individual with a unique, personalized relationship with your particular brand or product.
Join us at Fujitsu Forum to get to grips with what motivates your customers and how to build a customer experience model with your customer at its heart and supported by deep customer insight from Smart Data and Analytics, we will help you become customer obsessed!
Mastering Enterprise Productivity
With outdated organizational models and rigid, inflexible processes, the journey to digital transformation can seem a world away. Many working practices were designed for a pre-digital world. With so many bottlenecks to address, how can you effect change and create the agility that's so vital for success? To meet tomorrow's challenges, you need full flexibility. Technology can open the door to new and better ways of working, with greater efficiency and more engaged employees. You just need the right expertise to get you there.
At Fujitsu Forum we will show how you can empower your employees to work in new ways and become more productive, through flexible organizational models and automated processes, enabled by adaptive technology. Join us to learn about leveraging value from Case M, Valo Intranet Accelerator, ServiceNow, Oracle, SAP Leonardo and more!
Mastering Wellbeing and Compliance
People are your most valuable asset and as such, employee safety and wellbeing are paramount. See us at Fujisu Forum to understand how we can co-create with you on innovative solutions using wearable technologies to keep your employees safe. Working as an extension of your own team, we'll help you explore, plan and co-create to instil sustained, focused behavioral change. These will flex and adapt to your changing business needs – to grow your reputation as a responsible employer and trusted partner, while remaining transparent and legal.