What's on at Forum this year
As well as inspiring keynote speeches on the subject of digital co-creation and the future of technology, there will be dozens of breakout sessions, expert talks, interactive co-creation sessions, and demonstrations of our latest innovative technology and services in the exhibition hall. All of this will give you an insight into how digital co-creation can meet your business challenges and create a better future for society.
Our 2017 keynote speakers include Rita McGrath, Professor of Strategy and Innovation at Columbia Business School, Olivier Onclin, COO of the Belgian financial services provider Belfius and Jo De Vliegher, CIO of major energy and aluminium producer Norsk Hydro. Fujitsu speakers will also be joined by experts from our partners, Intel and NetApp.
There will be over 60 breakout sessions this year:
Enabling Digital – planning and implementing your digital transformation journey to address new business opportunities
Cyber Security – addressing all type of IT security risks and protecting your organization against the growing threat of cyber crime
Hyperconnected Business – realizing the business potential of emerging technologies like IoT and AI
Mobilizing the Enterprise – delivering on the promise of flexible mobile working and empowering people to connect, collaborate, and innovate
Infrastructure for the Digital World – introducing the latest Fujitsu and partner technologies for the hyper-converged world and finding the right balance of cloud solutions and on premise IT
Sector-specific digital transformation – deep dive sessions into the challenges and opportunities across financial services, public sector, retail, manufacturing, transport and many more.
Over 90 focused expert talks, covering:
Deep dive into highly relevant topics such as artificial intelligence, machine learning and future workplace
Dedicated Expert Talk sessions by our partners, including Citrix, Commvault, Symantec, Veeam and Veritas
Co-creation is one of the central themes for Forum this year. As well as the Co-Creation Theatre in the demonstration area, we'll be running a number of sessions exploring co-creation, and how we can work together to provide innovative solutions to IT challenges. These will include:
AI and Security – what can machine learning and AI bring to the Identity and Access Management?
Digital Co-Creation using Geo-Information as a Sample
Co-create integrated solution designed for accelerated computing
Intelligent Engineering: Discuss with us how to predict and prevent failures and use AR for self-service
Wednesday 8th November, ICM, Hall C1
Experience authentic food and refreshing drinks at Fujitsu Forum while networking with your peers in an informal social environment.
Join us on the 8th November at our novel evening event, the Global Street Food Festival, and help our cooks prepare exciting creative dishes.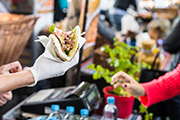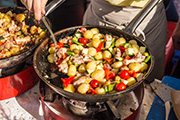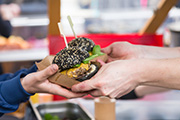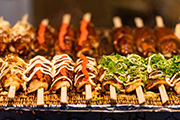 Enjoy innovative and exciting street food from different regions of the world including America, Asia, India, Africa, Middle East and Europe.
The evening event is free to all attendees and starts at 6pm with live music and entertainment.