SAMURAI Platform™
Keeping up with the dynamic and constantly evolving cyber threat landscape has become a major focus of resources – both from specialized technical staff and budget perspectives.
The Fujitsu Security Advanced Monitoring and Unified Remediation with Artificial Intelligence Platform (SAMURAI) integrates the best-of-breed security industry solutions, with an OpenStack® exchange layer and Artificial Intelligence learning and management to bring the same dynamism and evolutionary capability to security incident identification and response.
The SAMURAI Platform integrates our advanced AI (artificial intelligence) with industry leading solutions from our partners to provide a complete Protect, Detect and Correct shield of cyber security services. The result is a "next generation" intelligent Security Operations Center that proactively predicts and eliminates a threat and removes intruders across the total security landscape. SAMURAI Platform helps to break down the control silos by automating and reusing knowledge around vulnerabilities and exploits all layers of the IT stack. It provides a "single pane of glass" view and configuration management (rules, signatures, etc.) of security devices such as Intrusion Detection and Prevention (IDS & IPS). The AI built into SAMURAI Platform applies machine learning to the End-to-End SIEM platform which focuses on analysis, remediation and human/machine collaboration providing complete Protect, Detect and Correct capability. This allows staff to focus on the extraordinary occurrences, instead of being tied up with mundane tasks. A pattern recognition engine enables a pro-active approach to security management and response.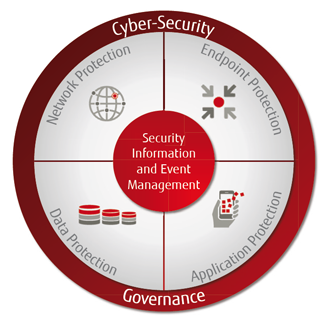 The benefits of SAMURAI Platform to your organization include
SAMURAI Platform will grow as you continue to grow.
No vendor lock-in as an open-API architecture enables you to integrate into the platform as your needs grow.
Able to bridge the gap during IT modernization as it can support your legacy systems and newer services across all layers of the IT infrastructure which enables agility. As you move to a more modern infrastructure, you can leverage the full capabilities of SAMURAI Platform.
Implement the Protect/Detect/Correct shield at any of the 5 areas (endpoint protection, network protection, vulnerability management, compliance management or SIEM) and expand as required.
Consistent quality levels that enhance your path to compliance and reduce risk.
What we offer
SAMURAI Platform is a full-service, integrated, end-to-end next-generation security management offering from our global network of Security Operation Centers. It provides the full gamut of security services, including:
Security Management
Endpoint Protection
Endpoint Detection and Response
Data Security
Network Security
Web Security
Threat Intelligence
Threat Sandboxing
Best of breed, industry vendor solutions from our partners are integrated and managed by state-of-the art, Fujitsu testing AI engines, which provides both forensic and pro-active security management capabilities. In addition, the open architecture of the design allows the SAMURAI Platform solution to work with clients' existing security infrastructure.
While the SAMURAI Platform offering encapsulates a full suite of end-to-end security capabilities, SAMURAI Platform can be approached in two ways – as a full service end-to-end offering, or a modular approach. Fujitsu understands that organizations and their security needs are different – reflecting different approaches, risk tolerances and cultures. Because of the open architecture of SAMURAI Platform, it can be tailored to meet organizational requirements – picking only those elements required, integrating them with existing processes and tools – and allowing for growth as the organization evolves into further levels of security maturity.
Fact Sheet: SAMURAI Platform™ (1.00 MB )

Top of Page