Transform with Hybrid IT


Business transformation with Hybrid IT
Hybrid IT delivers the agility you need to rapidly adapt to market dynamics, optimize productivity and improve performance.

With Hybrid IT, you can blend Infrastructure-as-a-Service, Platform-as-a-Service and Software-as-a-Service, to enable you to quickly provision IT services and change IT systems without large capital expenditure. Pay as you use, or utility based service services support growth and enable innovation by delivering:
Increased business agility
Lower cost IT solutions
Scalability for future growth
IaaS – virtualized computing resources
Infrastructure as a Service private hosted and private cloud, provides cost efficient IT infrastructures that offer a higher level of control and customization. Our IaaS virtualized hardware resources form a main component of Cloud Service K5 - our next generation Cloud platform. The benefits of IaaS include:
Reduced infrastructure costs - you no longer need to pay to maintain hardware and networking equipment. In addition, capital expenditure is reduced as you only pay for what you use.

Increased flexibility - you can quickly scale up and down. New services and products can be rapidly deployed to improve your competitive edge.
PaaS – the easy path to digitalization
With Platform as a Service, you can simplify and reduce the cost of digital transformation. PaaS provides a platform that allows you to develop, run and manage applications, without first having to build a costly IT infrastructure. The benefits of PaaS – attainable through platforms such as Cloud Service K5 – include:
Increased agility - applications can be developed, built and deployed at speed.

Increased flexibility - a broad range of systems and data can be integrated to increase efficiency.

Cost reductions - legacy systems can be easily integrated to optimize existing IT investment.
SaaS – applications on demand
With Software as a Service, you can get the applications you need, rapidly deployed and seamlessly managed to cover key business areas including; IT management, enterprise resource planning, workplace management and desktop management. The benefits of SaaS include:
Reduced application costs – you need only pay for what you use.

Increased flexibility and scalability – new applications can be easily and rapidly deployed.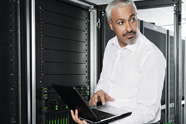 The future of the data centre in the age of Hybrid IT
(1.20 MB ) (PDF 2.83MB)
A data centre equipped for the Hybrid IT era blends the best of cloud and on-premise to drive innovation.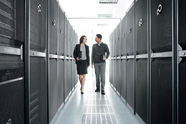 7 top data security risks for Hybrid IT - and how to tackle them (PDF 2.68MB) (780 KB)
Learn how to tackle new security challenges and unlock the benefits of the cloud and Hybrid IT.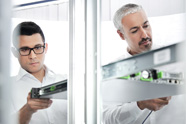 The new security challenges for delivering bimodal IT (PDF 1.20MB) (499 KB)
Tackling security challenges around bimodal IT delivery will enable businesses to unlock the benefits of the cloud and Hybrid IT.

Top of Page