Driving Business Growth


Hybrid IT - maximizing your business opportunities
Hybrid IT has far more to offer than simply the ability to blend traditional IT systems with Cloud services. It is the model to drive growth and transformation at a pace that is perfect for you. 

With a well-managed Hybrid IT infrastructure, you can future-proof your organization and keep pace with changing business and customer demands. A perfectly balanced Hybrid IT model combines the accuracy, stability and security of existing on-premises IT investment, with the speed, agility and innovation of Cloud services and digital applications. With a Hybrid IT approach, you can:
Leverage cloud-native development tools to rapidly build and scale new services. 
Quickly and easily launch proof of concept services to market ahead of your competition.
Swiftly scale services and resources up and down, during times of fluctuating demand.
Respond to market change and exploit new business growth areas, fast.
Through enabling transformation to Hybrid IT, we have seen many organizations unlock new sources of competitive advantage. They are more able to innovate, responsive to changing market demand, and less vulnerable system-performance issues, changes in regulation and security risks.

Enabling productivity and increasing efficiency
Hybrid IT can enable your organization to increase business growth and improve productivity.

Through innovative cloud-based development tools, we enable you to create new business processes and easily adopt new technology such as IoT AI and BlockChain, to increase user performance and productivity. By implementing our scalable, on-demand, pay-as-you-use solutions, you can streamline processes to increase business efficiency.

With a Hybrid infrastructure, your users can access services and applications anytime, anywhere and on any device – and you can deliver a customer experience that remains consistent, regardless of the engagement or delivery channel.

We align IT processes with your business needs to deliver the required outcome. By providing you with the right platform and tools, we enable you to scale and grow your business without losing value in your existing IT investment. By implementing our solutions, you can;
Reduce capital expenditure
Achieve a greater return from your IT investment
Empower your staff to be more productive
Strengthen your collaboration with partners, suppliers and customers.
Increase your competitive advantage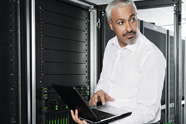 The future of the data centre in the age of Hybrid IT
(PDF 2.83MB) (1.20 MB )
A data centre equipped for the Hybrid IT era blends the best of cloud and on-premise to drive innovation.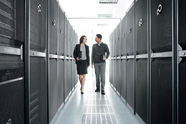 7 top data security risks for Hybrid IT - and how to tackle them (PDF 2.68MB) (780 KB)
Learn how to tackle new security challenges and unlock the benefits of the cloud and Hybrid IT.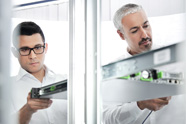 The new security challenges for delivering bimodal IT (PDF 1.20MB) (499 KB)
Tackling security challenges around bimodal IT delivery will enable businesses to unlock the benefits of the cloud and Hybrid IT.

Top of Page