Fujitsu PalmSecure PSN900 - the digital handshake
Fujitsu PalmSecure PSN900 utilizes vein pattern technology to deliver superior security authentication. It's a contactless and user-friendly physical access control system with optional time and attendance software, and is suitable for various access control implementations.
PalmSecure PSN900 delivers two-factor authentication that combines PalmSecure technology with RFID smartcards or other technologies, it's a security solution that can be easily scaled to thousands of users.
PalmSecure PSN900 identity management and verification
Three types of authentication are offered; verification with smartcard, authentication on the device, and authentication on a server.
PalmSecure PSN900:
comprises of a terminal with an integrated PalmSecure sensor and touchscreen
meets multi-factor authentication requirements - can be integrated with other technologies, such as; pin pad, proximity card and smartcard technologies
covers major requirements for physical access control and time attendance
The support of industry standard access interfaces like Wiegand 26/34 and Electric Lock/Exit Button/Alarm means PalmSecure ID Access is the technology of choice for fast and easy-to-deploy biometric approaches.
PalmSecure technology benefits
high security - vein patterns are hidden under the skin and do not change over time
high accuracy - palm vein patterns are converted into high-res images and are insensitive to external factors such as temperature
fast and easy introduction of biometrics
PalmSecure PSN900 benefits
high accuracy
highly scalable
easy to integrate into building infrastructures
high acceptance - as palm vein recognition is fast, easy and intuitive to use
very hygienic as it's contactless
quick and easy to implement
Further information
PalmSecure PSN900 Data Sheet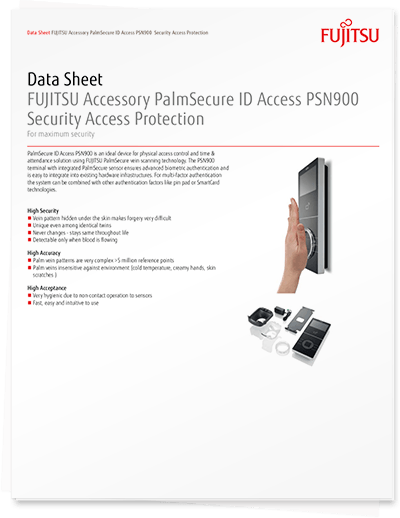 Find out more »
A range of security peripherals and accessories are available to further increase your security level.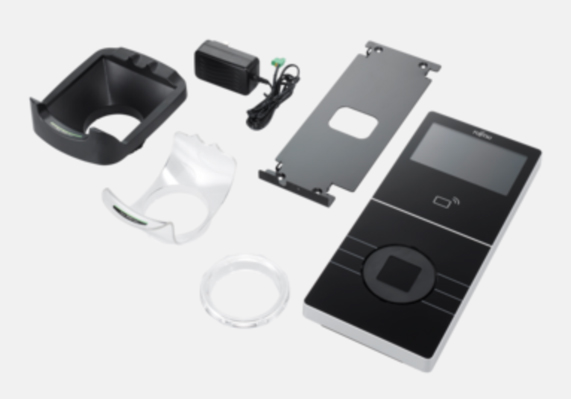 Find out more »
Contact us

To find out more about Fujitsu's Enterprise & Cyber Security services and how they protect your business, please complete this form.