Co-creating Program
Our unique approach to co-creation
The digital world thrives on inspiration and innovation. Creativity drives disruption, change and transformation. At Fujitsu our Co-creating Program helps you to harness the power of collaboration to deliver your unique digital transformation by driving ideation. The Co-creating Program has been developed over decades of experience in Japan and around the world; working with customers, exchanging perspectives, ideas, and information in a highly focused and innovative way.
You get the time, space and intense focus to achieve your specific outcomes based on your strategic needs. We're opening Digital Transformation Centers (DTC) in major cities around the world, including New York City, to provide venues where we can apply the FUJITSU Human Centric Experience Design (HXD) methodology, our unique iteration of design thinking. While the DTCs are purpose built, the approach and methodology is mobile – we can deliver these co-creation events anywhere, maybe much closer to you and your people. We're applying it to real world requirements with a range of customers.
Fujitsu Co-creating Program
The approach is based on simple, collaborative engagement. We bring multiple perspectives together using digital technologies. To do that we ask customers to identify their key business and IT decision makers. Including people from across their enterprise who are open to creative thinking as well as having a deep understanding of the strategic business needs.
Fujitsu's talented and experienced experts facilitate their collaborative engagement to achieve a dynamic mix of knowledge, creativity, ideation and concept development. Our unique form of 'design thinking' is added to the mix – FUJITSU Human Centric Experience Design (HXD) to create innovative concepts faster than could be achieved if those people worked in isolation.
Fujitsu Digital Transformation Center (DTC)
Our Digital Transformation Centers are based on the successful co-creation template we developed in Japan . They are carefully designed to help your people work with Fujitsu experts and other partners within highly focused workshops.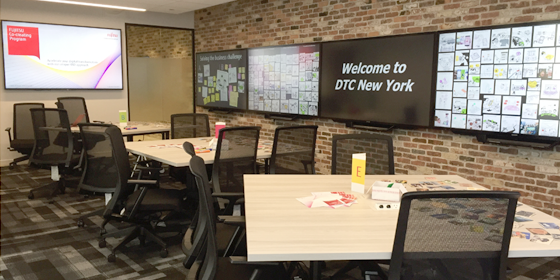 Fujitsu digital transformation center in New York City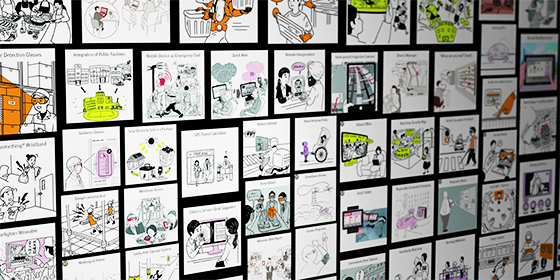 Digital inspiration cards created in our workshops
The half-day or full-day sessions take place in specially equipped studio spaces. Real-world problems and needs are isolated to help generate ideas which then can be used to develop concepts. That helps build proofs-of-concept which can be tested, modified, and turned into proofs-of-business focused on delivering tangible outcomes.
Tailored tools and methods will inspire your people. The interactive workshops are carefully planned to mix the right people to achieve intensive creative thinking. Digital inspiration cards are the product of our work in a wide variety of workshops with a diverse range of customers. We use them to speed idea formation. As the ideas flow they're captured on paper cards which will, in turn, be digitalized and added to the development of specific solutions. Large digital screens show the trajectory of thought, so participants can keep track of ideas and re-arrange them to inspire new outcomes.
Fujitsu Digital Transformation Center New York City
733 Third Avenue, 17th Floor
New York, NY 10017



Introducing the Digital Transformation Center

Fujitsu is proud to announce the opening of its new Digital Transformation Center in London. Through a unique blend of the latest technology and our Human Centric Experience Design thinking, we're working with organisation's to deliver digital solutions that unlock business value and access new value streams.



Fujitsu's Co-creation approach

Joachim Box, Head of Fujitsu's EMEIA Co-Creation Program introduces our new Digital Transformation Center in London.



Unlocking new business value with Fujitsu's Digital Transformation Center

Digital Lead for the UK&I, Jat Sahi discusses how Fujitsu are working with organisation's to tackle digital disruption and unlock new business value.



Turning digital vision into reality

Director of the Commercial Sector in the UK&I, Adrian West discusses how Fujitsu are using the Digital Transformation Center to bring our customers digital vision into reality.
FUJITSU Human Centric Experience Design (HXD)
Fujitsu's philosophy, developed over eight decades, has enabled us to face severe challenges and overcome them. We pioneered ideas like 'ergonomics' and 'universal design' and our approach is always evolving, as any good philosophy should. FUJITSU HXD is our methodology for enabling customers to accelerate their digital journeys.
It's done at speed to focus people's minds. It enables four key things: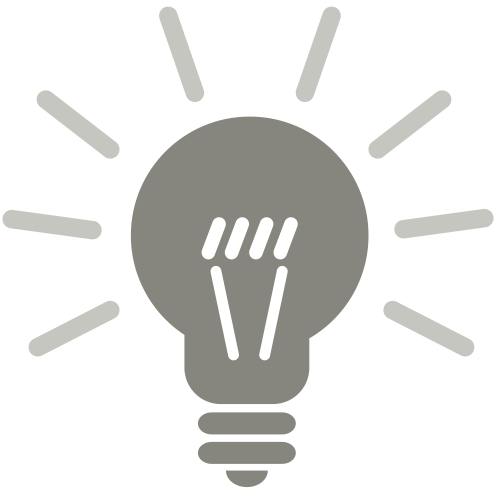 Understand your business challenge within the context of your strategy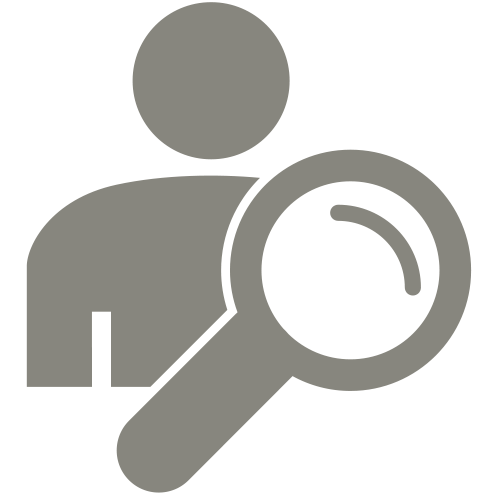 Look at the issues through different lenses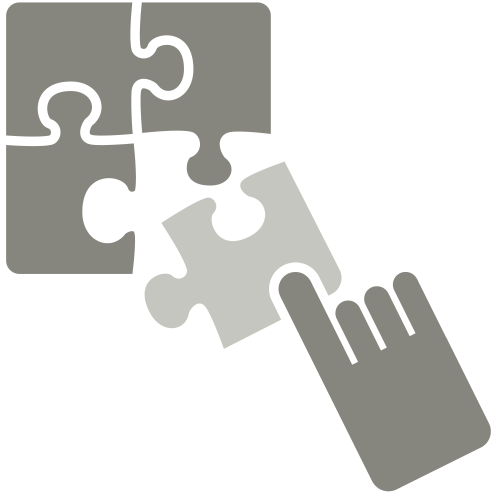 Combine business and technology expertise to develop rapid outline concepts
Develop joint working plan for immediate experimentation
The point is to create a powerful vision from four critical ingredients: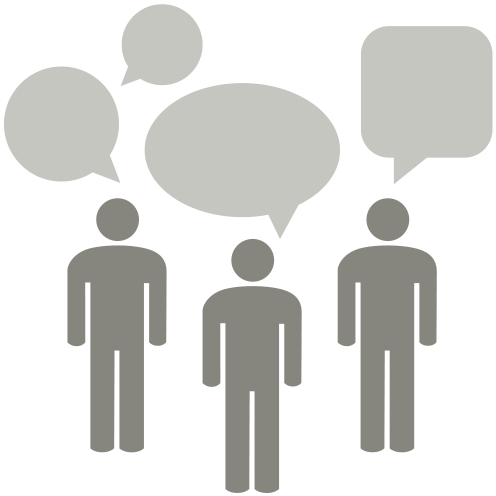 People
Combine the right skills and expertise from diverse backgrounds.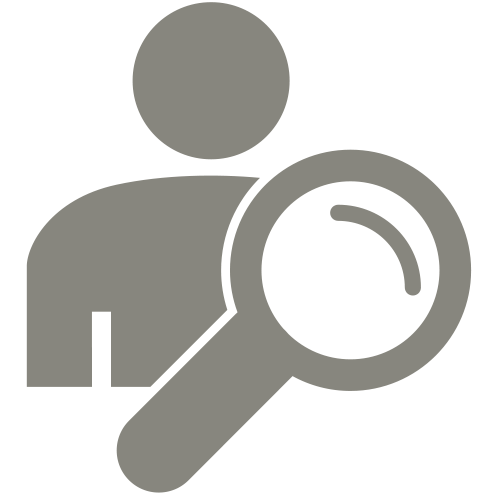 Purpose
Formulate a formal, strong purpose that's understood by all and relentlessly pursued. It must be of strategic importance to your business.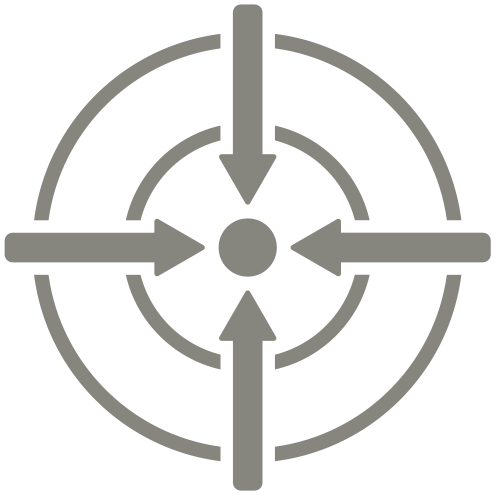 Outcome
Define what you want to achieve. It must relate to the needs of your business, employees, customers and markets.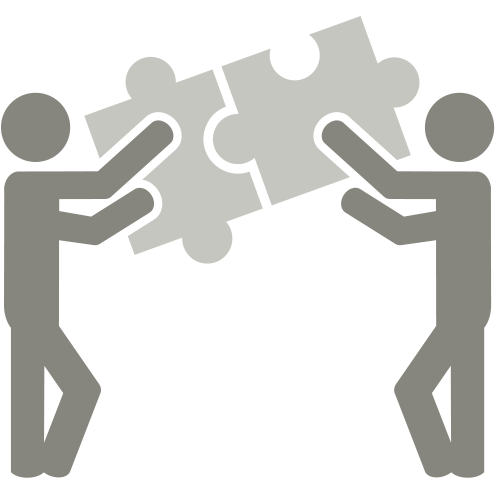 Design
Unlock the skills of your people in a fun and energizing way, so concepts can be developed and tried out quickly.
Contact Us
For further information or to arrange a workshop,
contact the Co-creating program team.