Overview
Heavy-duty & flexible production scanner for professional use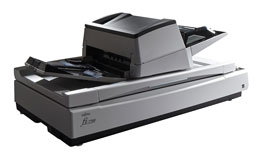 The fi-7700 allows you to scan A4 landscape documents at 100 ppm/200 ipm (200/300 dpi). The scanner is suitable for continuous scanning because it allows you to load up to 300 sheets at a time which improves efficiency when scanning a large volume of documents. In addition, various types of documents, such as thin paper, plastic cards, books, magazines, envelopes, and long page documents can be scanned on this scanner.
Fast scanning — up to 100 ppm in color or monochrome, landscape
Paper chute capacity up to 300 sheets
Capable of handling various thicknesses and sizes
Paper Protect function which protects against paper jams by detecting anomalies in sound (iSOP: Intelligent Sonic Paper Protection) and document length
Flexible design and LCD panel for easy operation
Independent Side Guides for easily aligning mixed size documents
Comes with PaperStream IP (TWAIN/ISIS), PaperStream Capture and PaperStream Capture Pro is available as an option.