Fujitsu LIFEBOOK E556 cash back promotions - i7/500GB SSHD - The Fujitsu Cash Back Promotions : Fujitsu Belgium
Fujitsu LIFEBOOK E556 cash back promotions

Fujitsu LIFEBOOK E556 - i7/500GB SSHD
Enjoy reliability and powerful performance with FUJITSU Notebook LIFEBOOK E556 through latest technology enhancements. A comprehensive business feature-set with common port replicator and connectivity options support you to work with ease and efficiency on your notebook wherever your meeting room or workplace is situated.
Between February 1st 2016 and March 31st 2016 Fujitsu offers you the opportunity to claim a € 100 Cash Back when purchasing an eligible LIFEBOOK E556 device. Don't hesitate any longer: select the device of your choice and claim the € 100 Cash Back. The break-through to a better way to work is in reach...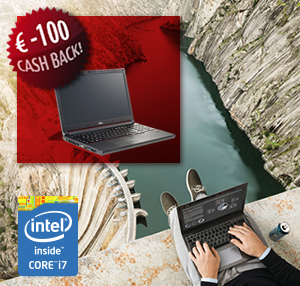 Specifications
OS: Windows 7 + Windows 10 Pro license
Processor: Intel® Core™ i7-6500U
Memory: 8GB
HDD: 500GB SSHD + 8GB SSD
Display: 15.6" FHD LED + Intel® HD Graphics 520
Warranty: 1 year Collect & Return
ORDER CODE: VFY:E5560M87AOBE
Intel, the Intel logo, Xeon, and Xeon Inside are trademarks or registered trademarks of Intel Corporation in the U.S. and/or other countries.
Top of Page