Fujitsu recommends Windows 10 Pro for business
Windows 10 Pro powers the world's largest selection of business devices from leading manufacturers,
creating a wide spectrum of devices that can meet the most exacting standards of performance, security, design, and experiences.
Download our Home Office flyer here with more information about the individual home office packages and product recommendations
Click on a bundle above to view the detailed description or...
Configure your own individual bundle:
Would you like to order our bundle recommendations in a package? Get a non-binding offer now
Our advantages for your home office workplace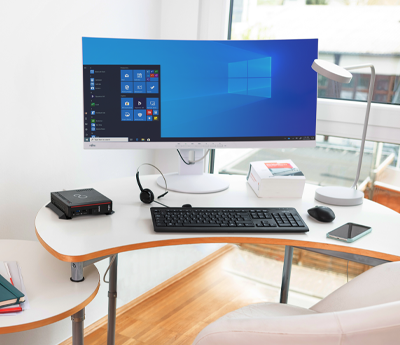 Space saving and productivity-enhancing
SPACE-SAVING AND PRODUCTIVITY-ENHANCING Fujitsu has been part of the "Office 21" research association from the Fraunhofer Institut for many years. The results of this research are regularly integrated into the development of our products. One finding was that there is a strong positive connection between employees' sense of wellbeing in the workplace and their productivity.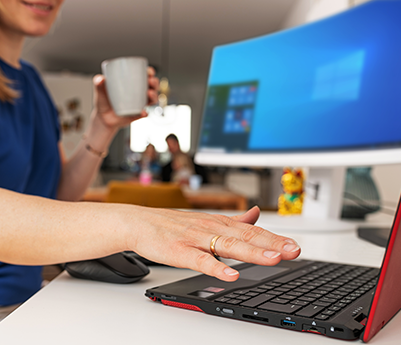 Innovative access protection
PalmSecure™, our proven biometric authentication technology based on hand vascular pattern recognition has proven to be one of the most precise biometric authentication solutions currently available. PalmSecure™ offers a high level of precision, is easy to use – and also contactless. This is exceptionally hygienic as there is no need for skin contact.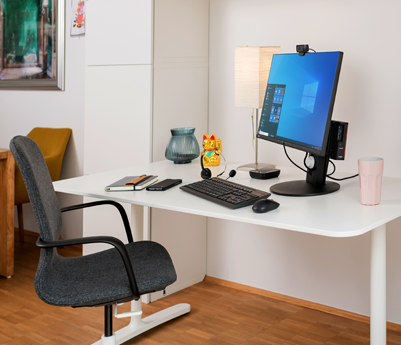 Fujitsu's ergonomic monitors are heightadjustable and automatically adapt to the lighting conditions in the room. This enables the workplace to be used by several different people who live in the same household. Flexibly adjusting the position of the display to the needs of each individual user prevents painful posture mistakes.