<!-Subtext (optional)->
Improve Productivity
IT Service Management
Our IT Service Management for Healthcare provides end-to-end delivery of IT services to healthcare providers in Australia and New Zealand. The service includes all the repeatable workflow steps to design, create, deliver and support IT services as well as the platform used to deliver the services.
As health services move forward from paper lite to digital, it is critical for providers to invest in and maintain an efficient IT Service Management (ITSM) platform given that nearly every patient and workforce experience has become dependent on digital interactions.
Healthcare Technology Challenges

Ballooning costs
Overworked staff

Cumbersome processes

Inadequate security

Disaster Recovery
Lack of investment and maturity in service management leads to poor end user experiences, slower response times, lack of transparency and a higher cost of IT services. In the worst case, it results in clinicians needing to resort to pen and paper when their systems are down.
Fujitsu's Managed IT Services for Healthcare offering enables the success of the healthcare workforce using digital tools to manage health systems and deliver safe and high quality patient care.
ITSM empowers the healthcare workforce through reduced IT workload demands, freeing up more time to spend with patients.
ITSM improves safety and quality of patient care by reducing human error and mitigating risks through the availability of relevant, real time data.
Fujitsu IT Service Management for Healthcare enables health organisations to bring together disparate tools and modernise them via a single, end user interface. Our approach leads to improved technology delivery times through automation and greater visibility through real time reporting.
Top 5 Benefits of IT Service Management
Consolidation of tools into one efficient, transparent interface
Automation of repetitive tasks and activities resulting in improved productivity
Provision of a service catalogue for the efficient delivery of regularly requested services
Improvement in the end user experience for the healthcare workforce through seamless and efficient interactions
Provision of dashboards to enable quick decision making based on real time data driven delivery
Get in touch
Let us assist you in solving your business challenges.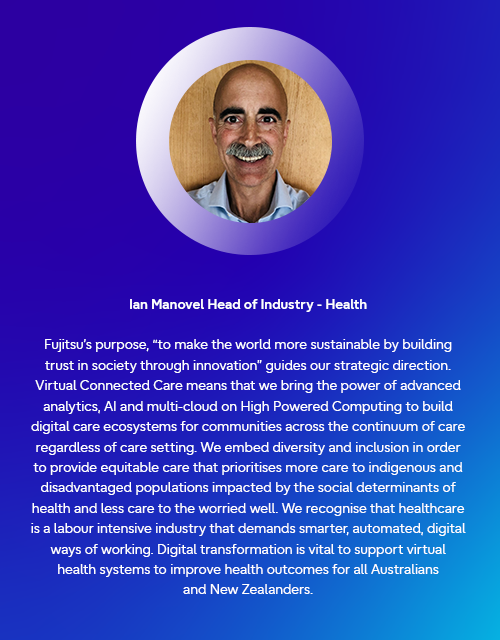 Thank you. We have received your request and will get back to you shortly.
Fujitsu Australia acknowledges all Aboriginal and Torres Strait Islander Traditional Custodians of Country and recognises their continuing connection to land, sea, culture, and community. We pay our respects to Elders past and present.