Fujitsu Microsoft Azure Cloud Services
Delivering a fully managed end-to-end Microsoft Azure experience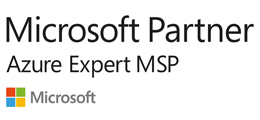 To evolve at the pace your market demands – and become connected, intelligent and transformed – you need the platform and technologies for making innovative ideas a reality.
Cloud Service for Microsoft Azure gives you exactly that. Its end-to-end suite of modular services enables your rapid use of Azure's leading-edge features, so you can modernise all areas of your business and IT landscape.

Azure enablement ranging from planning services to development of cloud native solutions.

Design, deployment and management of a best-of-both-worlds hybrid infrastructure with Azure as a fast IT extension of the existing data centre.

End to end digital transformation for business, application, platform and service.

Optimal licensing of the Microsoft cloud estate with the best Azure rates.
Explore insights, capabilities and best-practices for transforming your business on Microsoft Azure.
Fujitsu Cloud Partner Insights
'I think IOT is probably one of the most
inappropriately named pieces of technology
that exist, because it's really talking about
what it is, but not necessarily what it does.'

- Dean Corcoran, Data & AI Strategist, Microsoft
The need to move…
and a design to get started
We realise that pressure on your traditional business and IT landscape is intensifying. The demand greater agility and lower costs; the need to build new applications and services to remain competitive.
In response, cloud is now a 'must' for your organisation, but how can you get there? Together, we can assess and build your cloud strategy, using Azure as a key platform.

Deploying and migrating
Making the move from traditional on premise, towards agile cloud-based can't happen fast enough… but how can you make it happen safely and securely whilst minimising risk to live services?
Fujitsu's Multi-Cloud Transformation Service enables you to discover, migrate and modernise your legacy applications on to Azure with complete confidence.

Transforming & Building Applications
Competitive services and engaging customer experiences demand modern application architectures.
Cloud Service for Azure enables you to evolve and rapidly build new application capability using Azure features and tools.

Discover how CITB enhanced productivity & reliability through modern applications on Azure: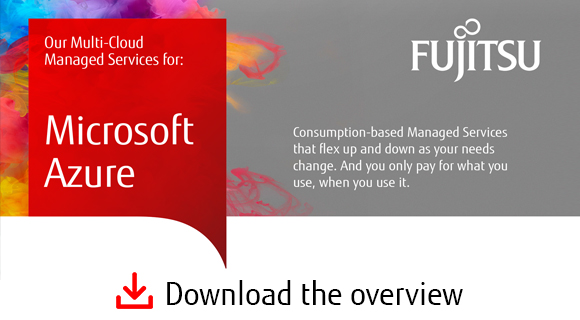 Maximising and Managing Azure
Adopting a powerful platform like Azure opens up a range of opportunities. Mastering it's range of cutting-edge cloud-native capabilities can be a real game-changer for transforming your organisation.

Our Managed Services for Azure provide you with a platform that is well-architected, secure, simple to use, and ready for anything. They also enable you to adopt, use and optimise the very latest Azure technology releases, fast.

Creating your future:
Get started fast with the Azure Migration Program (AMP)
Getting started with public cloud can be a daunting task: overwhelming choice, organisational red-tape and a host of strategic considerations may be holding you back.
Fujitsu makes it easy for you to overcome these. Using our Multi-Cloud Adoption Framework in tandem with the Azure Migration Programme, it's really easy to adopt and start using Microsoft Azure at rapid pace.

Find out how Selecta migrated to Azure with Fujitsu and the AMP »
Customer Stories
Organisations around the world are working with Fujitsu and Microsoft together, to co-create their transformational cloud strategy on Azure.
Discover some of our customers' success stories below:
Your Journey ahead:
We understand that the move to cloud is often complex – but it doesn't need to be a risky, uncertain or unclear process for you.
Our Multi-Cloud Transformation Service makes your route to the cloud crystal clear and enables you to migrate and transform applications on a range of platforms, without worry. Our proven methods, trusted solutions and accredited experts can guide you through your entire Azure-based modernization.
Click below to understand the steps we enable you to take.
ResultsChain
Building your business case | Forecasting future benefits
Fujitsu Multi-Cloud Transformation - Click to explore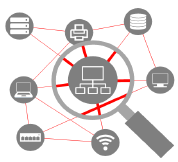 YourCloud Framework
Understand your business challenges, drivers and outcomes and define your cloud strategy using Fujitsu's Results Chain.
Define a plan to align your business, people and culture, governance, platforms, security and service & operations to the strategy.
Assess
Discover your existing IT datacentre environment
Assess suitability for migration or transformation to a Multi-Cloud environment
Recommend remediation actions to support migration or transformation
Build Total Cost of Ownership (TCO) profile and investment / rate of return implications utilising Fujitsu's Cloud Economics methodology
Migrate
Define move groups and plan the migration
Architect & Design, and Build & Configure the target environment
Validate the target environment, and Test workloads pre and post migration
Migrate to your new Multi-Cloud environment
Transform
Modernise your business application, through:
Replacement using standard COTS or SaaS
Redesign to optimise and leverage multi-cloud environments
Rebuild leveraging latest tools and frameworks (cloud-native)
Manage
Provide day to day management of your Multi-Cloud environment, workloads and application, allowing you to focus on the things that are important to your business
Optimise
Ensure you are getting the most out of your Multi-Cloud environment and are running in the most cost effective way
Utilise Fujitsu's Shinkansen Service Development to continually meet your changing requirements
Exploit optimization tools optimise your ongoing service and ensure continuous innovation
Why Fujitsu for your Microsoft Azure deployment?
You'll get the safety, flexibility and innovation of a global Azure provider with decades of Microsoft experience. We are:
Collaborative – Together, we co-create and architect a secure, enterprise-grade Azure foundation to your specific requirements. We've created some of the largest deployments in the world.
Specialised in Microsoft Cloud – We're 'Expert MSP' accredited globally across the whole Azure ecosystem. We also have specialisms and huge experience in IoT and SAP on Azure.
Experts in Multi-Cloud & Hybrid IT – Fujitsu can build, integrate and manage vast range of environments to give you the best of all worlds, including Azure delivered as a rapid data center extension.
An end-to-end provider – Cloud Service for Azure covers end-to-end transformation of infrastructure, applications and services.
Commercially flexible – Simple licensing for the entire Microsoft cloud estate with optimal Azure rates.
Get in touch
Let us assist you in solving your business challenges.
Thank you. We have received your request and will get back to you shortly.
Fujitsu Australia acknowledges all Aboriginal and Torres Strait Islander Traditional Custodians of Country and recognises their continuing connection to land, sea, culture, and community. We pay our respects to Elders past and present.