Hybrid IT Managed Services
Your perfect balance; delivered as a managed service
Hybrid IT is key to becoming more agile, reducing costs and unlocking the benefits of new digital technologies via the cloud. But moving to and operating in a Hybrid environment can be daunting; and the need to get things right in a world of complexity and change can put extra pressure on your organisation.
So how do you get the benefits of Hybrid, without having to change processes – or make huge investments to integrate new technology with your existing IT?
Hybrid IT Managed Services: The benefits without the headache
At Fujitsu, we have a long history of managing large enterprise IT – and unique expertise in managing complex Hybrid environments, where multiple Cloud platforms interact seamlessly alongside legacy and traditional IT.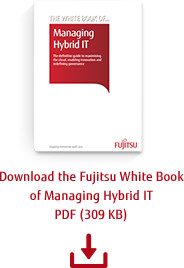 Hybrid IT Managed Services from Fujitsu allow you to adopt the best mix of cloud and on-premise technologies that provide the most value for you and your digitalisation journey, without the worry of having to manage them – meaning you can achieve:
Lower Costs
Improved decision making
Reduced complexity
Freedom of choice
Greater user experience
Reduced Risk
Find out how: View the Hybrid IT Managed Services Brochure >> (3.15 MB )
Working with you on your digital transformation journey…
Designed for the complete range of different IT estates, Hybrid IT Managed Services enable digital transformation through a unique three-point approach:
Designed for your needs: Every business has different needs. We take time to understand yours and design a bespoke solution to meet them.
Co-creation: We look at where your business is today and where it can be tomorrow. We'll work with you to adapt our services and evolve with your business.
Forward looking: Our unique Shinkansen methodology means we stay at the cutting-edge of technology, able to bring new services to you as platforms change and develop.

Explore our Hybrid IT Solutions and how they can benefit you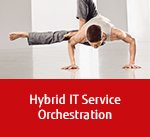 Top of Page