FUJITSU Clean Desk Solutions
Sustainable Workplace Solutions for Smart Minds
Co-Creation is deep-seated in our philosophy and daily work. That's why we're focusing on modern, individual solutions for your workplace needs. Precisely tailored to the concept and design of your choice, Fujitsu offers you all components you need for smart working – today and in the future.
Be supported in various aspects of workplace design and energy-saving potential with a user-oriented, cost-effective, secure, and flexible approach.
Fujitsu Workplace Connect
A universal and modular docking system with integrated power supply and network connection for data exchange – regardless of the manufacture.
The modular structure of Workplace Connect enables a group-specific design and configuration.
Easy customization and integration into your working environment.
Shared desk structure and standardized Fujitsu components provide cost-efficient work.
Ergonomic design adapts to employee needs - not vice versa.
Go green and save energy: the entire workplace can be switched off completely at the push of a button.
Clean Desk 2.0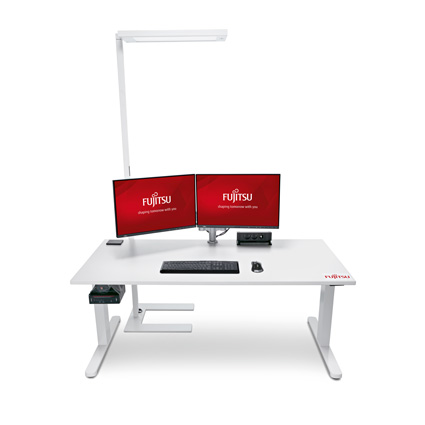 Living the Fujitsu Human Centric approach: Adapting to all needs, our Clean Desk Solution is suitable for all workspaces. You profit from maximum safety, innovative lighting concepts, and endless modularity.
At a first glance, it's a classic two-screen scenario with flexible arms and monitors. But it's the added features that make it flexible as a digital workplace for everyone.
Benefit from an added value such as space savings, modularity, and almost wireless operation for maximum productivity as efficiency.
Clean Desk Easy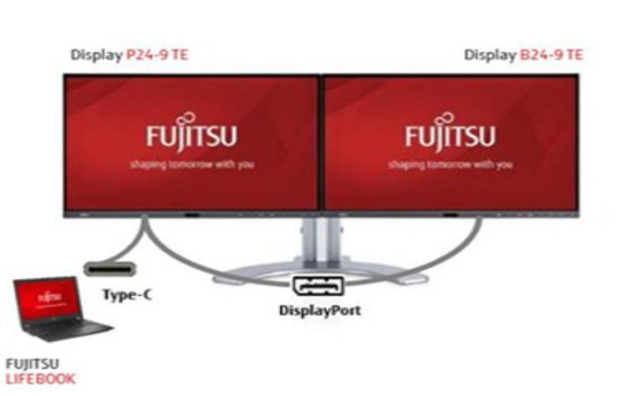 Save costs and space with our innovative two monitor scenario for several business cases
Start your work immediately and easy with our DaisyChain-solution to connect your mobile devices and displays
Powerful and supporting: the integrated port replicator provides fast connection to the IT-Infrastrucutre and power supply via only one cable
All-In-One Solution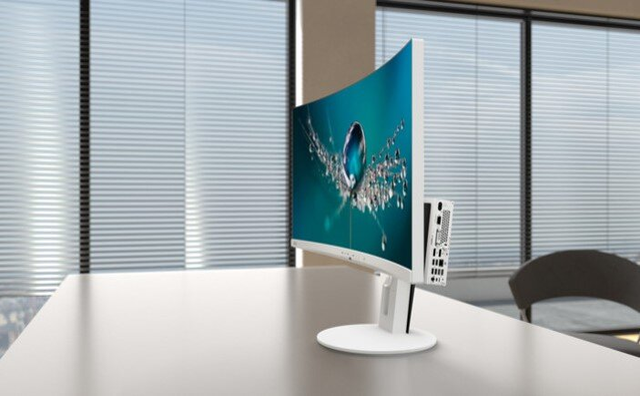 A backpack for different body shapes: The Fujitsu Mini-PCs fit on the back of all Fujitsu Displays. Create your favorite personal all-in-one!
The Display P-Series combined with the ESPRIMO G-Series enables a slim and attractive solution with only one power plug and two cables in total.
Intuitive technology supports the user: Start your computer by just clicking on the monitor power button.
Fujitsu recommends Windows 10 Pro.
Your choices for smart working: Fujitsu
Workplace Solutions
---
Clean Desk 2.0
The perfect flexible digital workplace
---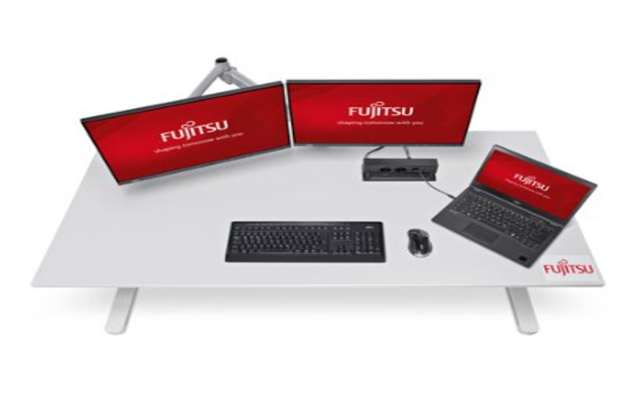 ---
A classic two screen scenario with flexible arms and monitors.
Modular, retrofittable and non-destructive reversible.
Versatile monitor arms for space saving and flexibity
Efficient work with extendable monitor arms that can be rotated through 90 degrees
Only one cable for power delivery and data with a vendor independent USB Type-C.
---
Clean Desk Easy
Top Quality on top conditions
---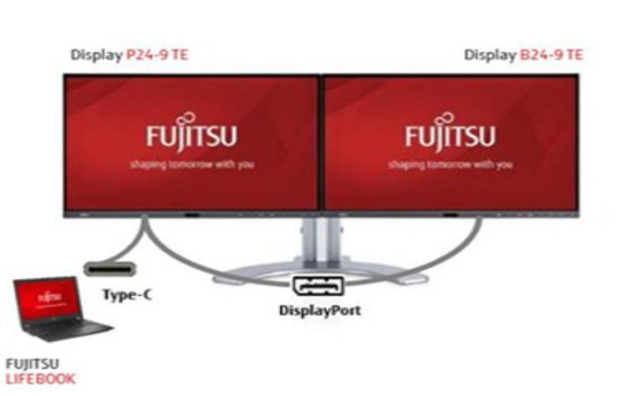 ---
Significant cost and space savings with this two monitor scenario .
Integrated USB Type-C port replicator in one of the displays.
Daisy Chain: component wiring and monitor connection made uncomplicated.
Dual Display Bundle comes without monitor stands.
---
AIO Solution
Your bundled power workplace
---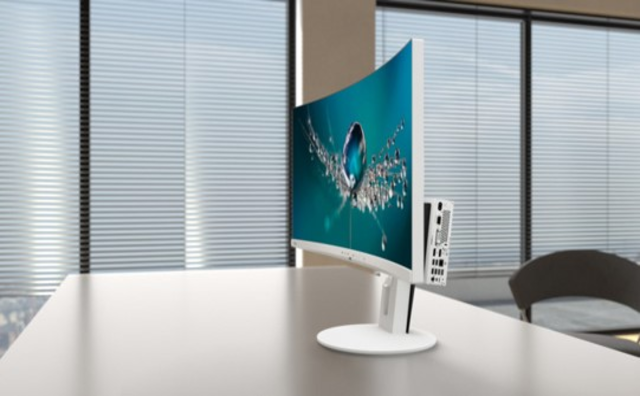 ---
Space saving at its best with our backpack solution.
Diverse combinations of display and suitable Desktop PC possible.
Full connectivity with only one power plug and two cables
Plenty of features provide a high usability as an individual work experience
Download the Clean Desk Positioning Card

Fujitsu Australia acknowledges all Aboriginal and Torres Strait Islander Traditional Custodians of Country and recognises their continuing connection to land, sea, culture, and community. We pay our respects to Elders past and present.